Recap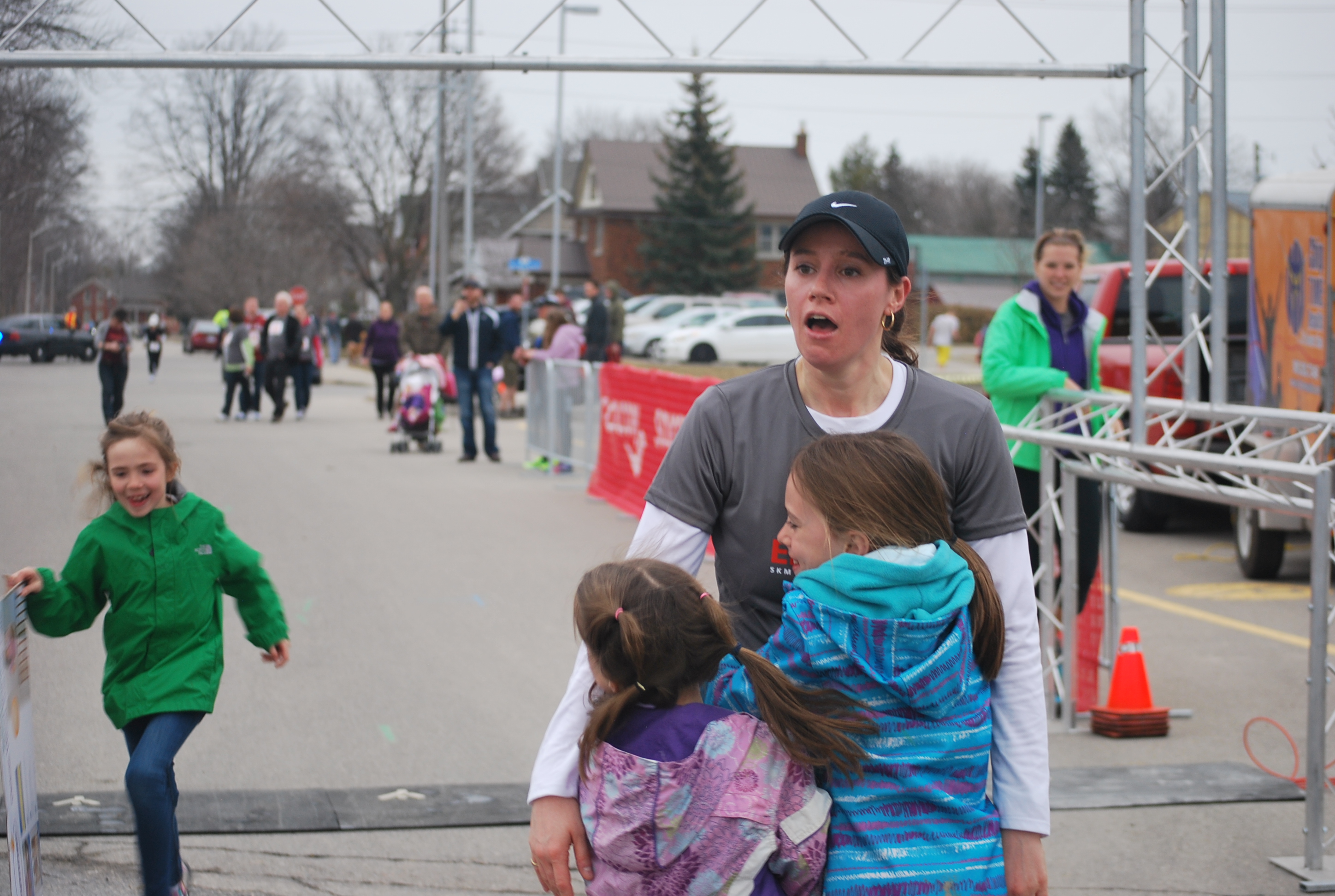 Now that we have thawed out from the winter weather, it was a great day for a 5k. Overheard in the crowd after the race: "I wish I trained more this winter!" Times from the day might reflect that.
Fundraising totals will be announced at the conclusion of the ENDURrace on April 26. The top fundraiser wins a t-shirt quilt! All pledges raised go to the United Way of KW.
Results
All results available: 5K Overall | Open Team | Parent-Child Team
Congrats to overall 5k winners Callum MacGregor (17:17) and Krestena Sullivan (18:58)!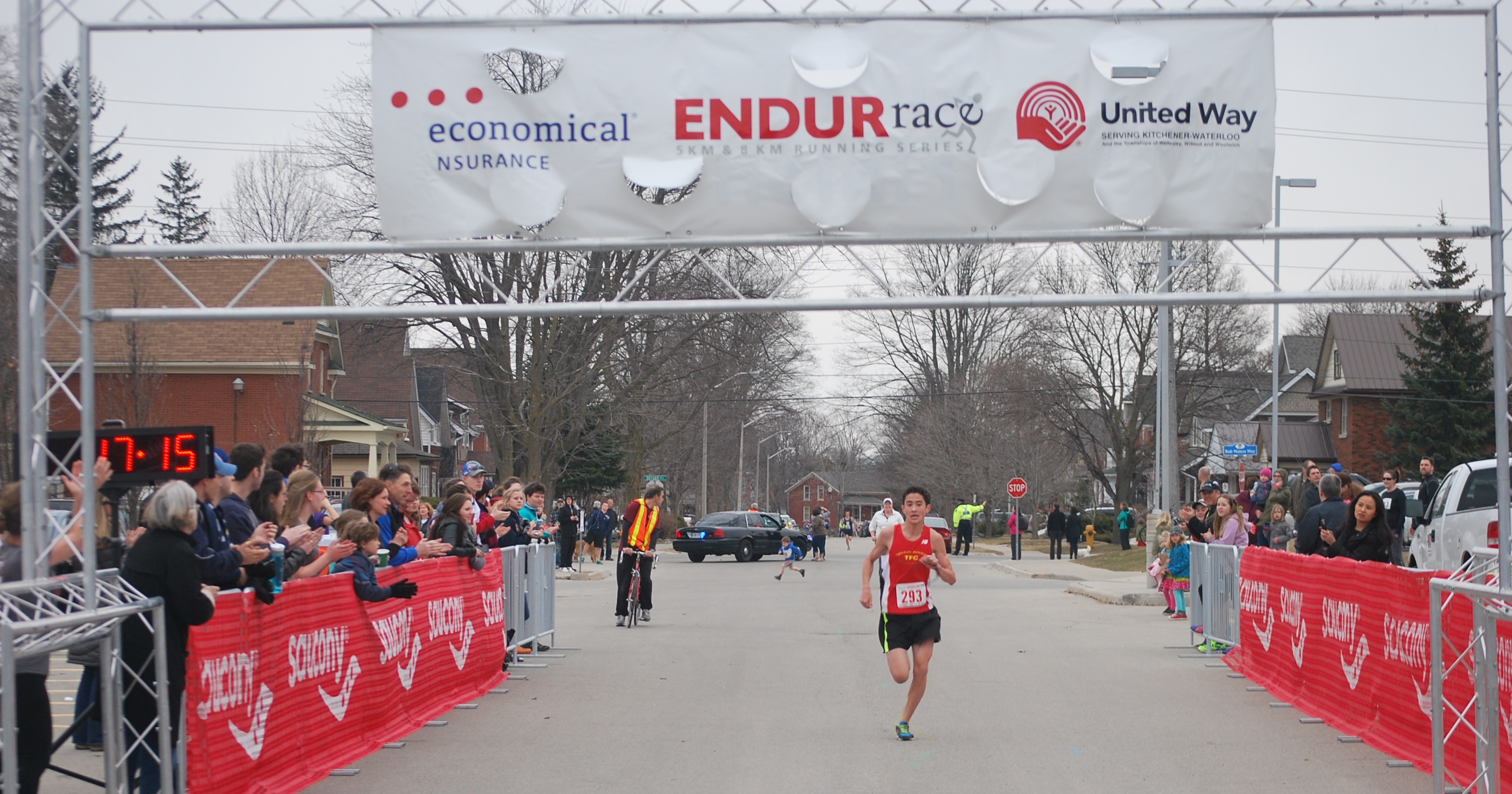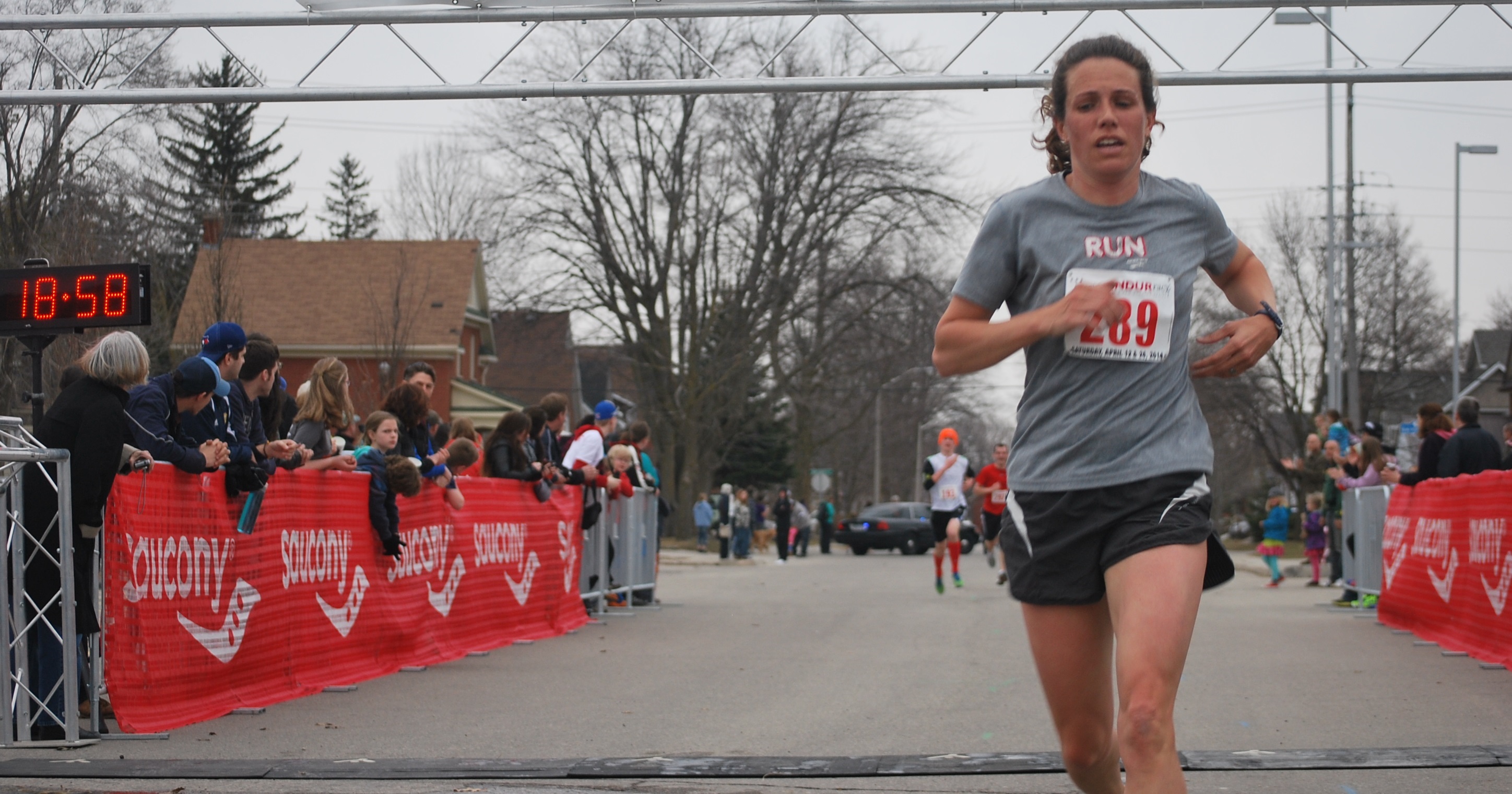 Special congrats to leaders of the ENDURrace series after the first stage, Jason Holzscherer (17:42 – 30 second lead) and Marie Claire Brisbois (19:26 – 2:45 lead). We'll find out on the 26th if they can hold on!
Great work by Parent-Child Team Eggs (Ehgoetz 41:14) and Open Team Health + Performance (1:34:12)!
Great race for team at the @RunWaterloo #ENDURrace! Here are the team results! #cantwontstop indeed! http://t.co/xEjOPqPfRW

— Health & Performance (@Health_Perform) April 12, 2014

Happy with the Triple Victory tonight at @RunWaterloo #EndurRace 5K. 3rd overall, 1st Parent/Child and 1st Open w @Health_Perform #PB 18:12

— Luke Ehgoetz (@LukeEhgoetz) April 13, 2014

Photos

Free photos are available here. Download, share, enjoy!


Next Race

The next race in the Economical ENDURrace series is the 8k (and 2.5k fun run) on April 26. (Two-week training tips.) After that, we're looking ahead to the new Baden Road Races on May 10!

Social

Join the conversation at #ENDURrace.

Good luck to all my friends and team mates running the @runwaterloo #ENDURrace tonight! I'll see you in 2 wks for the 8 K! @Health_Perform

— Jessica Kuepfer (@lacesandlattes) April 12, 2014

Heading out to Elmira for @RunWaterloo 5 k run

— Wat Reg REACT (@wrreact) April 12, 2014

Spring tires and first #run of the season. Hello spring! #ENDURrace

— Jennifer Bleakney (@jenn_bleakney) April 12, 2014

It's a good day for a run. So much warmer than last year! #ENDURrace

— JenStorm (@JenStorm) April 12, 2014

Sub 30 ENDURrace 5K run-walk 3mins-1min. Stuck to the plan. Health then Performance. The team did #AWESOME lots of PBs! @Health_Perform

— Dave W Rutherford (@ENDURdave) April 12, 2014

Thanks @RunWaterloo for another well organized event and for a new 5K PB #ENDURrace

— Vicki Zandbergen (@VicZanRan) April 13, 2014

ENDURrace 2014 mass start video. @RunWaterloo http://t.co/dhlTi9z9KP

— James Storm (@JamesStorm) April 13, 2014

Had a great race at the #ENDURrace 5K. Garmin time of 26:18 almost a minute off my previous best!

— Will Spaetzel (@spaetzel) April 12, 2014

New 5km PB, 18:34. Good for 5th overall at #ENDURrace! Great job tonight! @Health_Perform @ENDURdave @LukeEhgoetz @VicZanRan @ariesamazon

— Mike Piazza (@mikepiazza27) April 12, 2014

@RunWaterloo thanks for another great event! No PB for me today, but another 3rd place overall female masters finish. #ENDURrace

— cheryl (@cheryl_37) April 13, 2014