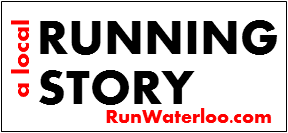 This is the second part of a two-story series from Sandra Karl. The 22 from Waterloo is a group of local women who ran the Ottawa Marathon 2014 through the Runners' Choice marathon group. Read the first part here.]
Ottawa Race Weekend finally arrived to much fanfare and celebration! We boarded our bus at 6:00am Sat. May 25 and headed for Ottawa. There were 18 excited women on the bus. 10 were anxious but thrilled about running the 40th Ottawa Marathon and 8 were overjoyed they had chosen the half marathon challenge. Wait! What happened to the other 5? I will tell you what happened to the other 5…the winter of 2014.

Along the way we admired our personalized luggage tags and custom tech shirts. We sure did turn heads when we walked into the expo! We sang along to our favourite songs thanks to a tech savvy gal who created a playlist of our favourites. We took comfort from the sealed envelope provided by another which contained a quote to make us laugh and some serious inspiration to draw on when the going got tough on the course. Stories were retold from our training runs. [My two favourites: 2 ladies taking gels for the very first time at a stop light doubled over with laughter because it was so weird! Or when a gal told me she would drive me home after a run and then left without me while I went into RIM to get a drink. I ran home because I couldn't catch her in the parking lot. She is waiting for another fabulous memory to trump that one so we no longer talk about it!]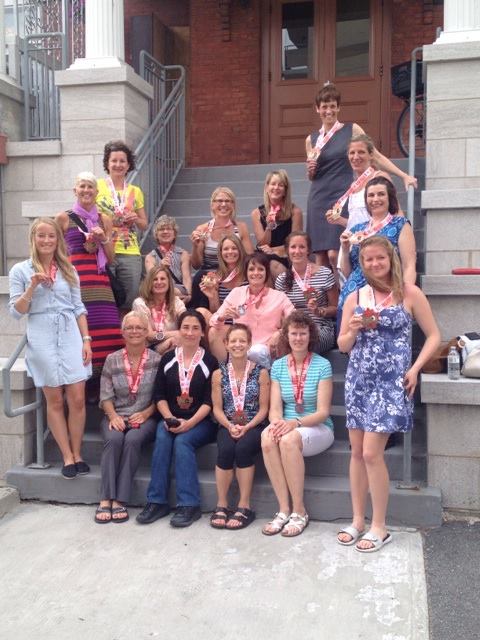 Celebrating the 40th running of the Ottawa Marathon was all it was hyped up to be and more. The marathon shirts are Canadian red with such a unique back and the medals are impressive. For us, watching bits and pieces of the 5 and 10K events Saturday night was inspiring. In total approximately 47,000 runners ran the events in Ottawa over two days. It was amazing to be a part of such a monumental event. The marathon course is quite scenic and passes by many of the famous Ottawa landmarks you would expect to be showcased. I think it is safe to say many of the ladies on the bus would return to Ottawa to run there again.
On the way home we had a chance to reflect on the journey that landed us in Ottawa and smile with many fond memories. Some of those training runs went like clockwork and were fabulous. Others were pretty tough but we all supported each other when the tough one happened and became a bit stronger with each one we finished. We became known as the little satellite group from Runners' Choice posting our long run plans so Coach Michele knew what we were up to. We often started early because it would take us a bit longer to complete them. People laughed at things like: Run from Tim's at University and Bridge. Shift 1: 6:00am, 15km and Shift 2: 7:45am, 21km with the names of who was running each shift. But…it worked and we got the job done.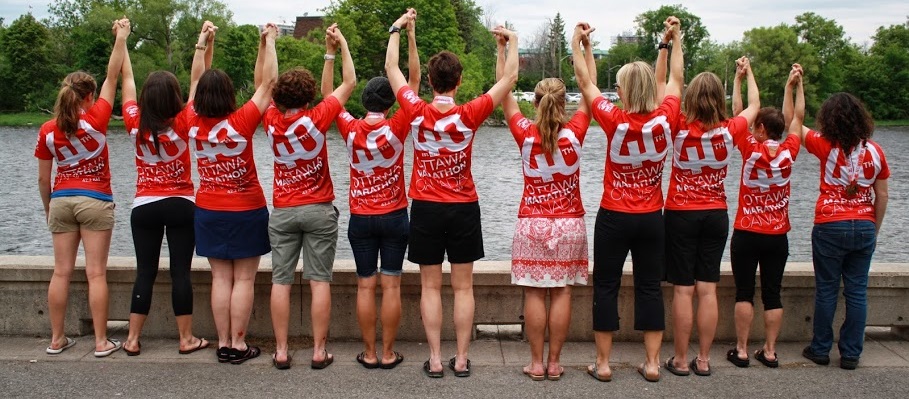 And so the journey that began with a single step in January ended with a single step when I crossed the finish line in Ottawa – the last of the 18 runners on the bus. I just kept remembering that one sign at KM34. "You don't have to go fast, you just have to go." The Ottawa Marathon and Half were complete and we all had the beautiful medals to show for our efforts. The 2015 journey has already begun… not in training (yet) but in planning! Stay tuned for all the details in the new year.
[In Ottawa, the 22 from Waterloo also took the most epic "Race Shirts on Location" photo ever. Check it out here!]