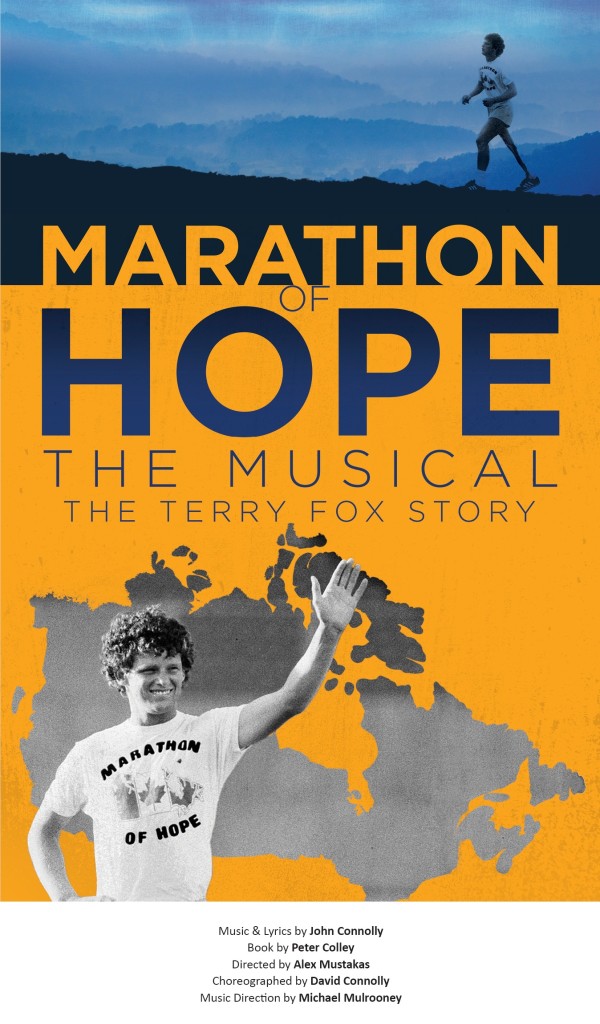 Spring has been cold and rainy lately, but don't worry: there is hope! Drayton Entertainment has a great offer for Run Waterloo members this May.
Marathon of Hope: The Musical is back with a spring run at Dunfield Theatre. Every Canadian has been inspired by Terry Fox, and we are fortunate to have this groundbreaking theatrical event right here in Waterloo Region. If you didn't see it last fall – or even if you did! – consider checking it out with some of your running friends.
RW Member Social
May 27, 7:30 pm performance
Private reception with light refreshments before the show
A great night of theatre, fun, and hope!
RW member price $37 (regular price $46, youth tickets are $27)
Group size is limited. Promo code is posted in the RW member facebook group, or available by email. You must be a RW member take advantage of this opportunity. 
Marathon of Hope: The Musical
This musical – an original Drayton performance – was first performed last fall at the St. Jacob's Country Playhouse. It provides fresh insight into the Terry Fox story, and even at this discounted rate, every ticket sold raises funds for the Terry Fox Foundation.
More about Drayton Entertainment
Drayton Entertainment is a renowned non-profit professional theatre company with seven venues across Ontario, including three in Waterloo Region. Drayton has a strong reputation of supporting local causes and we're thrilled to have this opportunity. Dunfield Theatre is located at 46 Grand Ave S., Cambridge ON N1S 2L8.