On a day that might have been better suited to racing in shorts and a t-shirt, over 700 local runners put on their Santa suits anyways, and tried their very best to convince the rest of the city that winter and Christmas are on their way. The big smiles and enthusiasm shown by our 1KM, 3KM and 5KM participants was certainly inspiring, and we love what some of them did to accent their red suits and beards! It was great to see so many families, friends and even some competitive runners getting into the holiday spirit at the fourth annual Santa Pur-suit.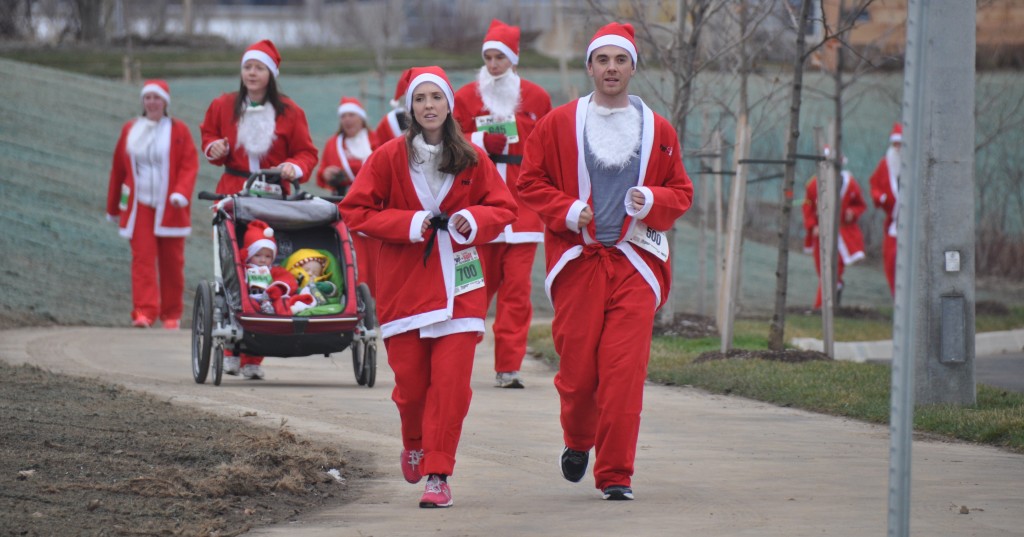 In total, over $6,500 was raised for the Kitchener-Waterloo YMCA. The top individual fundraiser was Erica Miko, who brought in an incredible $1,300 for this event. Thanks to everyone for their pledges!
For the fourth year in a row, Sean Delanghe was the winner of the 5KM event, in a time almost identical to his 2014 victory (17:38). Following close behind were Aaron Canfield (18:11), Brandon Sellers (18:23) and Nick Burt (18:25). In the women's field, Alyssa Pearce (19:38) set a new course record, as the first woman to break 20 minutes in a Santa suit in Waterloo. Congratulations Alyssa! Joan Chung (20:10) finished second, followed by Alexandra Sevastianova (21:17) in third.
The 3KM race saw two finishers under 12 minutes: Dustin Corey (11:19) and Caleb Timm (11:36) were in a class of their own. Third overall was Thomas Rowlands (13:30). Top three women were Kylie Bates (14:09), Deirdre Large (14:43) and Sarah Heesaker (15:19).
Congratulations to all runners, volunteers and spectators for another successful Santa Pur-suit. Merry Christmas, and we look forward to seeing you all again next year!