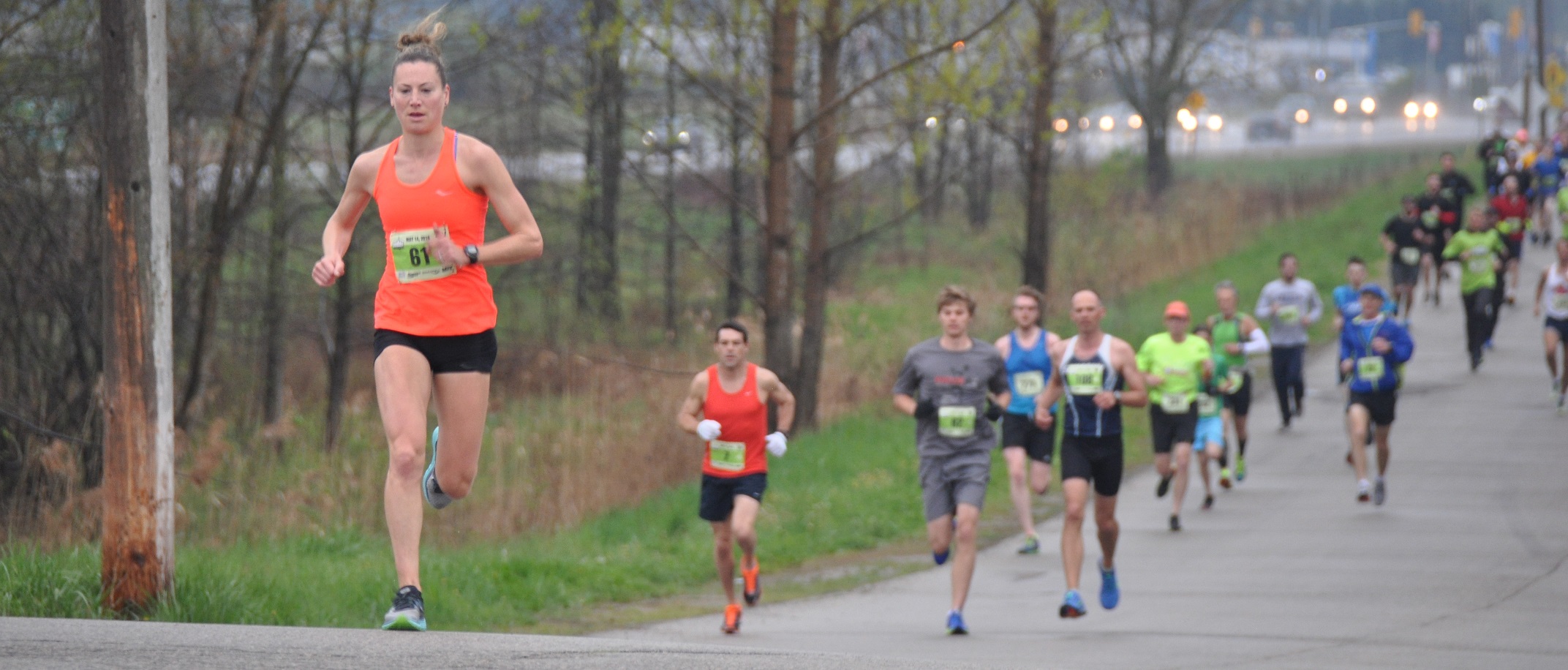 Recap
The 38 year tradition of spring road racing in Wilmot Township is alive and well, and continued with the 3rd Baden Road Races on May 14, 2016. The race had a dramatic start, as runners on the start line were warned that there was a potential hurdle on the course! Fortunately, our friends at Bell Media opened the gate to the tower hill before the first runners arrived, but not before supervolunteers Andrew and Gabriel carried the 62 lb bell (and it's heavier base) to the top of the hill – wow!
The signature 7 mile event is advertised as a difficult course. The weather added to that challenge this year, as after 5.5 km of mostly uphill, runners turned around at the top of the steep Baden Tower Hill to face a nasty headwind back to the Wilmot Recreation Complex. On the area floor, runners and families enjoyed live music, awards and great food.
Thank you to all the runners, volunteers, specatators, donors and sponsors who made this event possible. You raised over $2,500 for Aldaview Services, Interfaith Community Counselling Centre and Wilmot Family Resource Centre.
Gold Sponsors: New Hamburg Independent, Wheels on Peel
Silver Sponsors: Alloy Castings, CIBC New Hamburg, Expressway Ford, Systems Plus, Pestell Pet Products, Pestell Minerals and Ingredients
Bronze Sponsors: Josslin Insurance, New Hamburg Wellness Centre, Hybrid-Hendrix Genetics, Erb Transport, Giesbrecht, Griffin, Funk & Irvine LLP
Results
Congratulations to all runners who braved the wind and rain to tackle the courses. The 7 mile race was won outright by local athlete Erin McClure – only the second time a female has won a race overall in (known) RunWaterloo history! (Krista DuChene won the 2014 Re-Fridgee-Eighter 8 mile event). Erin's time is the female record for this event and the third fastest, ever. Two other records were set in 2016: Lumi Duca for Masters Female and Greg Huszarik for the Baden Hill Sprint prime.
Thanks Terry for the video of Erin's finish!
1st overall at the @RunWaterloo #Baden7m @ErinMcclure1 coming across the finish line! pic.twitter.com/3Y80NF7pSJ

— Terry Edwards (@TerryEdwards519) May 14, 2016
Runners faced the same headwind in the Neil Dunford Memorial 5 KM. Congrats to all! Records that fell in the 5 KM were the male overall (Marcel Scheele), Open Team (Health and Performance), Corporate Team (Legs of Steel) and Parent Child Team (Happy Feet).
Photos
Hundreds of free photos will are posted to our Flickr page. Enjoy!
Next event
The next event in RunWaterloo is In Running Colour, a colour run at Columbia Lake in Waterloo. It's the most colourful 4k of the summer. The next race is the 39th Waterloo 10 KM Classic – a family favourite on Father's Day. The event has a few changes this year, increased prize money, and is the start to the Battle oF Waterloo IV.