The first race of 2016 is in the books!
Recap
On an unseasonably warm day, where we saw many more runners in shorts and t-shirts/singlets than we usually do in February, great conditions paired with a little extra incentive led to one of the fastest and deepest fields the Re-Fridgee-Eighter has seen in many years. Two new course records plus two new team records, not to mention running in positive temperatures under a bright sun, is a great way to start off a new racing season!
The Re-Fridgee-Eighter raised over $7,500 for the Juvenile Diabetes Research Foundation. Thank you for everyone who donated to this great cause, especially top pledge raiser Chris Mills!
Results
In the 8 KM event, Speed River's Evan Esselink led from wire-to-wire with only the lead vehicle for company, to smash the previous course record by almost a full minute! According to Athletics Canada, this is the fastest 8 KM run by a Canadian this year, and tied for fifth fastest since 2010. Second place finisher Lamech Monoko ran the fifth fastest 8 KM in the history of this event. In the women's race, winner Amanda McLeod finished with the third fastest time ever, and was followed by two more women who were also under 30 minutes. Overall today we saw five of the 15  fastest female finishers in the Re-Fridgee-Eighter 8 KM! Congratulations, ladies! In the open team competition, Fastisfun set a new record with a combined time of 2:25:37 for their top five finishers.
In the 8 mile event, Josh Bolton set a new course record as well, by five seconds. He was followed by Robert Brouillette in second, also breaking into the top five fastest finishes in the history of this event. The women's field was especially strong: the top three (Tanis Smith, Tanya Porcellato and Gillian Willard) dominated with three of the four fastest times ever run at the Re-Fridgee-Eighter, only beat by elite marathoner Krista DuChene's 2014 result. Sean Delanghe and Gillian Willard also set a new team record in this event's Spouse category. Spectators were treated to extra excitement at the finish line as Bolton proposed to Smith at the finish line, too. Congratulations to both of you on your race wins and your engagement! Photo embedded below.
Photos and Video
| | |
| --- | --- |
| Thousands of photos are available for free download at our new photo site. | We also filmed this race by drone. Check out the spectacular aerial footage. |
Social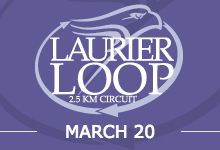 Next Event
Next up is the
Laurier Loop on its new date and course. See you then for some relay fun!