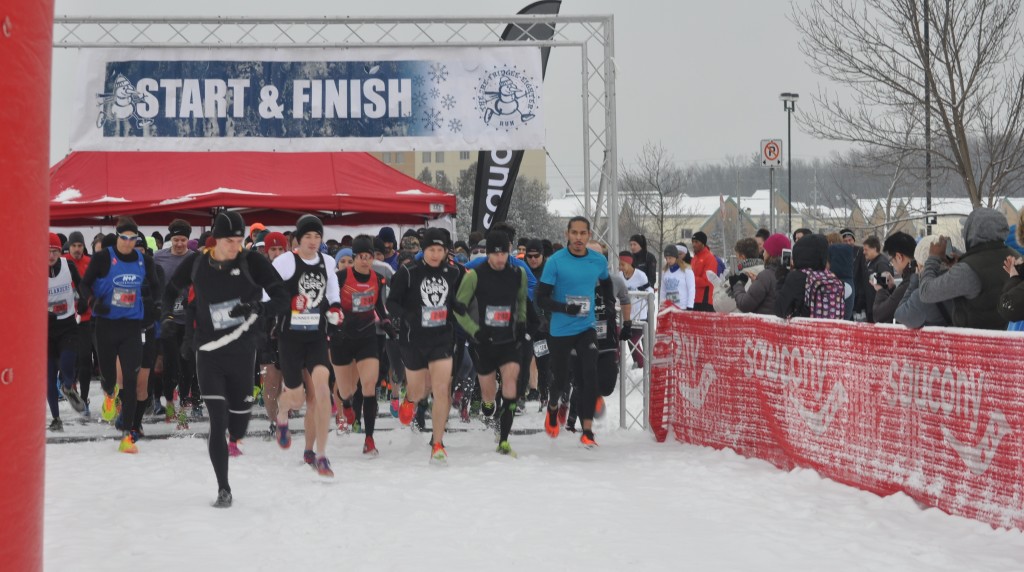 The first Run Waterloo event of 2017 is in the books. Thanks to everyone for braving the snowy, slippery conditions to race with us today at the Re-Fridgee-Eighter!
The 8 KM was won by Trevor Hofbauer, a new member of Guelph's Speed River track club, and Gillian Willard, who coaches the local Health and Performance club. Trevor's time of 24:52 was especially impressive in today's weather.
Robert Brouillette (Grand River Endurance) and Krista DuChene (Speed River) won the 8 MI. For Rob, he is the first runner in Run Waterloo history to reach 20 event wins! An Olympic marathoner (Rio 2016), this was Krista's first race as a masters athlete (she turned 40 in January), and, no surprise, she set a new masters course record!
We have over 1,200 free, high quality photos on our Flickr page for you to download and use. Enjoy!
The Re-Fridgee-Eighter raises money for Juvenile Diabetes Research Foundation. Thank you to all donors and fundraisers!
Congrats also to Erik Vicujnik and Kristin Howard, who ran this race for free by winning entries from Michael Hewitson – My Next KW Race! Be sure to participate in the next contest, sharing what you love about Waterloo Region, by February 14th for a chance to win a free entry to our next race, the Laurier Loop!  
#TeamLloyd
As most people in the Run Waterloo community know, Lloyd Schmidt is currently battling cancer, and could not join us at RIM Park today as he is currently in the hospital recovering from surgery. This was the first race since becoming Race Director in 1987 that Lloyd has missed – a streak of over 300 events – and his absence was felt by many. Some volunteers thought it was unfair he couldn't be at the race, and so they decided to take the race to him.
At 2pm a dedicated group of runners and volunteers made their way to Grand River Hospital – mostly by running – and gathered outside of his hospital room window. Over the phone, Lloyd counted down to the start of the Re-Fridgee-Eighter round 2, and the group "raced" around the parking structure in his honour. The Schmidt family is deeply touched by the support they have received from the community and want to thank everyone who was there or sent messages.
Thank you @RunWaterloo for a great #Re-Fridgee8er . The snow made it a real Canadian Run. pic.twitter.com/9WKRi4iu4n

— Paul Brown (@paulbrown57) February 12, 2017
Great morning with my 8 mile team at #ReFridgee8er The Schmidt family work so hard to make these races great. Big thanks guys! #RunnerBliss pic.twitter.com/IG8NnV37NV

— Chris Mintz (@StVinceB) February 12, 2017
Great day at the @RunWaterloo #ReFridgee8er! You win this round @TrevorHofbauer (and all subsequent I'm sure). Congrats to all who raced!

— Sean Delanghe (@SeanDelanghe) February 12, 2017
#ReFridgee8er #runwaterloo #snowymess
Ran the 8k but got this pic before. Krista won the 8mile (pretty close time to my 8k 😂)#teamLloyd pic.twitter.com/lucNMKTkyh

— Sandi Swan (@sandi_swan) February 12, 2017
Perfect shorts weather at the @RunWaterloo #refridgee8er! #sauconycanada #runwaterloo pic.twitter.com/nVWvmZTZ2i

— Kelly Hewitt (@kelly__hewitt) February 12, 2017
Missed you at the race today @LloydTSchmidt , but happy that we were able to bring the Re-fridgee-eighter to you. #teamLloyd pic.twitter.com/NovMfWzjwI

— Vicki Zandbergen (@VicZanRan) February 12, 2017