It was a gorgeous spring afternoon in Elmira for the 16th ENDURrace. The sun was out, spectators watched in t-shirts, and the mood was cheerful for this evening race series.
ENDURrace is a 5k + 8k series challenge. Historically this has been set one week apart, but this year due to some freak severe weather, the two races ran a mere TWO HOURS apart!
Congratulations to all finishers for legging out the 8k on tired legs in nice but unseasonably warm conditions. Last year, several records were set at this event, and that continued again in 2018 at the first ever double-header in Run Waterloo history.
Finish line video and thousands of free photos are available from this race! Find them through the results.
Leg 1
This was the first 4 p.m. start time in Run Waterloo history. The big question is – how hard do you push a 5k when you've got another race in two hours?
Huge congrats goes out to all the ladies in the Let's start running, Elmira! group that has been meeting weekly since February – you nailed it!
In this race, Moore won in a time of 15:42 – the 30th fastest 5k in Run Waterloo history. He and his UWaterloo XC team took 8 minutes off the previous Open team record from 2016. Their average 5k time for five runners was 16:26.
So this just happened. .. second place in my age group for my first race in 3 months. Now looking for my right lung out on the @RunWaterloo course. ..#EndurRace #5km#stressfracturecomeback #thisis51 pic.twitter.com/fvE3MztOwo

— Deirdre Large (@dela_2012) April 21, 2018
Leg 2
While the leaders generally held solid through the second leg of this new back-to-back challenge, we saw a variety of approaches. Some athletes tried to push themselves to hold a similar pace in the 8k as they had in the 5k, but the more popular option was to take the 8k at a more relaxed pace.
Regardless of the approach taken, the feedback on the experience was overwhelmingly positive, despite some incredibly tired runners crawling back into Lion's Hall for a burger or two once they were done!
On less-than-fresh legs:
RW Boost Update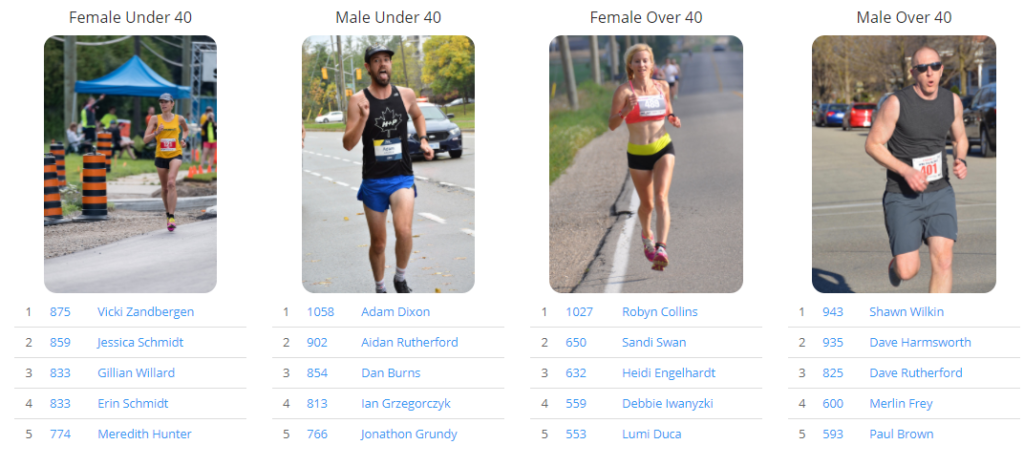 If you haven't heard by now, we launched a great new program to add extra excitement to the series. We have also added thousands of dollars in great prizes too!
Vicki, Adam, Robyn, and Shawn are currently leading the standings. This is the last week to join – deadline is April 30!