The decade is off to a great start this morning with the 23rd Re-Fridgee-Eighter!
On a sunny and mild-for-running day, 400 runners gathered for a winter test of fitness in Waterloo. We love catching up with old friends and meeting new ones as the calendar year gets underway. Congratulations to all participants!
In the headline 8mi event, Adam Hortian set a new overall male record by 1 second (41:06) over Josh Bolton's 2016 record. The Runners Choice Elite open team also set a new record, with an average time of 44:07 for its top five athletes – this will be very tough to beat!
In the 8km, race winner Amanda McLeod set a new masters female record, 25 seconds faster than Leslie Carson's record from 2004.
In its second year as a timed event, the 3km turned over the record board almost completely; the only 2019 record left standing is the Fast and the Flatulent's spouse record. Jeff Baker set both the overall and the masters male records today. Shout out to Marius Florea, another masters runner, who also bested the previous male records. Stephanie Thomas set the overall female record, Barbara Leasa now holds the masters female record, and team records belong to H+P (open) and Schmidt Dad and Son (parent-child).
Award medals
We released a new tool to help you claim your award medals. Check it out! The medals are at Runners' Choice for the month following the race.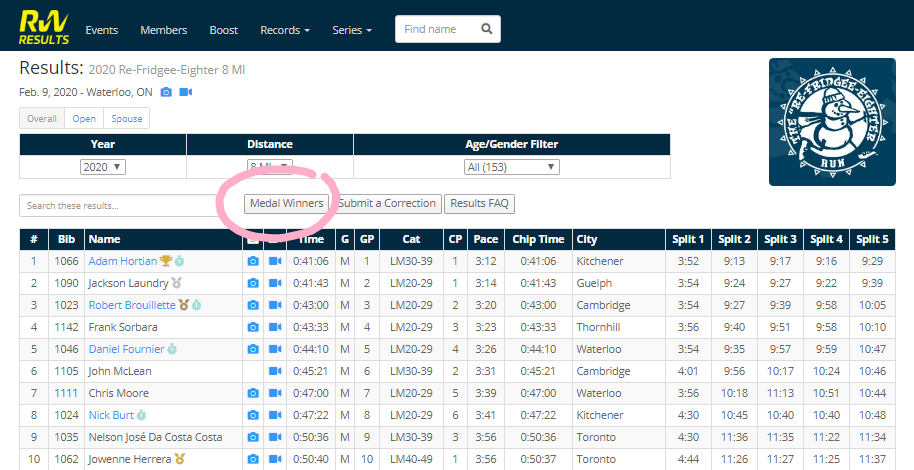 Photos and video
Finish line video is up and embedded directly in the results, and we uploaded over 3,000 free photos Flickr page!
RW Boost
Boost is a fun experience for our flagship membership program. It's a social competition and awards program in one. One race is just the start!
Learn more about our membership program here. We took the opportunity this morning to distribute dozens of hoodies to 2019 participants. Looking great in blue!
Upcoming event
The next two races are: