In February, we launched an exciting new program. It's a social competition, a loyalty program, and a fun community initiative, all in one.
What we hadn't announced – until now – are what the points are for, besides bragging rights! Here are your 2018 RW Boost prizes:
Four levels of RW Boost prizes
1. Member t-shirt
Criteria: 800 points
This shirt is the first clothing item that is specifically for members to identify themselves and show off their Run Waterloo pride!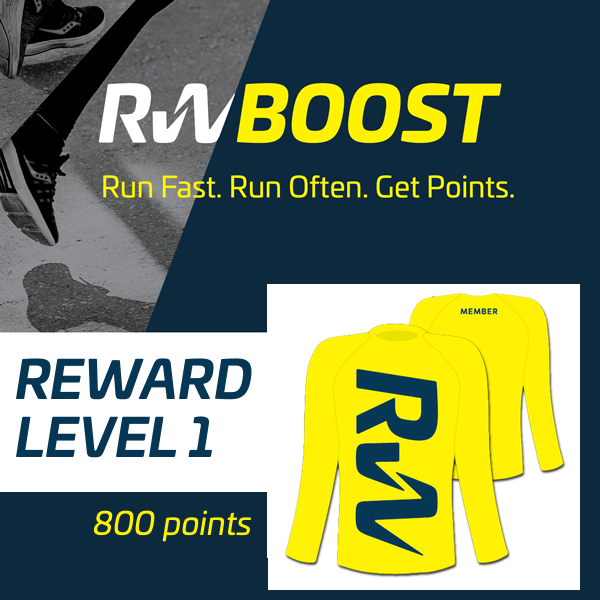 2. "I Run Waterloo" hoodie
Criteria: top 15 in each demographic
Even more exclusive is the hoodie! Earning this prize are runners who are truly at the core of Run Waterloo.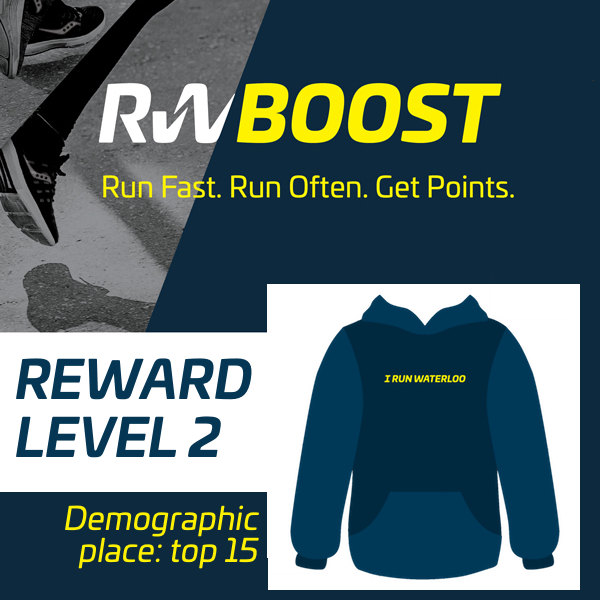 3. 2019 Run Waterloo membership
Criteria: top 5 in each demographic (entire 2018 leaderboard)
The next prize is another thank-you to our most loyal members – free memberships for the 2019 season!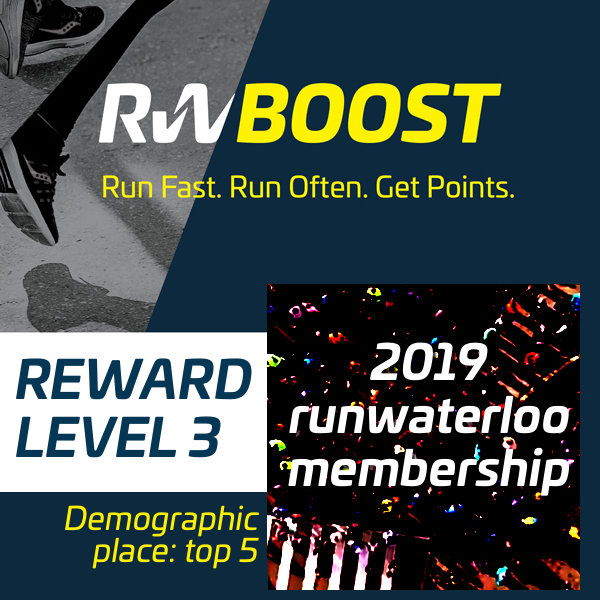 4. Saucony shoes
Criteria: 2018 demographic winners
The biggest prize is reserved for the biggest winners – only four members are running away from this program with a free pair of shoes from Saucony Canada!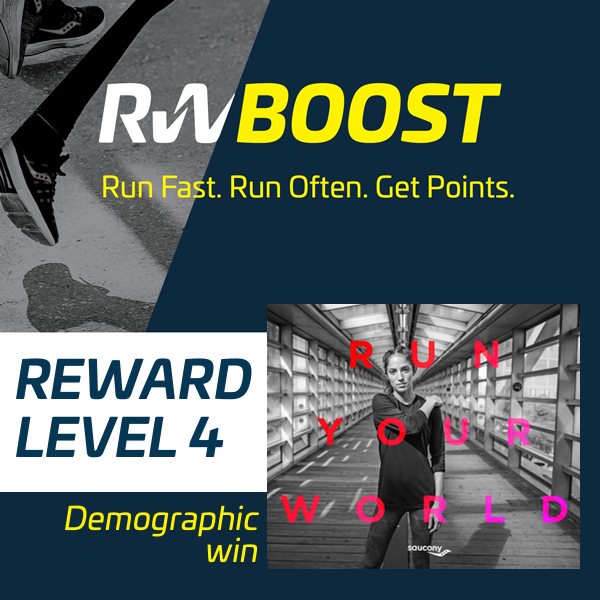 Prizing rules
The 2018 Boost standings will be finalized after the final race of the year on December 1, 2018. Prizes will be determined and distributed in December 2018, not before.
All prizes are completely free to RW Boost participants.
RW Boost is exclusive to and free to RW members.
Deadline to join this competition is April 30, 2018. At this point, all members who have a membership profile are included, and anyone who is not a member or does not have a member profile is ineligible.
Learn more about:
Prizes are stackable; four people will earn all four prizes. 20 will earn 3, 60 will earn 2, and there is no cap on how many members will earn prize level 1.
Note that these are new designs for the t-shirt and hoodie; they have not been printed yet and could look slightly different off the press.
2017 Demo
How many prizes will you earn? We encourage you to check out the 2017 demo to see how many points you "would have earned" last year. Also read the full rules and plan out where you are going to earn your points in 2018!
How high are you setting your sights? Can you earn the 800, or are you going for a top 15 demographic place? Who are the contenders in your demographic? Have fun with this!
Huge thanks to our sponsors
Saucony Canada for providing the grand prize, and Aubs & Mugg for the fresh, bold swag designs!
Next RW Boost points up for grabs
We're out in Elmira for ENDURrace each of the next two weekends. The leaderboards will shake up quite a bit over these two events!