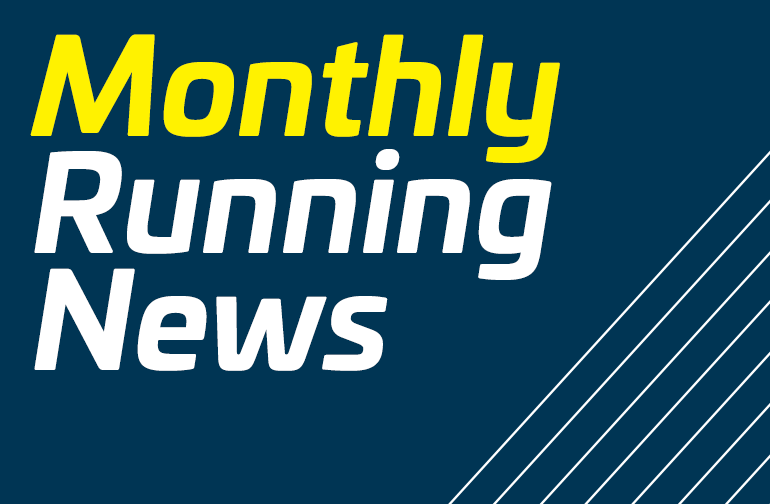 Welcome to spring! This issue of Running News focuses on the Boston Marathon, but also covers other race results and top stories going back to March and February.
Boston Marathon
The Boston Marathon captures the attention of the running community in a way that few do. It's got it all – the history, the brand, the proximity (everybody knows someone in the field), the world-class talent, the date (Monday morning? live tracking? yes please), and the spotlight (no other events competing for your attention).
So every Patriot's Day (a Massachusetts state holiday commemorating battles in the American Civil War), the entire city of Boston, as well as tens of thousands of fans, family and friends around the world, tunes in to this historic event. This year was no different, and the race provided something for everyone: a highly competitive race at the front of the field, heartwarming stories throughout and endless support along the length of the course.
Top Finishers
The women's race was won by Edna Kiplagat, a 38 year old Kenyan who has been a mainstay on the elite marathon circuit for the past six years, accumulating two World Championship titles and now three Marathon Major titles. This was her first time running Boston. At 30km she surged to open up a lead, which the pack was unable to close, and won by almost a full minute over Rose Chelimo of Bahrain. Kiplagat's time of 2:21:52 makes her the oldest woman in history to run faster than 2:22. Just nine seconds back of Chelimo, American Jordan Hasay made her marathon debut in an incredible 2:23:00 to take third place, with the fastest debut by an American ever (this distinction is marked with an asterisk due to the fact that Boston is not a record-eligible course). This time also makes her the fifth fastest marathoner in U.S. history. Hasay identified herself as a contender after running a 1:07:55 half marathon in Prague earlier this year. U.S. Olympian Desiree Linden openly stated she was racing for the win this year. She led up to the halfway mark before falling off pace. As she did during last winter's Olympic Trials and last summer's Olympic marathons, Linden demonstrated the characteristic grit she is known for by making a hard bid to return to the lead pack, but eventually had to settle for fourth. The top Canadian finisher was Rachel Hannah. Hannah was recovering from a few injuries that interfered with her buildup, but still managed a 2:41:22 to finish 23rd.
The men's race was heavily contested, with the pack sticking together past the 30km mark. With 9km to go only American Galen Rupp and Kenyan Geoffrey Kirui remained at the front. In the final stretch with less than 5km remaining, Kirui dropped Rupp with the fastest mile split of the day, and held on to win in 2:09:37 in his third ever marathon. This was Rupp's third marathon as well, and he finished just under 2:10 in a new personal best time. Third place was Japan's Suguru Osako, a teammate of Rupp's who finished his debut marathon in 2:10:28. Canadian Olympian Eric Gillis was expected to race, but had to withdraw at the last minute due to an Achilles injury. The top Canadian finisher was therefore Jacob Puzey from Calgary, who finished in 2:26:52. Puzey made headlines in December for taking over an hour off of the world record for 50 miles on a treadmill.
Notable Performances
2012 winner Wesley Korir returned for his fifth Boston, finishing 15th.
2014 winner Meb Keflezighi was also racing Boston for the fifth time. He finished 13th and, at age 41, announced this was his final competitive Boston race. He plans to run at least one more marathon, New York, in the fall.
At age 70, Kathrine Switzer returned to the Boston marathon for the first time since her historic 1967 race as the first registered female finisher. Today she finished in 4:44.
Canadian Olympian Nicole Sifuentes won the B.A.A. Invitational Mile on the Saturday before the marathon, setting a new course record of 4:33.7.
Local Results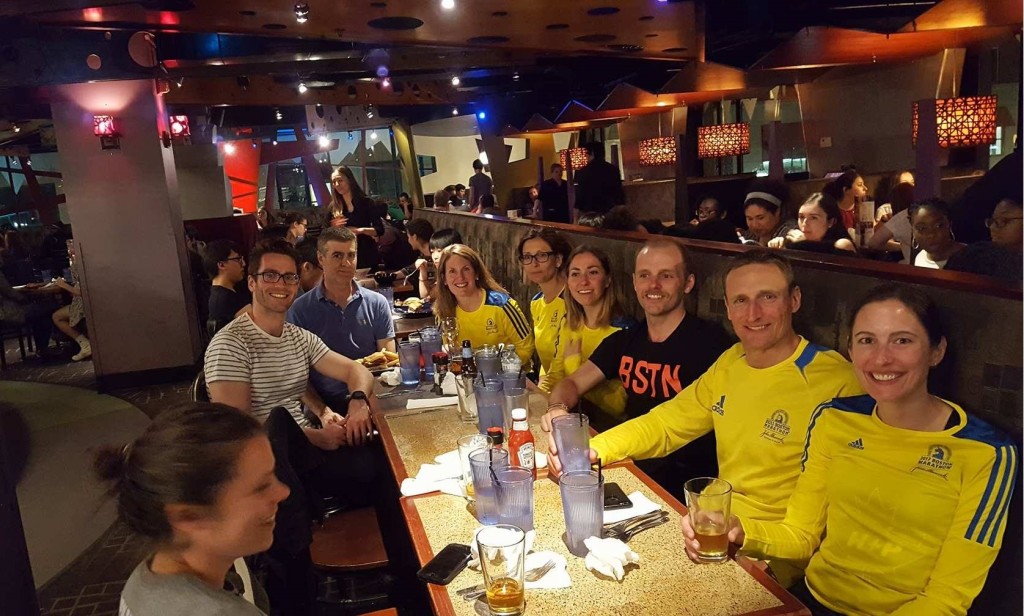 Waterloo Region was well represented this year, with 38 finishers. The fastest local runners were Sean Delanghe (2:55:21) and Kimberly Fabian (3:40:00), and the average finishing time was 4:06:58. Congratulations everyone!
| | | |
| --- | --- | --- |
| Name | City | Time |
| Sean Delanghe | Waterloo | 2:55:21 |
| Luke Ehgoetz | New Hamburg | 3:09:58 |
| Greg Galloway | Cambridge | 3:14:30 |
| Kevin Taylor | Waterloo | 3:26:41 |
| Jonathan Finn | Kitchener | 3:27:15 |
| Robert Yendt | Kitchener | 3:36:02 |
| Robert Baxter | Kitchener | 3:38:31 |
| Kimberly Fabian | Kitchener | 3:40:00 |
| Vicki Zandbergen | Kitchener | 3:41:30 |
| Val Hobson | Kitchener | 3:42:17 |
| Gillian Willard | Waterloo | 3:42:19 |
| Mark Shepherd | Cambridge | 3:44:23 |
| Andrea Sweny | Kitchener | 3:45:07 |
| Christine Ohlhausen | Wellesley | 3:46:42 |
| Dave Champion | Kitchener | 3:48:51 |
| Lia Kutzscher | Kitchener | 3:50:13 |
| Michele Craddock | Waterloo | 3:51:48 |
| Dana Fox | Waterloo | 3:52:25 |
| Katherine Chrysafidis | Waterloo | 3:58:38 |
| Lumi Duca | Waterloo | 3:59:33 |
| Jamie Arnold | Kitchener | 4:00:19 |
| Allison Prowse | Kitchener | 4:04:00 |
| Barbara Ward | Kitchener | 4:06:31 |
| Terry Dinsmore | Waterloo | 4:08:25 |
| John Summers | Kitchener | 4:13:39 |
| Michael Lanteigne | Elmira | 4:14:15 |
| Baoshi Sun | Waterloo | 4:18:36 |
| Mike Hammond | Cambridge | 4:20:53 |
| Tyler Van Ooteghem | Kitchener | 4:26:04 |
| Brian Hollas | Waterloo | 4:36:21 |
| Pat Hollas | Waterloo | 4:36:21 |
| Shawn Kimmel | Cambridge | 4:55:25 |
| Michael Archibald | Kitchener | 5:01:03 |
| Jessica McMillan | Kitchener | 5:03:15 |
| Michelle Lennox | Waterloo | 5:05:22 |
| Daisy Martin | Waterloo | 5:23:59 |
| Katarina Erb | Kitchener | 5:25:52 |
| Jen Markovic | Waterloo | 5:32:11 |
Other Race Results
Track & Field
The biggest name in track and field so far this year is Laura Muir, who picked up right where she left off last summer with more record-setting performances. She set three new records: British indoor 5000m record (14:49), European indoor 3000m record (8:26) and European indoor 1000m record (2:31). Her 1000m time put her second all-time behind Maria Mutola's  world indoor best performance of 2:30 from 1999. Muir capped off her season by winning both the 1500m and the 3000m events at the European Indoor Championships in new Championship record times. Here's a great clip of Muir evading an official in order to celebrate one of her wins with a victory lap!
Genzebe Dibaba also continued to break records this winter on the track. In February she ran a 2000m in 5:23 which, once ratified, will be an outright world record, as it bests the fastest recorded outdoor time of 5:25 by Sonia O'Sullivan in 1994.
We continued to see strong results on the track from many Canadian athletes as well. In particular, Mohammed Ahmed broke the Canadian indoor 5000m record of 13:04, taking almost 15 seconds off the previous record set by Cam Levins three years ago.  He also broke Levins' indoor 2 mile record in February. Kate Van Buskirk also had a great return to competitive running, winning the Millrose Games 3000m race after spending the last two years struggling with a chronic disease called spondyloarthropathy. In Canadian University athletics, Olympian Gabriela Stafford and her younger sister Lucia dominated the distance scene, earning a combined six medals at the USports Championship in March: Gabriela won the 1500m and 3000m, while Lucia collected first place finishes in the 1000m, 4x400m and 4x800m, as well as finishing second to her sister in the 1500m. Lucia also set new Canadian junior (under 20) indoor records this winter for 1km and 1 mile.
February also featured the debut of a new track and field experience, the Nitro Athletics series, in Melbourne, Australia. The concept was a team-style competition where international teams competed across a variety track and field events, but all with a twist on the traditional, for points. For example, the elimination mile involved the slowest competitor being eliminated at the end of each lap so that only half the field remained for the final lap. The three-day event was headlined by Usain Bolt, whose All Star team emerged victorious over the home Australian team.
Cross-Country
In March our Canadian cross-country team, as selected last December, competed at the NACAC (North American Central American Caribbean) Championships in Florida, followed by the World Championships in Uganda. In Florida our junior teams were dominant, with Kiernan Lumb tying for first overall in the men's under 20 race and leading his team to a third place finish. Brogan Macdougal won the women's under 20 race to lead her team to a first place victory, with all six Canadians finishing in the top 10! The senior men couldn't match the U.S. team, who finished with a perfect score, but also ran to a strong second place finish, while Sasha Gollish won the senior women's race and helped her team to another win for Canada. Three weeks later the teams faced much stronger competition in Uganda. To no one's surprise, Kenyan and Ethiopian teams finished first and second in every event including the mixed relay. Canada's top performance came from the under 20 women, who finished 6th overall, led by a 24th place finish from Hannah Bennison. The under 20 men were 15th, thanks to a 55th place finish from Lumb. Gollish was the top finisher for the senior women again (41st), helping the team to a 9th place finish, while the senior men were 12th (Trevor Hofbauer – 71st).
On the Roads
On the first of April, Kenyan Joyciline Jepkosgei set a new half marathon world record and became the first woman to break 65 minutes (1:04:52). Not only that, but she broke three other records on her way, running the fastest ever 10km, 15km and 20km times on a record-eligible road course. Her performance thrust her into the forefront of women's distance running, and is the first indication that Paula Radcliffe's marathon record (2:15:25) may not be unattainable after all…
Rachel Cliff had an excellent race at the United Airlines NYC Half Marathon in March, finishing 8th in a time of 1:12:07, making her one of the fastest half marathoners in the country. She took three minutes off her personal best and showed that she can be competitive in a world-class field. Dayna Pidhoresky has also had a strong start to her year, winning the Around the Bay 30km by a convincing six minutes, as she prepares for a spring marathon.
In Other News
Athletics Canada (AC) announced updated qualifying standards for the World Championship marathon this summer, which are the exact standards released by the IAAF (2:19 for men and 2:45 for women). If you recall, AC announced tougher standards of 2:12:50 and 2:29:50 the week before the Canadian Marathon Championships in October. However, they updated their qualifications on February 21st, allowing that any marathon after January 1, 2016 would be eligible. This means there are currently three men and seven women who have met the standard during the qualifying period. Athletes and fans alike have only positive things to say about this change.
Jemima Sumgong, Kenya's first gold medallist in the Olympic marathon, tested positive for a banned substance in an out-of-competition drug test this month. There will likely be an appeals process before any further action is taken.
The May issue of Running News will cover results from the London Marathon as well as the opening races of the outdoor track and field season. It will also recap the Breaking2 attempt, scheduled for the weekend of May 6.