From our constant drive to improve your online Run Waterloo experience comes our next project: Member Achievements, which are currently live on your member profile!
Achievements are statistical honours that members earn, and are proudly displayed with badges. Each of these badges is a work of art, and has been carefully crafted by our friends at Aubs & Mugg.





Achievements come in three categories:
Loyalty, earned by showing true commitment to the Run Waterloo community.
Series, for completing events which are grouped into series, such as ENDURrun or Battle of Waterloo.
Performance, to recognize outstanding race results.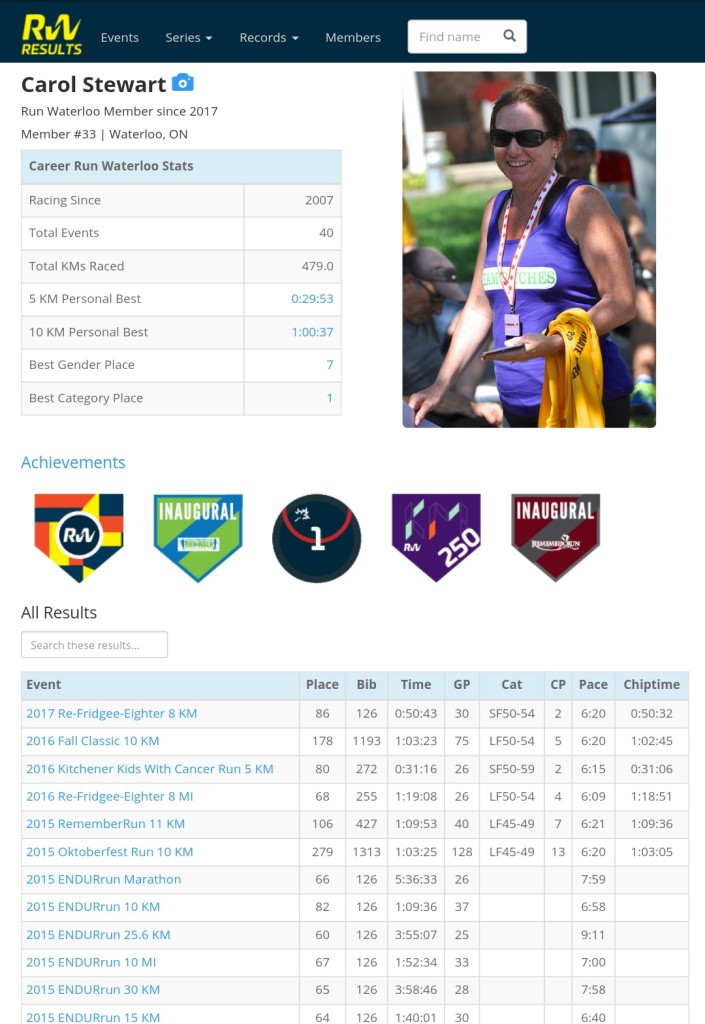 Some Achievements are static – you either have it, or you don't – such as Founding Member, which will become permanently unavailable after June 18, 2017. Some are dynamic, such as Total Kilometres, which scales over five levels to recognize higher levels of accomplishment.
Check out the full list of Achievements or see them in action on member profiles, such as Carol's (pictured at right).
The easiest way to add your own Achievements:
If you're not a member – join by June 18. Guaranteed Founding Member.
For members, check out your total number of kilometres. Are you close to any threshold? The Achievement starts at 100. Our example Carol is only 21 km away from upgrading to 500!
Join BOW V for that sharp badge.
The next Inaugural race we have coming up is the Riverside Roughly Five.
Go out and win an event! 😉 No big deal.
Every result and photo included on a member's profile is hard-earned and worthy of recognition, and Run Waterloo is thrilled to now bring them to life in this new way. We hope you enjoy earning badges as much as we like their style!