This month in our member spotlight, we want you to meet Jenni Lowry!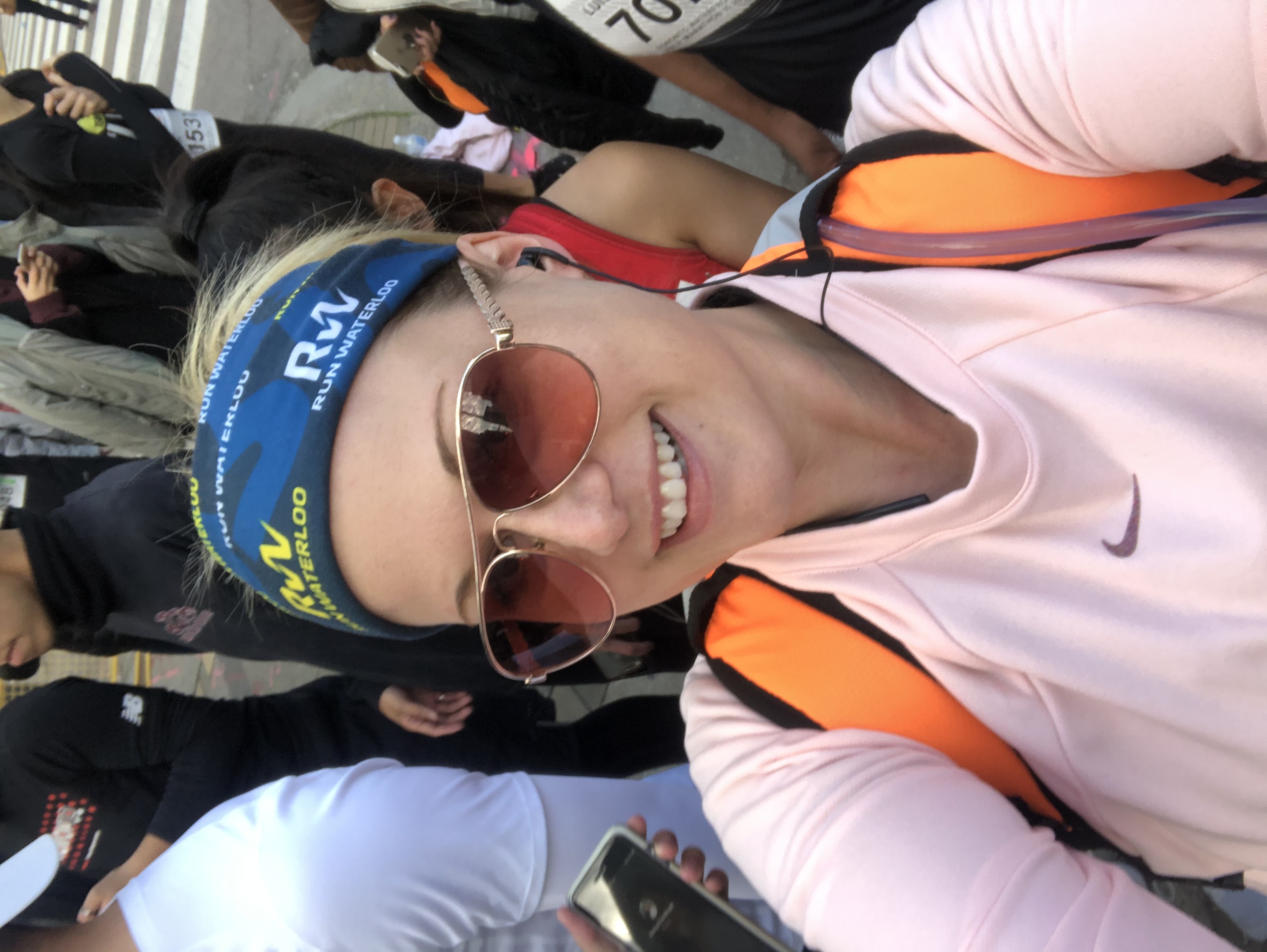 Tell us a little bit about yourself
I am relatively new to running I would say. I started participating in Run Waterloo races in 2018 when I was encouraged by my co-workers, who are Run Waterloo members, to sign up with them. I was new to the office and it was a great way to get to know them outside of work. We still sign up for races together often and we always enjoy rooting for each other and meeting up at races.
Talk about your getting involved with Run Waterloo
My middle son Alex ran the Santa Pur-suit race back when he was in the 6th grade and made the paper. It was about 4 years ago and his participation was my first exposure to the Run Waterloo community. He still has the article clipping of that day tucked away in his room.
When I joined Run Waterloo, it was to get back into running after years of not running and I was very reluctant. I used running as a way to motivate me to get back in shape as well as to be cigarette free. In my first year of quitting, I shaved 14 minutes off my 5k finish time and I haven't had a cigarette since.
What are your favourite parts about running and RW?
Running for me is about time spent with friends and for mental and physical health. I like nothing more than a meeting up with a friend for an outdoor run and a good chat. Running helps release the stresses of the day and is my way to self-care.
The thing I like most about being a Run Waterloo member is the sense of community and support I feel. I'm not the fastest runner but I enjoy it and I always have a good time. Seeing Run Waterloo volunteers and fellow members cheer you on throughout the races, especially when you feel like slowing down or giving up, is amazing and it helps motivates me to keep pushing myself. 
Can you share a recent running highlight?
Last October I ran the Scotiabank half marathon in Toronto with two girlfriends. Participating in that race was one of the toughest things I've ever done but training for it all summer was so rewarding and I am so proud that I finished it.
How did you first get into running?
I wasn't a runner before I had my children. I had my first child when I was 18 years old and my second son when I was 19. For many years I faced negative judgments and honestly just stayed inside raising them away from judgmental people. I moved to Waterloo in 2005 when my middle son was 2 to be closer to my dad and to find work, as I had no luck in Oshawa where I had been living. I didn't know how to cope with the things people said or their questions about my age and relation to my children, so I went back to finish my high school diploma at St. Louis in 2008 after my youngest son was born. He was 4 months old when I started school again. I then attended the University of Waterloo, completing a 4 year degree in 5 years (I also had a stepson who is 7 months younger than my oldest son, so this was no small feat getting an Honours Bachelor of Arts degree while raising a family). I was focused for so many years on my kids and making people see I was a good parent that I didn't know how to self care, had very little money, and I didn't consider doing anything but sleeping, completing assignments, or relaxing in my "down time." I was so determined to give my kids a good life that I didn't matter, if that makes sense.
I got into running after a bad separation leading to divorce in 2013 as a way to move me out of the debilitating depression I was experiencing at the time. I had tried medications but it made me gain a lot of weight and made me very tired and irritable so I knew that wouldn't be helpful long term raising three boys on my own. I knew I would have to be alert and functional to be mom and dad 24/7.
Becoming a single parent in my last term at the University of Waterloo was very difficult and running helped me find something positive in life again and to pull me out of the funk I was in. I was worried about how we would get by and being a young mom, I knew the challenges I would face along the way to securing employment. At one point I was too depressed to leave my bed except to care for my children and I knew I had to take action. I got a dog around that time and we started running as a family every night after dinner. My boys were 9, 8 and 6 years old at the time. I was just starting my career in social services and my doctor actually suggested running as a way to combat depression and to motivate me to carry on with my life. When my boys were younger, we used to run often and bike the trails around town going from park to park. We rode from Waterloo all the way to Victoria Park almost every weekend at their request. We had done this bike ride when I was married as a family and I think it comforted them to keep going for a while after the separation since they no longer had contact with their dad.
In 2014, I began working with disadvantaged youth who often ran away from the group home I worked in and they had severe mental and intellectual disabilities as well as behavioural concerns so being fast and strong was a necessity to stay safe at work. The youth knew I was a runner so it often decreased the amount of running I had to do while I was on shift because they knew they couldn't outrun me.
I loved running outdoors nightly with dogs I have had over the years as well but I never participated in races outside of the ones my boys asked me to participate in with them. I used to do an annual 5 km race with my kids when they were in elementary school through the Running & Reading program they participated in. My boys and I ran as a family until my oldest entered grade 9 and lost interest in running and I started running solo more often. When I moved to my current job at the Region of Waterloo, I stopped running and gained weight and my friends who are RW members suggested I start again and I've been running ever since. 
Thanks so much for sharing that Jenni. Let's quickly pivot to some lessons you've learned.
Don't compare yourself to others! Enjoy the run, notice how it makes you feel and just have fun. All that matters is that you did it! On race days I usually arrive early and take in the events, I usually meet up with my coworkers/friends that are members and we cheer each other on! We enjoy the after race snacks and the feeling of accomplishment.
How are you holding up over the past few months?
I just enjoy staying active and spending time with friends. My goal was to find a hobby now that I have three teenagers that don't want as much of my spare time. I have always enjoyed running but I had never participated in any races outside the ones I mentioned previously. Joining Run Waterloo gave me a reason to run more often. I particularly like the member stats and page where I can see my personal improvement over time. My goal in 2019 year was to earn the hoodie and I did! So proud of that.
My current goal for fitness and running is to do something daily whether it be a quick treadmill run on my lunch, following a guided work out or stretch on an app, or joining my friend's Zoom sessions. 
Last: what is your next race?
Well … my next race will be the next virtual one available!
Needless to say, we can't wait until the next race! Thanks Jenni!