Run Waterloo is a community that you have helped build over the last 25 years. As our community grows, we continue to listen to what you want: loyalty rewards, flexibility, and a strong community. That's why we're excited to launch this for the 2017 season: join today!
Join the Run Waterloo community
This $50 membership is an annual fundraiser that supports ​Run Waterloo's initiatives to get the community active and running. All proceeds are reinvested in the community and in our non-profit and charity partners.
Who is a Run Waterloo member? Someone who:
Believes in individual health and community health
Enjoys the benefits of the Run Waterloo community
Supports efforts to make running more accessible, fun, and popular
Knows a great deal when they see one!
So what is that great deal?
Member benefits
Simple and flexible discounts
For both individuals and families, this is a fundamental shift towards simplicity and flexibility. With this launch, we are retiring two long-standing discounts: the Multi-Race Discount and the Family Discount. Both groups will have much more control of their race budget and decision making process: individuals do not need to register in batches to receive discounts on their races, and families to not need to register as a group of four to save 25% on their registrations. These discounts can now be combined with group discounts!
We encourage you to do the math on the savings involved and the value presented with the full set of benefits. Multi-Race discount subscribers might look the 25% discount as lower than the previous 35% maximum discount, but we've designed the program with a much more comprehensive value. Keep reading for more.
Adventure Guide presents Run Pure & Simple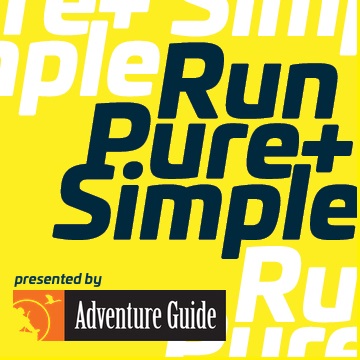 Brand new to our Run Pure brand this year is a sub-series of three events called Run Pure & Simple presented by Adventure Guide. These events are each $10 to the public, and all completely free to all Run Waterloo members. The low price includes timing, great courses, a water station, and certified distances for the two paved events. We believe each of these events fills a substantial gap in the local running calendar:
Downtown Kitchener Mile, Sunday July 23

1 mile urban road race at Carl Zehr Square, Kitchener

Riverside Roughly Five, Saturday October 7

~5 km of challenging trails at Riverside Park, Cambridge

Musagetes Five, Saturday November 25

5 km on the Walter Bean Trail's paved pathway, Waterloo
Results Profile
As you know, we've made every single result in the history of Run Waterloo available at results.runwaterloo.com over this past year. The next step in this project is this great member profile.
» Explore the Membership Profiles «
These profiles include results to every result you have (including if you have run under alternate names, like nickames or maiden names), give you some personal best and legacy statistics, and can accommodate a photo. The only way to get a profile is to be a current Run Waterloo member. Member profiles are added at least weekly.
[Edit: Since this was launched, we have made two substantial upgrades: we have added the Flickr Gallery and Member Achievements to member profiles.]
Membership fees
We've priced the yearly membership at $50, which is a great standalone value. But all youth (5-17), seniors (65+) and students (full time study*) are eligible for $25 memberships, and children under 5 years old are free.
These discounted groups – youth, students and seniors – pay $25 for the membership, of which the benefits include three Run Pure & Simple events.
This price gives individual runners and families the flexibility to choose how often to race, and when to sign up.
The fine print
What's a great program without a few rules?
1. This is a community program, not to be confused with the the legal membership of Run Waterloo Inc.
2. The 2017 Membership period is from January 1, 2017 to December 31, 2017. This applies to discounts at Runners' Choice.
3. Event discount benefits start upon subscription; a 2017 member can purchase a 2017 registration with a discount before December 31, 2016.
4. Memberships are non-refundable, non-transferable and non-deferable.
5. Memberships can be gifted and purchased for others.
6. For each Adventure Guide presents Run Pure & Simple event, membership allows free entry but does not count as entry or guarantee race day entry. Free member registrations must be claimed in the standard manner.
7. * Students pay full price up front and receive a one-time $25 cash rebate at any event, with proof of full-time studies (student card).
8. Membership discounts are not retroactive: you must be a member at the time of event signup to receive the discount.
9. Age-based memberships are based on the day the individual signs up for the membership.
Like what you're reading? Join today.