RW Boost is a brand-new benefit for memberships in 2018. We know you love to race. Now you can find new ways to compete and get rewarded for it!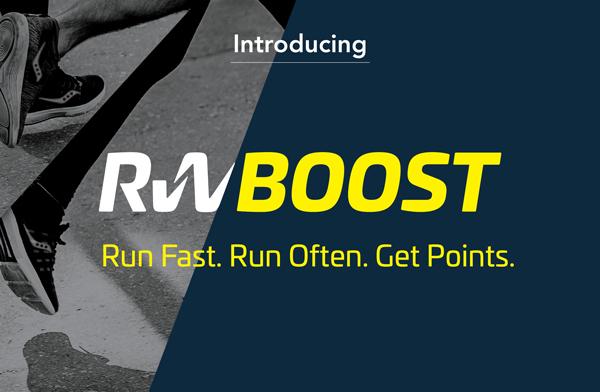 This program is both a points system and a rewards program, with some great prizes for things you already do. Earn points, compete with your friends, and cash in on prizes.
Here's how to play.
How do I earn points?
It's simple – Run Fast. Run Often. Get Points.
We've designed a points system to weigh and value participation, speed, and loyalty. You can earn points by running in timed races, but only your top eight races count. After that, earn a better score to displace your lowest score. Your score is tracked live in standings all year long in 2018!
What this isn't: strictly a participation contest, nor too race-like where the fastest person is supposed to win. Instead, we have combined these factors and also added boosters designed and calibrated to add balance, excitement, and reward.
In RW Boost, you are competing against athletes in your Demographic, of which there are four (men/women, over/under 40). Be sure to read more for a complete description of how points are earned.
How do I turn these points into rewards?
The real strength of this program is going to be the year-long social competition. However, we're not stopping there. We have put together an incredible system of rewards based on both point totals and Demographic placing.
Up for grabs is Run Waterloo merchandise, 2019 Run Waterloo memberships, and Saucony shoes! Check out the rewards announcement from April 11.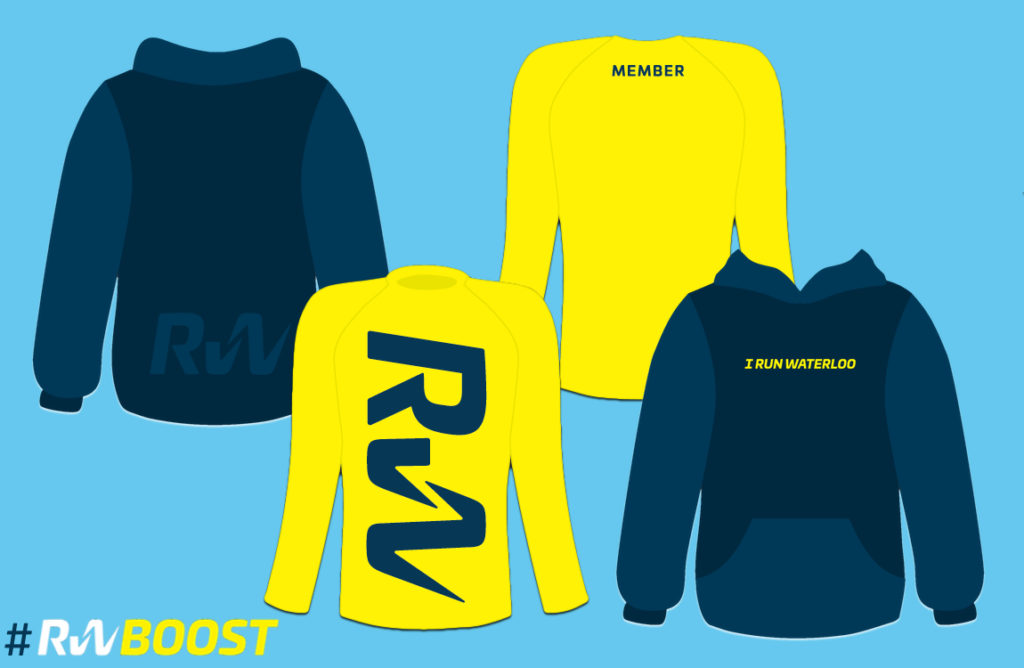 2017 Demo
We know what you're thinking – you like what you're reading, but you want to see it in action. We've got you covered. This is a demo for 2018 members, based on their 2017 data. This demo shows how the standings will look if everyone has an identical year in 2018 (including PB boosters!)
In the 2017 Demo, you can explore the various RW Boost features:
Demographic leaders – with profile pictures
Leaderboard – top 5 in each Demographic
Complete standings – searchable and filterable by gender and Demographic. Who is near you in your Demographic?
Score reports – for anyone in the standings, click the point total to see the score report. This report shows how many points someone is scoring for each race result, which boosters are earned, and which races are counting. There is a a summary of the rules below, with a link to the official rules.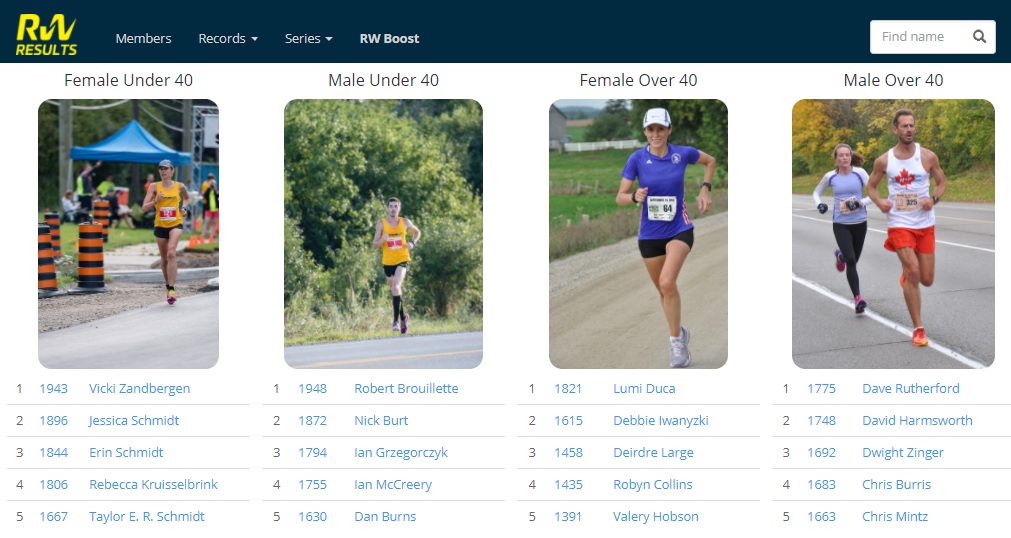 Screenshot of the 2017 Demo leaderboard.
As you can see, two of the four Demographic winners are 2017 ENDURrun Ultimate champions, Vicki Zandbergen and Robert Brouillette. These athletes did not win on the strength of any one particular variable but because they both had overall incredible performances consistently throughout 2017 that ticked all the boxes: many events, front of the pack, Classic participation, lots of PBs, and lots of repeats. Any runner who puts in that kind of year is bound to do well in RW Boost. Well done, Rob and Vicki! Too bad we didn't have this program in 2017 …
Note: 2018 data is now live, and this demo will be disabled soon.
Membership profile benefits continue
When we launched the membership profile on January 17, 2017, the only features were the results history and profile photo. Since that time, we have continued to work hard to develop the value of the profile based on features that you want.
Photo tagging (launched March 10, 2017) – find your own photos quickly
Member Achievements (launched May 22, 2017) – individual awards
RW Boost (launched February 7, 2018) – social competition and rewards program
Members can opt out of the membership profile at any time, however all of these features come as a package. You either get all of them, or none if you opt out. Deadline for eligibility is April 30, 2018 – any 2018 member who joins after this date will not be included in the RW Boost 2018.
What do I do now?
If you're not a member, join today (or at least by April 30)! Already a member? Then get started this spring, by collecting your first points at Re-Fridgee-Eighter or Laurier Loop! Either way – let us know what you think! Give your 2018 a boost.
Huge thanks to Aubs & Mugg for the program branding!