What better way to take advantage of the "shorts-weather" on Thursday than to run…in Santa suits!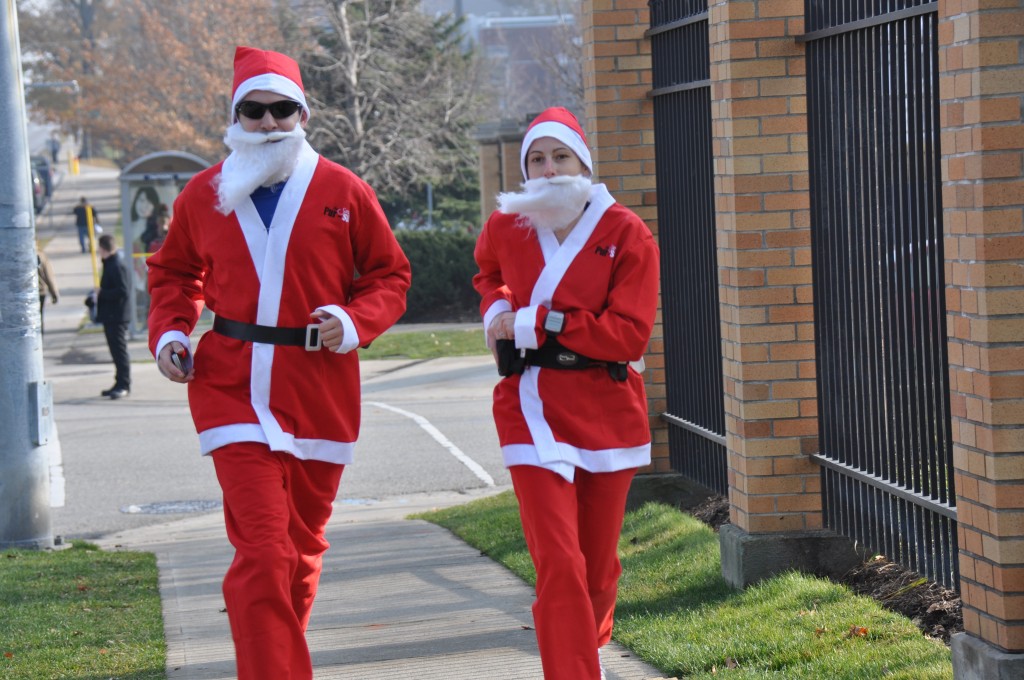 We wanted to get a sense of what it was like to run in the suits before we ask over 800 people to wear them next week.  These were the conditions of the test:
Total distance

: 4.7km.

Route:

Northwest from downtown Kitchener along King Street, through Uptown and finishing at Runners' Choice.

Temperature:

12C.
Here is what we learned: (Click here for a video review and here for the facebook album)
1. Get comfortable in your suit. 
The suits can be baggy.  It's a Santa suit!
What we would recommend is that you pick up your suit early, in case you have to make any adjustments.  The flexibility was good, but if you need to trim or hem the edges, add safety pins, or even take a test-jog, please consider early pick-up of your race kit.
Kit pick-up is at Runners' Choice on Friday, November 30, from 5-8.  Note: on that day, paving will take place at the King Street entrance to the Runners' Choice parking lot, so enter off Hickory.
2. Dress for the weather.
On the day we tested the suit, it was unseasonably warm – too warm to run with a long-sleeve t-shirt underneath.  Eight days out, the weather is expected to be sunny, and hovering around freezing.  Feel free to add gloves or earmuffs if you need – but remember, you must wear all components of the suit!
3. Specific suit components.
You might get a little fuzz in your mouth, but the beard stays on very well.  The pants have a drawstring which we found to be very effective.  The jacket doesn't independently close; consider using safety pins, or even a fuel belt to keep it closed.
Overall, this little stunt turned some heads, spread some smiles, and we had a lot of fun.   It's going to be quite a sight to see hundreds Santas on December 1!  You can still register here; preregistration ends next Wednesday, November 28.
From twitter:
Jusst saw santa jogging up king street looking fit as hell like danm manu need a cookie

— Daniel Steinman (@sirlikepenguin) November 22, 2012