We have all heard of interval training before.  There is a plethora of combinations and permutations to set up interval workouts with, and each has its advantage depending on what you are training for. That being said, they all involve the same basic concept: run really hard, recover, repeat.
If you've heard of interval training, you also have probably heard that it is a good use of your training time.  The downside is that it is a little more painful than a normal run.  Because of the added discomfort, runners will often avoid interval training, or not push themselves to a high-end pace during the workout.  If your goal is to see results, this is a mistake.  Interval training is not only a good use of your time, but it is the best use of your time.
Just how good are intervals?
Take for instance this 2011 study.  In the study, subjects were divided into 2 groups that did 6 weeks of training.
– The first group (endurance) ran at a decent pace for 30 minutes in weeks 1-2, 45 minutes in weeks 3-4, and for 60 minutes in weeks 5-6.
– The second group (interval) did 30 second maximum sprint efforts with 4 minutes easy active recovery.  In the first week they only did 4 sets, and then gradually increased to 6 sets by the end.  So in that final week, the runners were only doing 3 minutes of hard running total, with a grand total of 27 minutes of activity (less than half of week 6 for the endurance group).
In the study, the researchers measured four variables: 2K time trial results, changes in ability to consume oxygen, body composition and the ability of the heart to pump blood.  This is what they found:
– In the 2K TT, both groups improved by about 30 seconds.  This is shocking because despite working out less than half of the total time as the endurance group, the interval group still showed the same improvement.
– Both groups showed a similar level of improvement in maximum ability to consume oxygen (V02max).  Once again, an amazing result as the interval group ran a fraction of the total time of the endurance group.
– Both groups gained about 1% lean muscle mass.  However, the endurance group only lost 5.8% body fat compared to 12.4% body fat lost in the interval group.
– One parameter where the endurance group showed an advantage over the interval group was with cardiac output, or the volume of blood the heart can pump.  The endurance group showed a 9.5% improvement, but the interval group didn't really show any.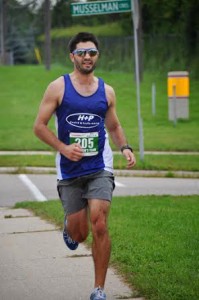 The physiology behind interval training
First of all, this study tells us that in a fraction of the time, interval training can lead to equal to or if not better changes in speed, body composition and ability to consume oxygen when compared to just going for a run.
Secondly, the results of this study hint at where each type of run impacts our physiology.  Endurance running clearly had a more profound impact on more "central" adaptations to training, like cardiac output.  This make sense: when we go for a long run, our heart spends more time beating with endurance running, therefore the ability of the heart to transport blood improves, and oxygen consumption and performance goes up.
Interval training clearly makes us faster, but does not seem to have the same positive impact on central adaptations, like cardiac output.  So where is this extra spike in performance coming from?  Well, one area is at the cellular level of our muscles, and focuses on the concentration of our mitochondria.
Bringing us back to our high school science class, mitochondria are the organelles that consume oxygen and produce energy for us.  The more mitochondria we have, the more oxygen we can consume, the more energy our muscle cells can therefore produce, and the faster we go.
What studies have shown is that interval training has a significant advantage with stimulating mitochondrial formation over endurance running.  Researchers now understand (such as with this study) that on a small scale, longer runs at the same intensity will produce more mitochondria.  That being said, it is not even close to a linear relationship.  At any given intensity, as you run longer, you will eventually plateau and have no additional impact on your mitochondria.  By contrast, researchers know that running at a higher intensity will stimulate mitochondrial production in a way  that no other type of running can, especially in the first few minutes of running.  Repeat that high intensity bout of running a few times, keep up with it for a few months, and you have the perfect recipe for developing muscle cells packed with these energy-producing organelles.
Practical application of interval training
Even though interval training seems to be the best, most efficient use of a runner's time, runners should be aware that there are a few drawbacks. First of all, it does require more effort and pain-tolerance while training- something we are not always prepared to do.  Secondly, tough interval sessions are difficult to recover from, and need to be separated by at least a day to avoid burnout and injury.
It is also important to keep in mind that endurance training will produce adaptations that interval training simply will not allow for.  By going at an easier pace, endurance running allows for longer bouts of exercise.  This will facilitate physiological changes, such as increasing cardiac output, which interval training is not as good for.
So, in a perfect world, both endurance and interval training should be included in your training plan.  But when stuck for time and you can only squeeze in 2 or 3 runs/week, this research shows that every single run should consist of intervals.
Sample workout
If you are interested in giving interval training a try, here is a great sample workout we often do with the Health and Performance team:
10-20 minute warm up (nice and easy running)
Run for 2 minutes as hard as you can, and then recover for 1 minute.  Repeat 6-10 times.
10-20 minutes cool down (nice and easy running)
Happy training!
Dr. Sean Delanghe, BSc. (Hons), DC is a regular contributor to the RunWaterloo blog