Recap
We love running in Elmira because the community is friendly, the facilities are great and the flat roads make for fast courses. April is a great time to visit, not just for the Elmira Maple Syrup Festival but also for the two-part Economical ENDURrace!

After last week's 5 KM, ENDURrace 2016 concluded today with the 8 KM race. We asked for warmer weather, and we sure got it! With many members of our running community heading to Boston for the weekend, we got our share of racing action with a fun rural race.
Results
First, let's take a look at the results for today's event. Strong performances today: Alexandra McGowan's OA winning time of 31:06 and Claire Couper's Masters winning time of 32:03 are both all-time records for this race, and the Health + Performance men's team followed up their record last week with another OA open team record. Jonathan Gascho's time of 27:02 ranks fourth all-time. Check out all these records here.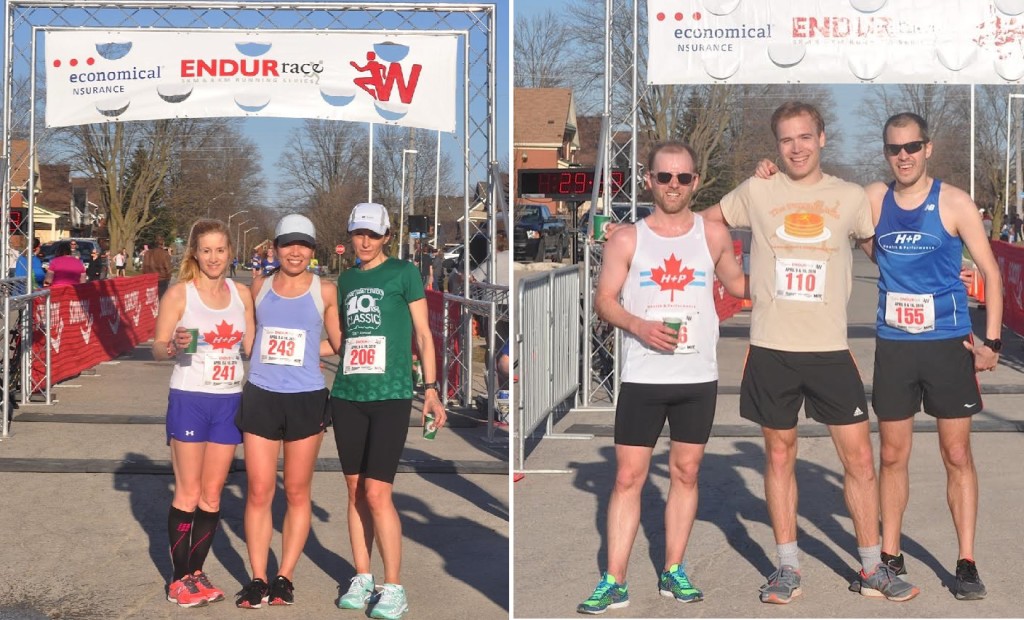 But the main event is the combined 5 KM + 8 KM. This competition is both friendly and competitive, as runners get a good sense of the competition from the first week and put it to the test on the second week. The top three men and women as well as the top masters winners were all back in the field, and all ended up taking home new cash prizes. Mamiko Noguchi and Jonathan Gascho, both in second place after the 5 KM, managed to gap their rivals (Robyn Collins and Sean Delanghe) to win the combined titles. Congratulations!
Photos
Hundreds of free photos are posted to our Flickr page. Enjoy!
Next event
Next up, we're in Wilmot Township for the annual Baden Road Races. In addition to the Neil Dunford Memorial 5 KM, the signature event is the Baden Hill 7 Miler, which goes to the top of the aerial hill.
If you liked the series aspect to ENDURrace, we've got the Battle of Waterloo IV starting in June. It's an enhanced racing experience combined of the Waterloo 10 KM Classic, Runway 2 Mile, Oktoberfest 5 KM and RememberRun 11 KM. Four races allows for some deeper rivalries and camaraderie.