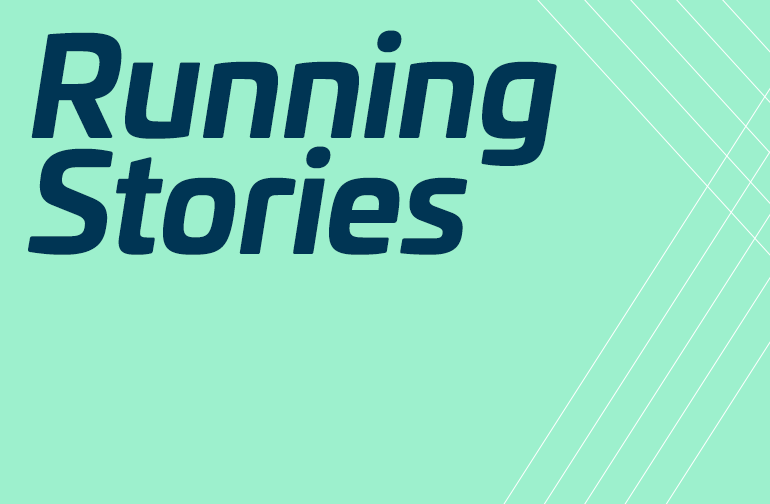 We just wrapped up our 2015 Endurrun and among our runners was "Dangerous D" or Derek Hergott, a local runner who was celebrating his 10 year runniversary. We thought it would be great to catch up with him and check out what 10 years of running looks like.
You are celebrating 10 years of running this year! What has been one of your most memorable moments so far?
Helping my family understand that running isn't just something you do when someone is chasing you.  My wife and 3 children now run and compete in local races.  My wife now runs marathons with me and competing in her first 50k race this fall.  With two marathoners in one family, our 'extra' $$ goes to races or shoes….but I cannot think of a healthier way to release the everyday stress. I was supposed to do the ENDURrun Ultimate this year, but had to pull out after stage 2, due to a stress fracture.  To keep my spirits up, I volunteered and cheered on my teammates and fellow runners for the rest of the stages.
I coach runners in the winter time and train them to run a ½ marathon in the late spring.  It's very rewarding to see their progression from their own first clinic run (a sense of disbelief, to race day, a sense of overcoming obstacles and the mind to get the job done!)
What has been your favourite race and why?
Chicago Marathon hands down!  I love travelling to the states, and I usually run marathons.  It's a spectacular city, the runners own Chicago during marathon weekend, AND…..large quantities of beer at the finish line.  The 27th mile post race party reminds me of Woodstock!
What is your biggest piece of advice for new runners?
Never give up!  Sometimes the best training runs, are the runs that didn't quite go so well.  Those are the runs that build character and strengthen the mind.  Plan big!  Plan what may seem like an unrealistic goal to aim for.  The journey you'll take to get there, is immeasurable and will blow your mind.
Find a training group to run with.
Describe your very first run:
May 2005– I worked at a Special Services At Home Worker with a Tourette's teenager.  Their parents wanted me to start running with him, as a form of cross training for his speed skating comps (the only other times I ran previous, was to catch the city bus).  The run was horrible….huffing and puffing, and I swear I was going to collapse.  We ran and walked for 20 mins…..yet, 1 week later, I was invited to the Running Room for their free Wednesday night run.  I brought the teenager as well, and it was still horrific.  Within those two runs, I must have started to like running… I registered for my first running clinic (1/2 marathon distance) and completed a ½ marathon and marathon within my first 9 months of training.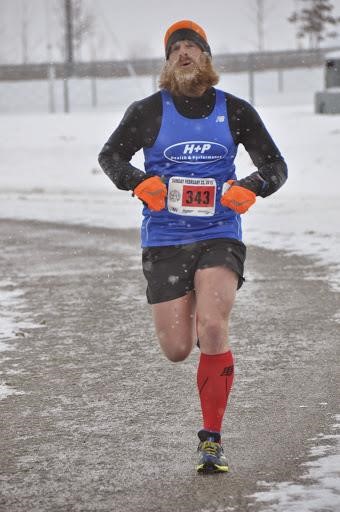 What inspires you to run?
The human body is phenomenal.  Oneself can train to go for hours and hours…and hours.  One of my favourite quotes is The woods are lovely, dark and deep, but I have promises to keep, and miles before I sleep.  The winter season inspires me.  My staff, students and passerby's think I'm crazy running any km's in -24 to -30 degree weather….and they're absolutely correct!  It's those times when I think "what can my running body do today?"  I recently have been guiding a legally blind runner, and that is putting a whole new perspective into play.  Helping her achieve big scary goals and eliminate the gap with 'other abled athletes'.  Terry Fox-  Enough said!  I have a tattoo of Terry Fox covering my whole back, so he's with me each and every step of my runs/races.
What do you think about when you are running?
When I run in the city, I think about my week (good or not so good).  There are a lot of distractions while city road running, so It becomes hard to get into deep thinking.  Running in the rural areas is where I can focus on my family, financial stuff, acknowledge and chat with the farm animals when I run past them. I once ran long enough that I started to hallucinate. I thought I saw a penguin walking on the sidewalk in the summer!  I can tap into my spiritual side and pray to God.  He is the reason why I am running.
What do you see for yourself in the next 10 years of running?
I see myself becoming stronger.  1.5 years ago, I joined H&P (A local running club).  It's been great to train with the big boys, and I have learned a lot from the club.  I'm hopeful within my next ten years to complete in more ultra's….maybe a 100 miler or 24hr race.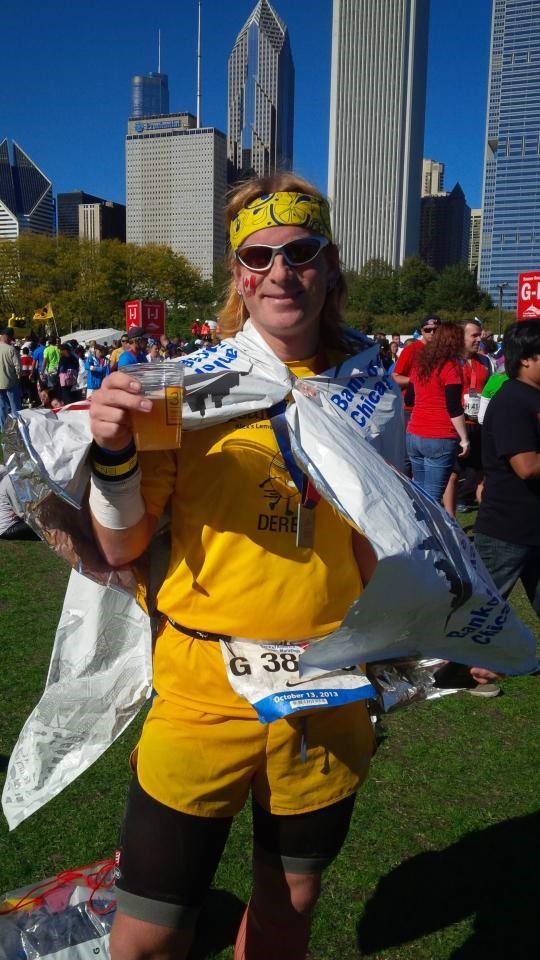 Biggest challenge in running so far?
SPORTS NUTRITION!  I have countless resources at home, yet, still struggle to know my body more in that way.  I believe that once I place that knowledge into practice, I'm going to go further with my running lifestyle.
Know someone who should be featured? Send an email to [email protected] and they might just be our next Running Story!