With 2015 behind us, we took this opportunity to reflect on the past and future of the Battle of Waterloo program. Its direction for 2016 has been charted, and we're excited!
Looking back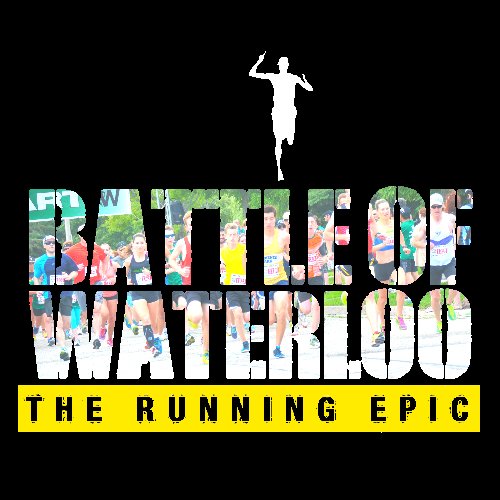 In 2014, RunWaterloo introduced a new element to its series with a multi-race competition known as the Battle of (Run)Waterloo. Participants' combined times over three (or more) races throughout the year determine the winners. The main difference between this and a points system is that that the field is limited to a defined set of participants, which is a key feature of the Battle community.
The inaugural Battle of Waterloo I consisted of three classic races: the Re-Fridgee-Eighter 8KM, the Waterloo 10KM Classic and the Oktoberfest Run 5KM. In the second year of this tradition, BOW expanded to two specialized battles, one for the longer distance runners of the community (Battle of Waterloo II), and one for 5KM specialists (Battle of Waterloo III).
Looking forward
Your feedback shaped what the Battle will look like next year. Without further ado, we are excited to launch one competition for 2016, Battle of Waterloo IV, comprised of the following races:
– Waterloo 10KM Classic, June 19th
– Runway 2 Mile, August 20th
– Oktoberfest Run 5KM, October 23rd
– RememberRun 11KM, November 5th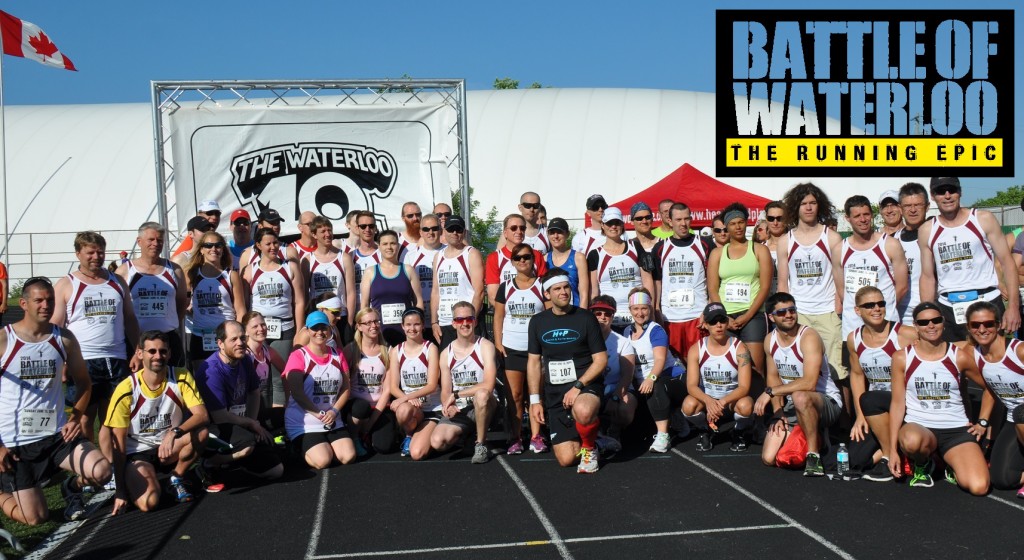 The community asked for this Battle to be the most challenging yet, in two ways. First, while the past Battles each had 3 legs, runners wanted to try 4 legs, which is to ask for a greater commitment from participants. Second, after the specialized Battles of 2015, runners wanted to broaden the range of distances again this year, which will require participants to be more dynamic in their training and racing strategies. Underlying these changes is greater satisfaction and also, hopefully, more fun!
In addition to the races themselves, we are continuing to develop the community element of the Battle program. Battle of Waterloo IV will feature in-person components (an official team photo and a pre-event meet-and-greet, to get to know your competitors off the race course) and an online component (optional web profiles of all contenders and detailed stage preview and recap blogs).
Battle registration isn't a default of signing up for the events themselves; the Battle costs $15, which represents a conscious buy-in to the competition, and includes a free gift. Of course, signing up for four events qualifies for a multi-race discount which is more lucrative than the $15 fee anyway.
Registration is already open. If this variety, challenge and social competition fits your running goals and racing schedule for 2016, we encourage you to join the Battle of Waterloo IV!
A quick look at the first four instalments of the Battle of Waterloo.
| Battle | Conclusion | Stages | Distance (KM) | Avg Stage Distance (KM) | Male Winner | Time | Pace /KM | Female Winner | Time | Pace /KM |
| --- | --- | --- | --- | --- | --- | --- | --- | --- | --- | --- |
| I | Oct '14 | 3 | 23 | 7.7 | Sean Delanghe | 1:18:40 | 3:25 | Annika Nicholson | 1:37:06 | 4:13 |
| II | Sep '15 | 3 | 42.4 | 14.1 | Paul Braun | 3:03:10 | 4:19 | Andrea Sweny | 3:12:01 | 4:32 |
| III | Nov '15 | 3 | 15 | 5 | Sean Delanghe | 0:49:57 | 3:20 | Gillian Willard | 0:58:41 | 3:55 |
| IV | Nov '16 | 4 | 29.2 | 7.3 | ?? | | | ?? | | |