When daily life was upended this spring, we knew the 43rd Waterloo 10 KM Classic was not the most important thing in everyone's lives. But we were able to make the most of the situation, by offering a virtual run and what we thought was a creative mini-run concept.
In the end, the 10 mini-runs comprised 7 families, 1 corporate group, and 2 elite races. More on that corporate group and elite races soon. Teaser: we saw the fastest men's 10k in Waterloo since 2003!
We really want to focus on the families of Run Waterloo, which is today's theme for our 10 Days of Waterloo Classic.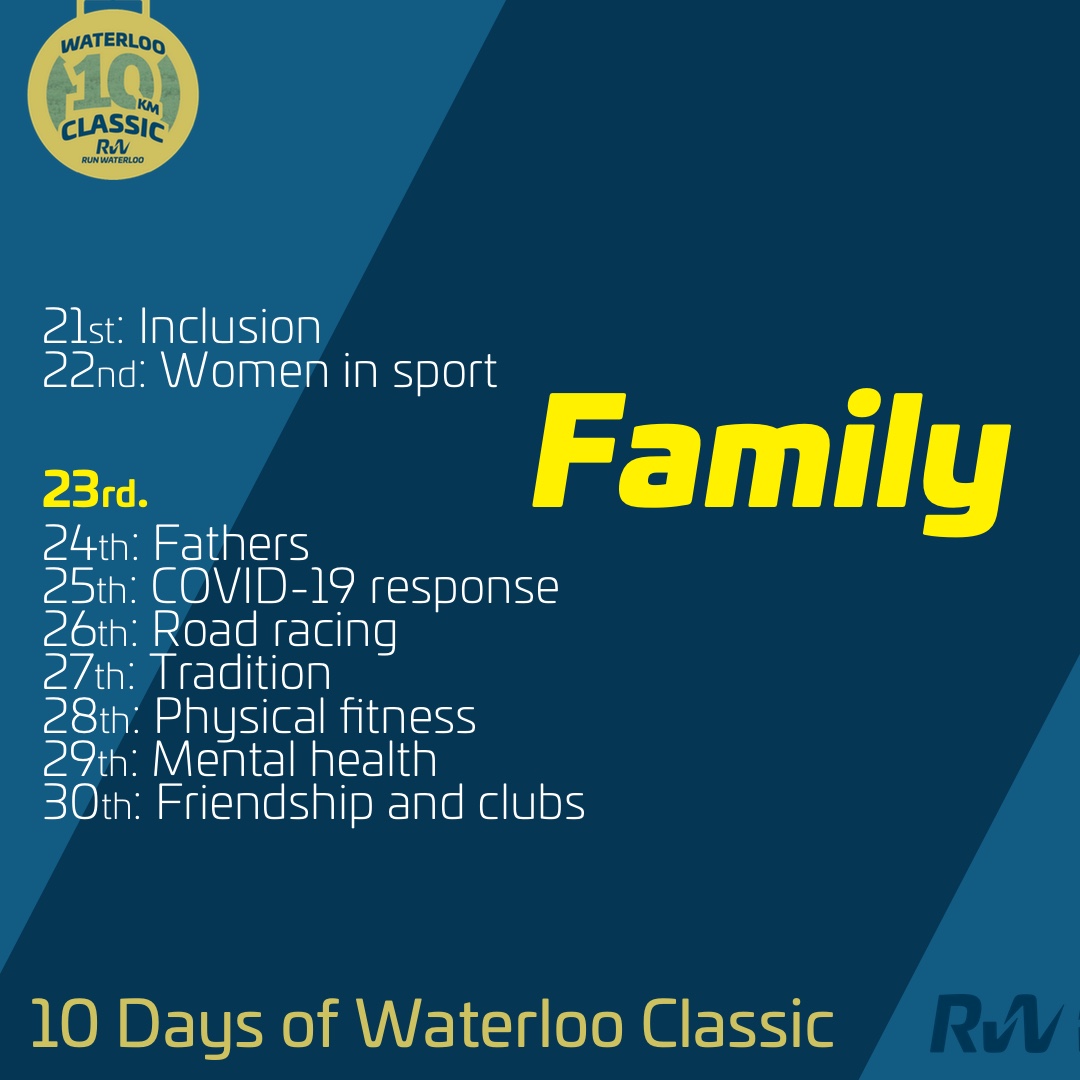 Families have been the backbone of what we do for decades. Many families have traditions that go back generations, especially for a race that has taken place every Father's Day since 1978.
We took applications for these runs, and we were thrilled with the submissions. We surprised each of the seven families with a custom delivery of fruit, Gatorade, CLIF bars, RW swag, finisher medals for the kids, and of course, Waterloo Brewing Pineapple Radlers.
Even though this is a 10 day event, each of the families ran on Sunday, because this is a family tradition. Here is a sample of their experiences:
The Bartlett Family, Waterloo
This year, my (Emma) family decided to start a new tradition by challenging ourselves and running in the Virtual Waterloo 10k Classic. A first for the kids and my first back to this race after a few years hiatus for myself. We as a family decided to run on Father's Day in honour of the dads in our lives While running in our neighbourhood. The running community has always been so positive and welcoming, something I'm proud to share with my kids. In these uncertain times, we now have a new tradition that we can look forward to every year!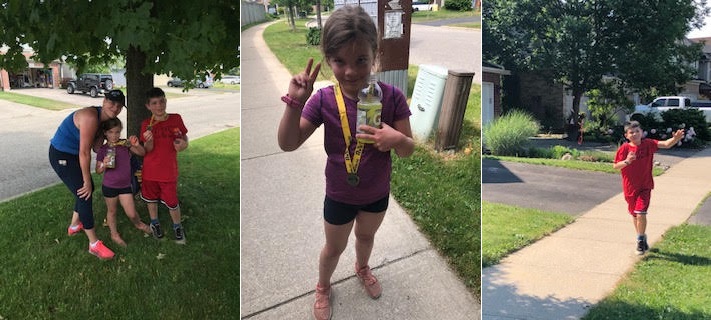 Hunt Family, Kitchener
We first ran the Waterloo 5k Classic on Father's Day in 2017. I had begun running earlier that spring and asked my Dad if he would be interested in running a race with me. He politely declined my offer and said that he had no interest in running. Yet despite this, the next day he sent me his 5k time on the treadmill from the gym. And as the days went on he sent me more times as he got faster and faster. We did sign up for the race that year and crossed the finish line with identical times.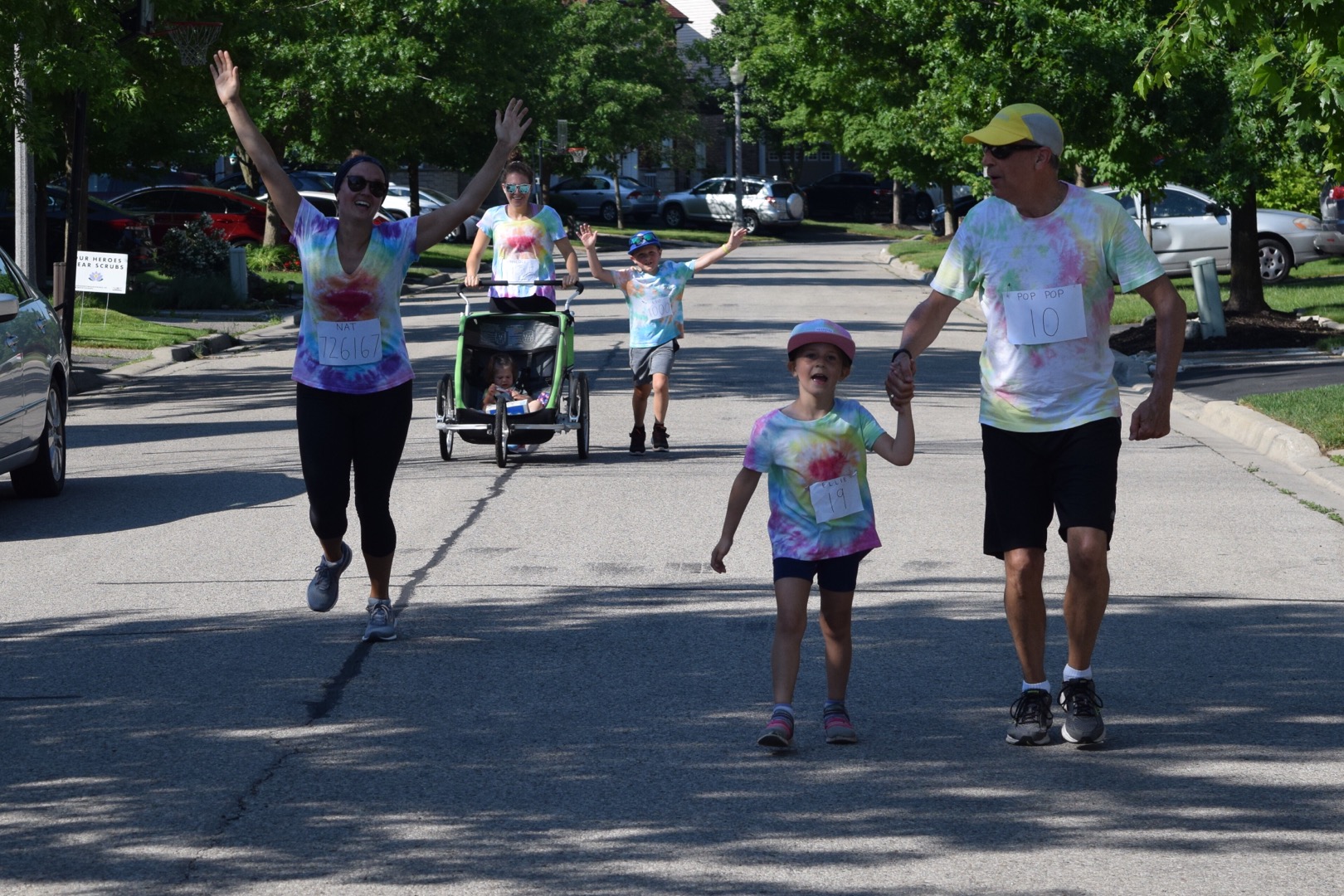 I never had any intentions of the Father's Day 5k being a tradition. However, the next year in 2018 when I booked a trip to Europe and my return flight landed the night before Father's Day, he let me know that he still expected me to run with him the next morning regardless of jet lag!
When the pandemic started in March I don't think any of us would have predicted what the next few months would hold. Although born and raised in Waterloo, I'm now a frontline healthcare worker at a hospital in Hamilton. I quickly went from seeing my parents and rest of my family almost on a weekly basis, to going 14 weeks without a weekend at home as I tried to keep everyone safe. With the gyms closed that left only one thing for me to do – run! We decided weeks ago that even if the Waterloo Classic didn't happen that we would do our own race, even if we still needed to do it separately because of Covid-19. After being our official cheering squad last year, my sister, nephew (7) and nieces (5 and 1), had agreed to join in with us this year too.
Thankfully the hospital I work in hasn't had Covid-19 cases in more than 6 weeks and with the go ahead to safely form social bubbles, I was able to spend Father's Day weekend with my family after many months apart.
We mapped our route, the kids made our official tie-dyed race shirts, and I made our unofficial race bibs. It was a hot Father's Day morning (much like it has been the 3 previous years!) but we all powered through the heat. We were thankful to be chosen as one of ten groups sponsored by Run Waterloo. At the end of the race we got to award the kids with medals, freezies, Gatorade and fruit thanks to the generosity of Run Waterloo. The adults enjoyed our cool treat from Waterloo Brewing. It was a Father's Day 5k that we won't soon forget and we look forward to carrying on the tradition with the youngest members of our family for years to come.
Mabifa Family, Waterloo
This was Ola's first race in Waterloo shortly after he moved here in 2017. The whole clan has participated in 2018 and 2019, and they once again took to the "official" course on Sunday morning for a family run!
Wagner Family, Waterloo
The Waterloo Classic has been an important milestone for our family. It was the first race for each of us, and set us off on a journey of many more races and a love of running. My (Paul) first was back in 1984, while my son Nick and my daughter Dana joined me for the first time in 2007. Last year, 2019 I earned my badge for the 20th running of the Waterloo 10km Classic.

Dana is a daily runner and has done a number of international races including the Great Batumi Night Race in Batumi, Georgia, and her first full marathon in Malaga Spain in 2019.
Nick, also an avid runner, has completed the ENDURrun in 2016 and 2018. He has taken to ultra running and has completed the Never Summer 100km in Colorado in 2018, and the Eastern States 100 Miler in
2019.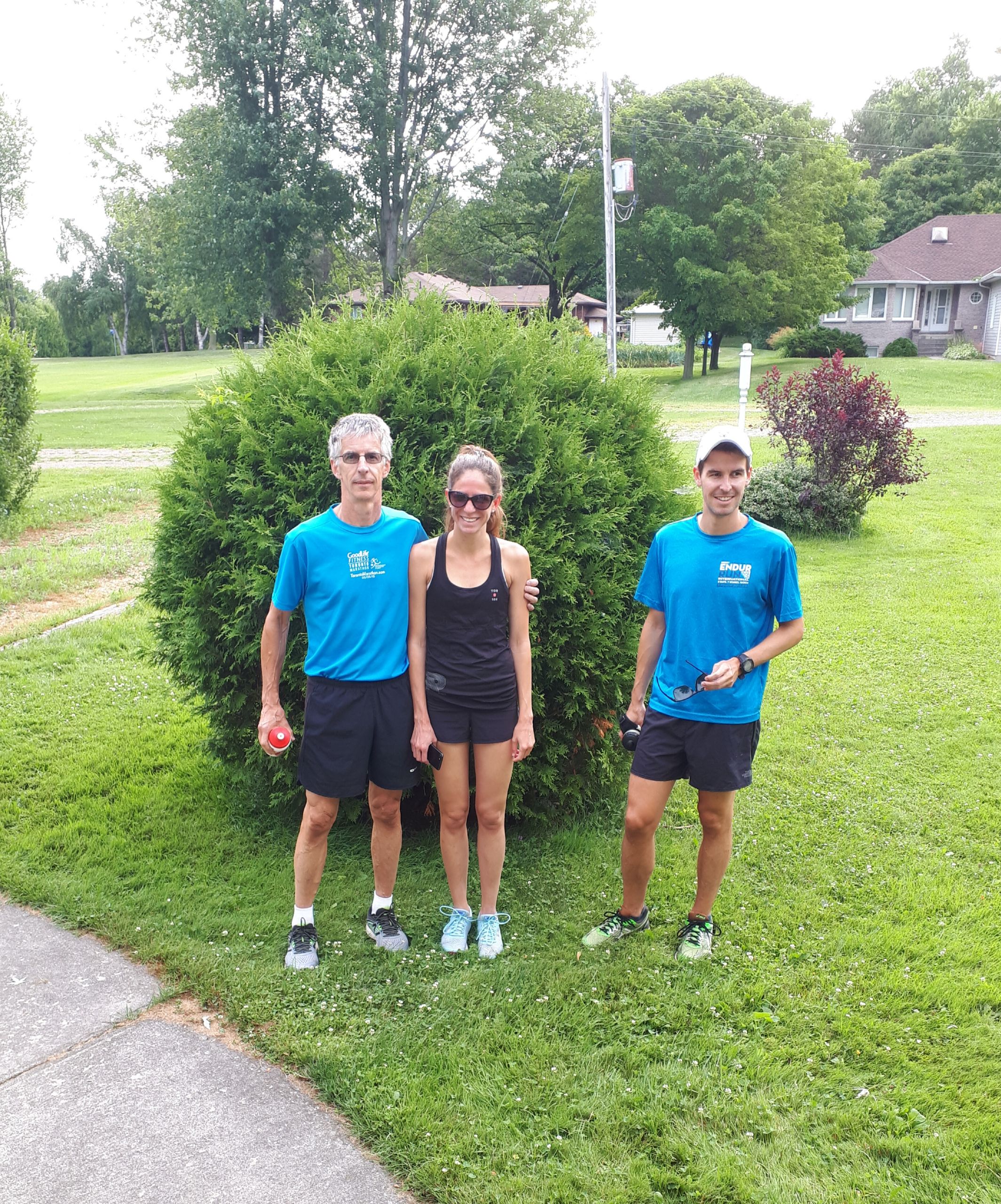 I continue to run, albeit slower, but have completed 7 races in 2019 ranging in distance from 10km to 50km, with the highlight being a half marathon in Kilkenny Ireland.
My wife Nancy has taken part in a number of Run Waterloo events and is our best cheer leader. It's been difficult for the family to coordinate race dates over the years, so we've begun scheduling an annual family race and had registered for the 30 km Monster of Mazinaw Trail Race this year.
We are happy to have the Classic continue this year as a virtual run, and are looking forward to the race this year and the years to follow. Happy running to everyone!
Ashley/Harvey Family, Waterloo
With results going back to the mid-1990s, this race is part of a long tradition for this family. With things being different this year, siblings Graeme and Kelsey set a plan in motion to surprise Ab!
The surprise was great. He literally had no idea. Even after he realized the family had gathered, it took him a minute to clue in that we were all wearing running gear and going to be taking him for a run. He seemed surprised that we had already had 5km mapped out, and that you already knew we were going to be running. Haha.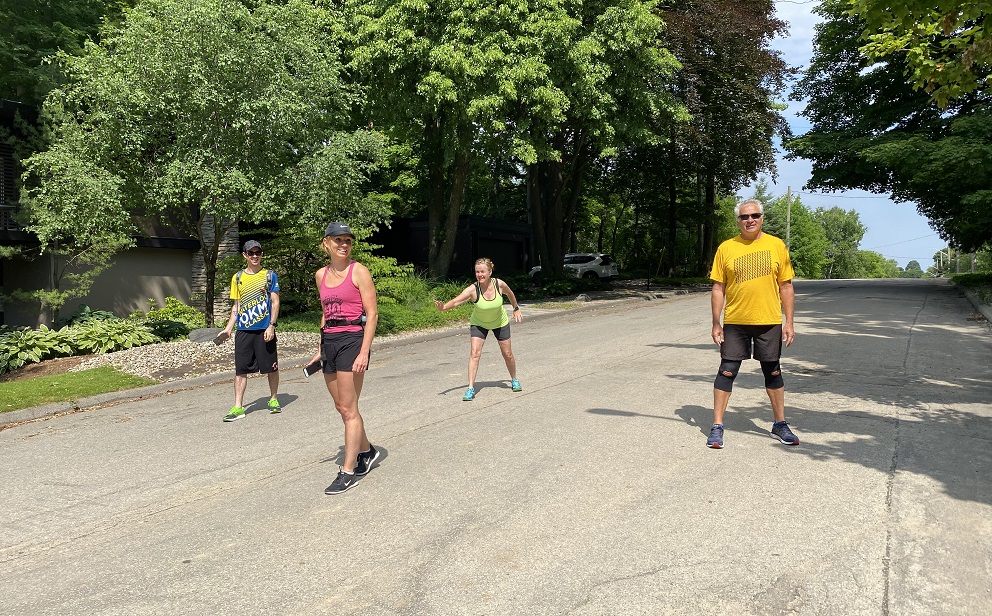 Swan Family, Fergus
We are a family of 5 who have been participating in various Run Waterloo events for several years. Dad (Jason) ran his first Run Waterloo event in 2002 at the Oktoberfest 10K. He ran his first Waterloo Classic in 2004. Over the years, all of the members of our family have run several different Run Waterloo events, including the Waterloo Classic. Knowing the run would not be happening this year, my family had prepared our own version of the race for all of us to participate in. While not the same as the actual race, the teenagers in my family appreciated being able to sleep in a bit more than usual on Father's Day! Thanks to Run Waterloo for the mini race sponsorship, it made a nice surprise for my race directors to find out some of the swag was being taken care of.
Thank you, families!
These families are just a few of the many that are the building blocks of Run Waterloo. We continue to work at offering compelling experiences to families and help build a strong community network.
We want to see you family photos! Whether you did your race on Sunday, or have yet to do it (today is day 3 of 10), submit them to Facebook or wherever you like to post!