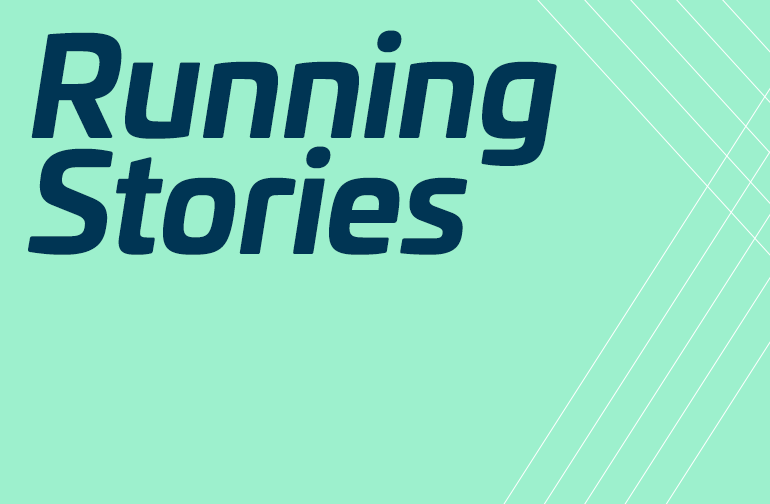 At the 2016 Re-Fridgee-Eighter, finish line spectators were in for a treat. Josh Bolton's new record 8 mile time was not even the highlight! He had an even bigger surprise up his sleeve on that mild February day…
We caught up with Josh, as we approach the one-year anniversary of his epic proposal at the 2016 Re-Fridgee-Eighter finish line.
RW: What inspired you to pop the question then and there?
JB: I was planning on proposing to Tanis for a couple months and what I thought was, what better place then at a race? It was early in the year so there were not many races and I was antsy to ask Tanis to marry me. With Re-Frigee-Eighter as one of the first races I thought this would the best one!
RW: Where was the ring during the race? How many of your teammates were in on the plan?
JB: The ring was with my brother and we had a plan set out for me to grab it at the end. All of our teammates were in on the proposal with many showing up to partake including my brother James his girlfriend Meagan and Tanis' dad Kevin.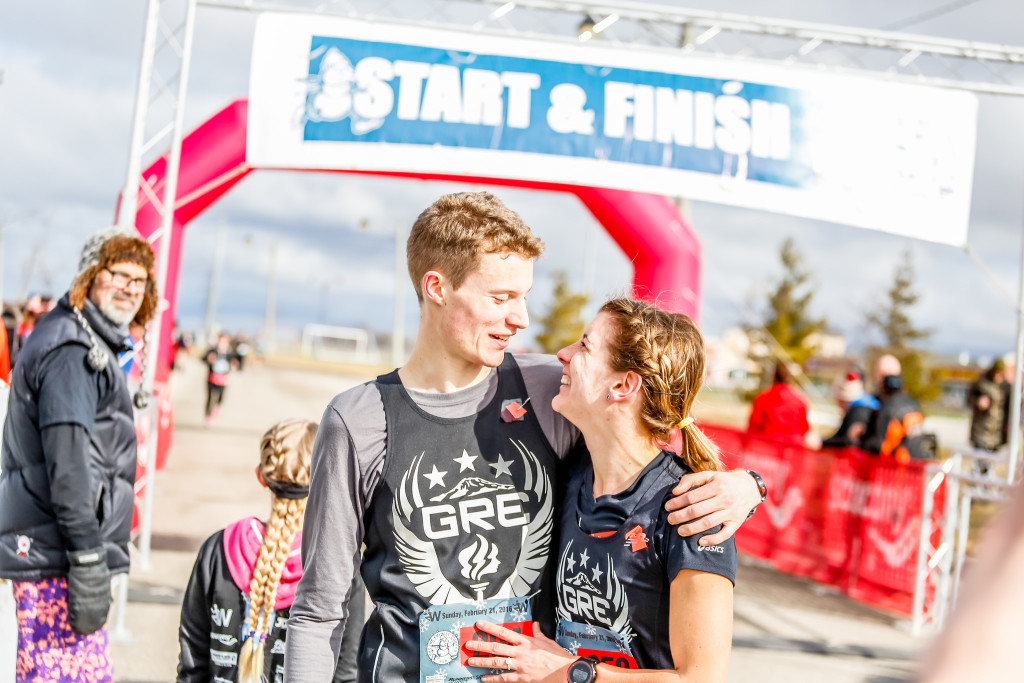 Photo Credit: Lensonlife.ca
RW: You and Tanis both won the race, and you broke the 11-year old 8 mile event record by five seconds! Would you say this plan helped in any way?
JB: Yes both me and Tanis won the race and I was able to break the 11 year old record. I actually didn't even know what the record was and only found out later. With Tanis doing the same race I knew I had to be ahead of her so this pushed me to run hard.
RW: 2016 was a huge year for you and Tanis – race wins, getting engaged and married, and your CRS National Open Elite Standings, to name a few. What/what else stands out to you?
JB: 2016 was a very busy year with the proposal, getting married and racing well around the country with wins, podiums and PBs. Buying our first home in Paris, Ontario was also a big part of the year. When looking back on the year we are both proud that we were still able to compete well and run despite life being so busy. I think without running we would have been a lot more stressed with everything going on.
RW: What do you have in store for 2017?
JB: For 2017 it will be much quieter in terms of life. Tanis and I are looking to run personal bests, climb up the national rankings, do more race travelling and do our first high altitude training camp in Arizona. Tanis will continue making beautiful art and I hope to learn the guitar.
RW: Tell us more about Grand River Endurance…
JB: Grand River Endurance is composed of a group of hard working runners at different levels looking to better their own running through group encouragement, training and mindset. The core group is located in the Brantford (Mike Thornton, Tyler Van Leeuwen) – Paris (Josh, Tanis, Mitch Free) – Cambridge (Runner Rob Brouillette) area. We also have a great marathoner from Oakville (Tyler Chacra), a run streaker and bearded beauty from Aurora (Mike Bentley), as well as a new recruit from Newfoundland (Dave Freake).
RW: We're excited to have you back in the 8 mile this month. What makes the 40-45 minute drive from Paris to Waterloo worth it to race?
JB: It's a well organized race and its an off distance which helps to take pressure off the time you run especially early in the season.
RW: Thanks for doing this. We look forward to welcoming you and the team back to the 2017 Re-Fridgee-Eighter!