By George Aitkin
[George Aitkin is a legendary figure that you've seen around, at races and through his work. But who is he really? We asked him to share his story in this member feature.]
Is George Aitkin a runner or a photographer?
If you're racing today, who's going to take pictures?
These are just a couple of the questions I've been asked numerous times over the years. I am primarily a runner, with a serious photography habit.
In Canada's centennial year (1967), an athletic awards program was started, and students were tested in several areas of fitness, including running. I was a 14 year old and ran a mile in 5 minutes and 52 seconds, earning me a gold standard and causing my phys. ed. teacher to take notice and place me on a relay team for an upcoming race. So on May 16 of that year, I did my first training run, followed by my first race one week later. My father, an avid photographer, took shots of the race and my journey along two paths began. After American Frank Shorter's Olympic marathon win in 1972, what has been dubbed the "running boom" began. Where for years, there had been only a handful of road races around the country, many more races appeared in cities of all sizes. [The Waterloo 10 KM Classic, which is Waterloo Region's oldest continuing race, began in 1978.]
By that point, I had already competed in nearly 200 races at school and elsewhere, and always carried a small instamatic camera with me to take photos whenever possible, of runners in action. I got the marathon bug in 1976, running in what turned out to be the final installment of the Waterloo Oktoberfest Marathon on a cold, windy, rainy day. I slogged to the finish in 2 hours and 38 minutes. Three years later I set my personal best of 2:35 in Ottawa. In the meantime I continued running numerous shorter races on the track, roads, and cross country, and always kept track of my mileage and workouts in logs books. I rarely ran the huge mileages that some of my contemporaries did, but kept steady totals of around 4,000 kilometres per year, competing around 35 times annually.
At the same time I was taking increasing numbers of running photos and buying better camera equipment. After running in the first two Waterloo 10K Classic Road Races, I became the unofficial photographer for many of the following years which opened doors to be asked to shoot other races. I'm often seen carrying a camera during a post-race cool down to get more race photos.
Most of my personal best times came in my mid 20s to mid 40s when I clocked times such as 8:37 for 3K, 15:10 for 5K, 32:00 for 10K and 1:11 for the half marathon. As I've aged, I've been able to put out some of my best race efforts though,and have snagged age class victories in over 300 races since turning 40. Twice, I won my age category in the Canadian cross country championships masters race. And I've dabbled in ultra distances too, running 4:10 in a trail 50K and covering 65 kilometres in a 6 hour trail race.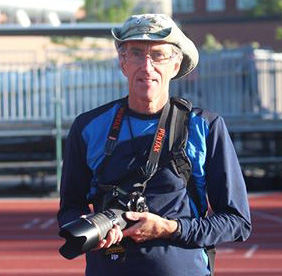 Running has taken me to many countries where I have raced and photographed at events such as the Bermuda 10K, the Boston Marathon, and the world cross country championships, and has opened up other opportunities. In 2014 I reached 100,000 miles of recorded running miles (161,000 kilometres) and was joined by a large group of friends in the milestone run. The following year I got to carry the Pan Am Games torch to the Cambridge city hall. I got to play a minor role in the running movie "St. Ralph" which was filmed in Cambridge in 2003.
My running took a hit recently after some surgery so I'm more often seen taking photos but I'm still able to keep accumulating running stats. 106,900 kilometres and 1,218 races and counting. And well over 100,000 photographs.
Thanks George for sharing this. If you are interested in athletics, George's faceobok page is a must-follow for great content like this:
Member spotlight
Each month we feature one of our hundreds of members in this column. Stay tuned for more, or submit one for your (or someone else's) great story!