We're all longing for races, and we've been looking for ways to engage you with a few different concepts this fall. We're hoping to take it up a notch with our new Remote Race concept.
In a nutshell, we ship you a "DIY race" kit for five. You get your crew together to safely create a micro race-day feel! Your very own Fall 5 KM Classic.
We're sending you great shirts and medals, tall cans from Waterloo Brewing, and some other fun surprises in your kit. Then you do the race, have a blast, submit your times, and see where you stack up!
Kits are limited, and we've added a small solo option too! Sign up here.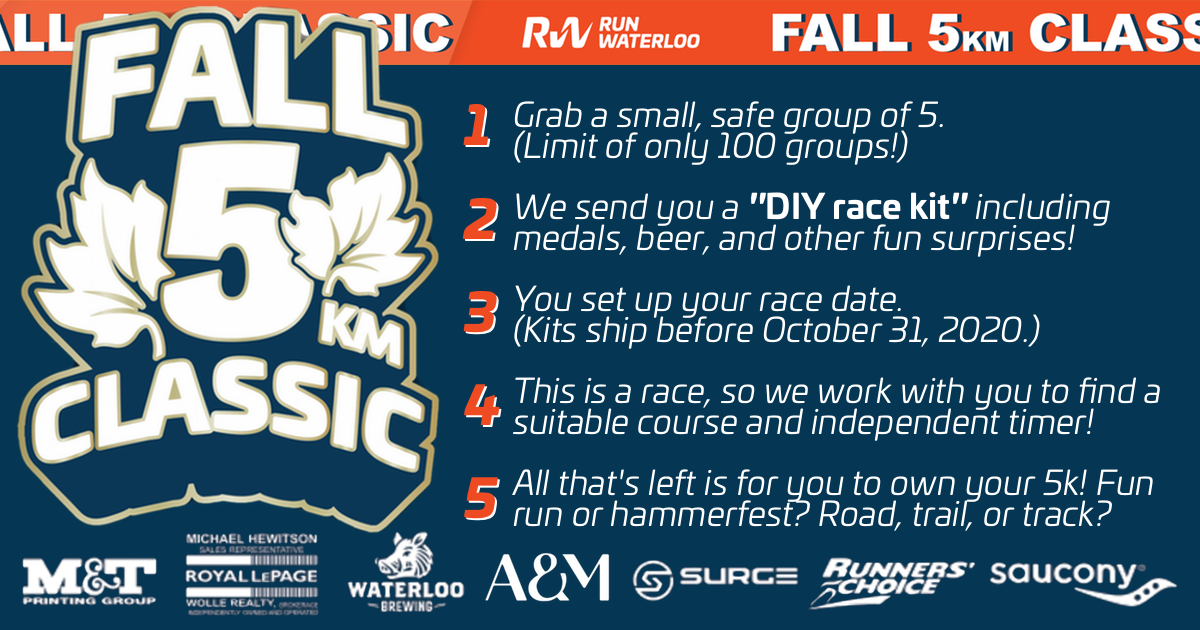 Fall in love with Saucony
When the kits are shipped, five lucky entrants will find a pair of the new Saucony Triumph 17 or Ride 13 in their kit!
If you ever wanted to know what it feels like to open a Wonka Bar, this is your chance. Just enter your shoe size during registration if you want to be included in the draw.
Free entry contest from My Next KW Home
Our friend Michael Hewitson is giving away 2 individual entries. Join the facebook event and let us know what you're thankful for! It doesn't have to be running related. Two will be randomly selected for free individual entries on October 16 at 6:00pm.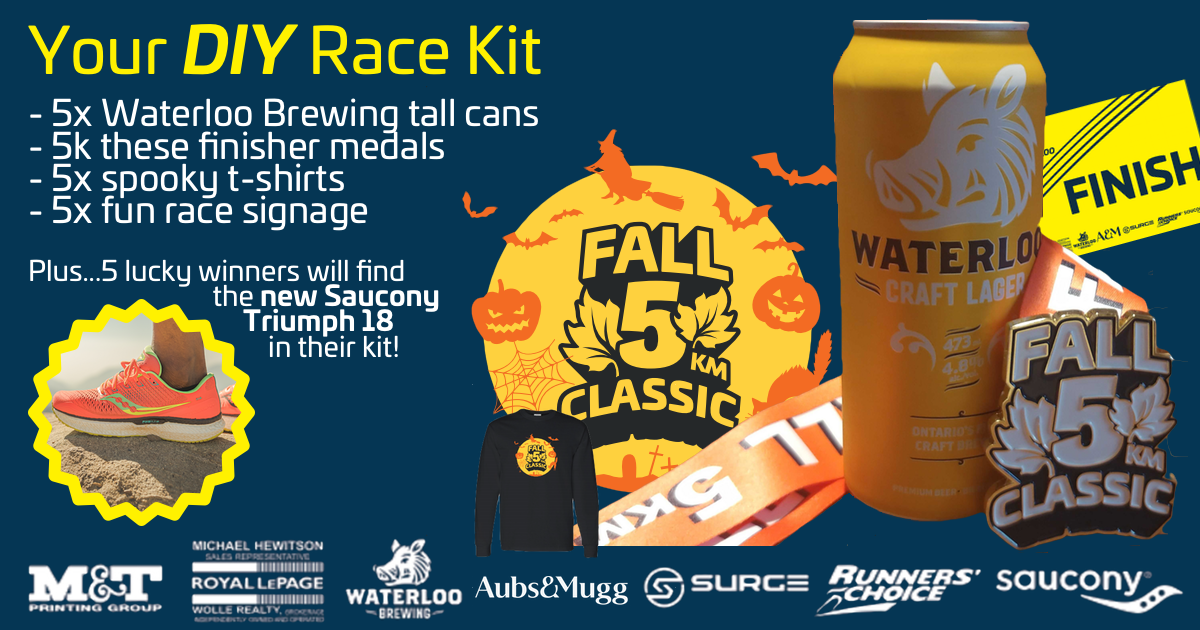 So, Remote Race? How does this really work?
We are using a system we invented called "Race Hosts".
Each group requires a "Race Host," who may be a participant (but that's not required). The Race Host contacts Run Waterloo through our Race Roster page for more information and/or to get the process started. Once you sign up to be a Race Host, there is no commitment, and it requires more action from you to unlock.
The Race Host:
Chooses the group size (designed for 5 people, but could add or subtract 1 person) and payment method (one group payment, or each individual payment, whatever works for you)
Confirms safety protocols (we aren't policing you, but require an acknowledgement of care that local and provincial rules are followed)
Commits to finding one volunteer for timing who is not a participant (could be Race Host if not participating)
Submits a course for consideration – we are recommending a track race that can be reliably measured at 12.5 laps. Roads or trails are great too, and we can help you find something in your community.
Sends out the access codes to their group participants to sign up.
Arranges shipping details – both to receive and distribute the group kit.
We know a thing or two about how much work it is to organize a race. So once your results are in, we are going to rebate each Race Host $35 for your hard work!
When is it?
We will ship the kits before Saturday, October 31, 2020. We are recommending that weekend (Oct. 31/ Nov. 1), but you can choose to do your race day after that. Results submission deadline will be November 21.
No individual entries
Individuals can not sign up for this race. There are so many virtual race options for you to do individually, and this is not it. We are trying to capture some of the magic of a race day and that's the point of this race. We are also not providing any means for individuals to find each other – use your own networks, and find people you trust who you can safely exercise with.
If you were signed up for this race before the cancellation
You are entitled to a refund, or to transfer your entry. Check your email.