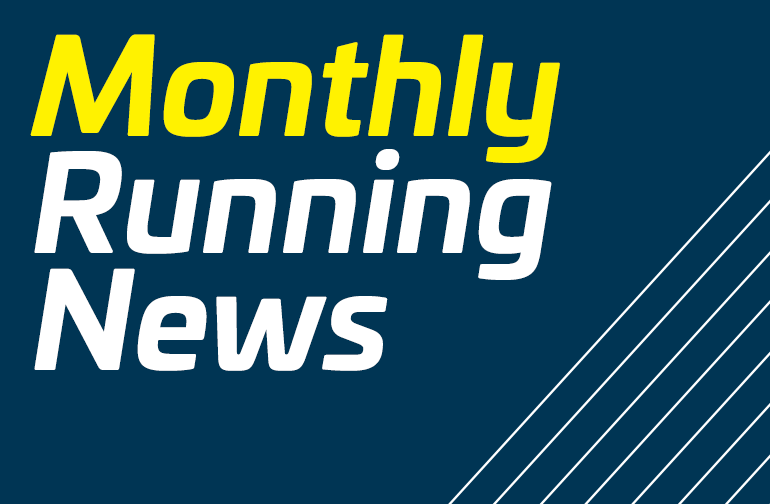 October is a huge month in running, with major marathons and our largest running event. Let's take this moment to look back on a busy September. 
This month's issue of Running News discusses:

2016 Paralympics

The conclusion of the outdoor track season

Canadian 5K Road Championships

Berlin marathon
Rio 2016 – Paralympics
Canadian Success
Canada's Paralympic track and field athletes saw tremendous success in Rio this month, led by sprint- and middle-distance wheelchair racer Brent Lakatos. In total they won eight medals, four of which belong to Lakatos. This was the fourth Paralympic games for Lakatos, who competes in the T53 category. After cleaning up in 2015 with three golds at each of the IPC World Championships and Parapan American Games, he returned this year to claim a gold in the 100m, silver in the 400m, and bronze in the 800m and the 4x400m relay.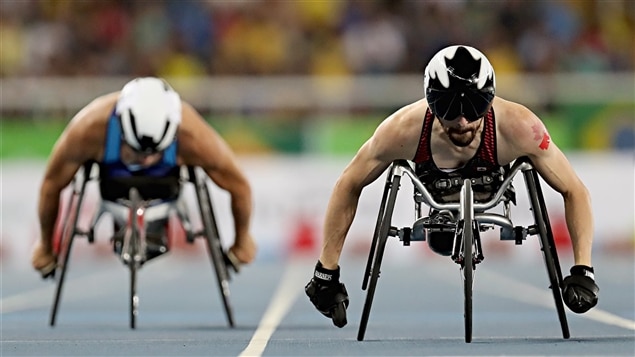 Two more medals were contributed by Michelle Stilwell, another sprint wheelchair racer. Stilwell took gold in both the 100m and 400m T52 finals, bringing her lifetime Paralympic medal count to eight. She is also notable as the first female Canadian Paralympian to win gold medals in two different summer sports: Stilwell was the first female quadriplegic to win gold in women's wheelchair basketball at the 2000 Paralympic Games in Sydney, Australia.
Canada's other two medalists were Alister McQueen, silver in the men's javelin throw (F44) and Liam Stanley, silver in the men's 1500m (T37). Like Stilwell, athletics is not Stanley's first sport. His first priority is soccer; however, when the men's team failed to qualify for Rio he moved his focus to the track, and impressed everyone by sticking with veteran and eventual winner Michael McKillop of Ireland when he began his kick. 
Olympic Comparison
One race that received a significant amount of attention was the T13 1500m final (the T13 category applies to athletes with a moderate visual impairment that typically do not require a guide). The winner, Abdellatif Baka of Algeria, ran a new world record of 3:48.29. But that's not the story media was telling; instead, they focused on the fact that this time was faster than Matthew Centrowitz's gold-medal race last month at the Olympics (3:50). 
Canadian athlete Guillaume Ouellet, who finished ninth in that race, spoke out against this comparison. He pointed out that this grossly ignored the context of the two races; while Baka succeeded in setting a new world record with his performance, Centrowitz is noted as the slowest Olympic champion since 1932, 24 seconds slower than the world record and 20 seconds slower than his personal best. Race tactics, especially in championship races, often become just as important as pure speed in the 1500m. This is further supported by the fact that the men's 1500m record is one of the oldest of the standard events. Furthermore, Ouellet argued that comparing Paralympic athletes to those in the Olympics does them a disservice, and is not an appropriate way to discuss or promote para-athletics. Instead, he urged media to focus on "honest stories" of success and heart, and noted there were many to choose from.

RW Magazine follows running stories from a variety of online sources, and is generally a big fan of the media's coverage of the sport. However, we are disappointed when these outlets choose provide misleading and sensationalized stories or clickbait-y headlines. We are happy to see well-known running publications – that jumped on this story before Ouellet's comments – backtrack on their coverage, although without explanation. 
Track and Field Season Concludes
Diamond Race Winners and Top Performances
Outside of championship events, the most prestigious track races are those that comprise the Diamond League series. This is a series of about a dozen track meets spanning May to September each year. Points are awarded in each competition, and the athletes with the most cumulative points in each event at the end of the series are deemed Diamond Race winners – a title which comes with a healthy paycheck, too. Post-Rio, there were three Diamond League meets to close out the season: Paris, Zurich and Brussels.
In Paris, less than two weeks after finishing a disappointing seventh in the women's 1500m in Rio, Great Britain's Laura Muir ran a blistering world-leading and national record time of 3:55. Five days later she finished second to USA's Shannon Rowbury (4th in Rio) to claim the 2016 Diamond Race title. Muir has had a fantastic breakout season in 2016, twice setting new British national records. She now owns the three fastest times ever by a Briton at this distance. 
Paris also showcased a world record performance by Ruth Jebet in the women's 3000m steeplechase. Jebet has been flirting with the nine-minute barrier all season, and had a breakthrough performance at the end of August to set a new record by a full six seconds. Her new world record, 8:52.78, is almost 40 seconds faster than the Canadian record (9:30.24).
Caster Semenya maintained her record of dominance in the 800m in Zurich, in a race that was a rematch of the Olympic final. She finished off the year undefeated in the women's 800m, and also competed in – and won- her first high-profile 400m race in Brussels. Melissa Bishop "faded" to 8th place in Zurich, in a still-fast time of 1:58.84 (for comparison, her national record now stands at 1:57.02. Previous record-holder Diane Cummins' best time was 1:58.39).
In the women's 5000m in Brussels, new 10,000m world record-holder Almaz Ayana took another run at the record, but finished 4 seconds shy. She did manage to pull many others in the field to personal or season best performances, including Canadian Jessica O'Connell, who ran just one second off of her personal best (15:07). Rowberry managed a new Area record of 14:38. (Note: Area Records are maintained by the IAAF and generally refer to continents. The six regions for which Area Records are maintained include: Africa, Asia, Europe, Oceania, South America and North, Central America & Caribbean.)
Jamaican Asafa Powell won the 100m in Zurich in a time of 9.94s to claim the Diamond Race title. Even more impressive, this marked his 97th performance faster than 10 seconds, making him the most consistent top performer of all times (second most is to Maurice Greene, who has 51 performances under 10 seconds).
In the men's pole vault, Canadian Shawn Barber continued to struggle to regain his form after a disappointing 10th place finish in Rio. He bowed out of the competition early in Paris as well, and did not compete in Zurich. France's Renaud Lavillenie claimed his seventh consecutive Diamond Race title. He is the only person to ever hold this title, as the series' inaugural season was 2010.
Spotlight on Canadian Athletes
Following her second Olympic appearance, in which she missed out on qualifying for the 1500m semifinals by one position, Hilary Stellingwerff announced her retirement from track and field. She plans to continue racing at an elite level on the roads going forward, with a new focus on 5k to half marathon distances. 
Olympic, World, Commonwealth and Pan American high jump champion Derek Drouin was recently profiled on the IAAF's website. In an interview, he hinted that we might see him doing more than jumping in 2017 , as he considers returning to the combined events (indoor heptathlon, outdoor decathlon), which he competed in as recently as 2013 as a collegiate athlete.
The Fastest Ever 5K in Canada
This month also brought the Canadian 5K Championships, contested on the streets of Toronto. The fields featured four Olympians as well as a Pan American Games medallists: Nate Brannen, Lucas Bruchet, Charles Philibert-Thiboutot, Sasha Gollish,  and Andrea Seccafien, in addition to many of Canada's other top distance runners. Rachel Hannah, O'Connell and Natasha Wodak were initially slated to run as well, but withdrew for various reasons.
In the men's race, the three Olympians finished well clear of the rest of the field, with Philibert-Thiboutot taking the win in a blazing 14:04 – the fastest time ever run on Canadian soil. Less than a second separated him from Brannen in second, who was closely followed by Bruchet in third. The women's race featured a tremendous sprint finish from Seccafien and Gollish, with Seccafien securing the win by just 0.4s. Laura Batterink, who represented Canada last winter in the World Half Marathon Championships, was a close third.
Top local finishers in the championship were Robert Brouillette of Cambridge (21st man, 15:46) and Erin McClure Robb of Waterloo (7th woman, 17:01). Great showings from two of our fastest local athletes!
Berlin Marathon: World Record Attempt
The last weekend of September marked the start of the fall marathon season. The Berlin marathon is known for its fast course, which has produced the most world records of any marathon. This year, Ethiopian star Kenenisa Bekele faced off with former record-holder Wilson Kipsang of Kenya in an attempt to break the two-year old record set by Dennis Kimetto on the same course. 
A prolonged battle ensued, and it wasn't until the final two kilometres that Bekele was able to establish a lead over Kimetto. He won in 2:03:03 – a new Ethiopian record, six seconds shy of the world record.
For anyone unfamiliar with Bekele's achievements, he is undeniably one of the best distance runners of all times, and it's unlikely we've seen the last of him:
3-time Olympic champion;

5-time World champion;

Current World- and Olympic-record holder in both the 5000m and 10,000m;

And now the second fastest marathoner ever.
October's Running News will address the fall marathon season, including a recap of the Scotiabank Waterfront Marathon as Eric Gillis goes after Jerome Drayton's 41-year old Canadian record, and the collegiate cross-country season.