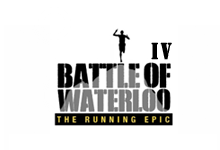 The fourth installment of the Battle of Waterloo series is ready to go.  Only 20 spots left in the Battle of Waterloo IV!
Interested? Here's what you need to know:
What is it?
Registration
The deadline to register is June 19, 2016. After this date, runners who will have ran the Waterloo 10 KM Classic on June 19 be given one last opportunity to sign up before the second stage.
It costs $15 to enter the Battle of Waterloo IV, which is separate from the race entries. If you enter the races at once under our Multi-Race Discount, you save 15% on all entries, which is more than $15!
Why, and what do I get?
The purpose of the Battle programme is to enhance your running experience through the advantages of a series. Get to know your competitors through a meet & greet event between the first and second stages. Commemorate your experience with an official team photo as well.
For entering, you receive a special BOW IV gift. For finishing, you receive a Battle of Waterloo IV finisher medal.
More information