Happy Father's Day to all the dads out there, who make running on this day a yearly tradition.
If you're looking for a sob story about the weather, you're not going to find it here. This was a beautiful June day for our flagship race, and we are thrilled the rain stopped in time for everyone to come out and enjoy a very warm welcome to summer in their new #Waterloo10KClassic tank tops.
Despite the heat and the hills, the main event, the 10 KM, showcased a competitive field with tons of local talent. First place overall was Tadesse Feyissa in 32:30, the fastest time seen at the Waterloo Classic since 2014. With the top five finishers all coming in under 35 minutes, this was one of the deepest fields we've put together in many years. The women's 10 KM was won by Erin McClure Robb in a time of 38:21, the only woman to go under 40 minutes this year.
The 10 KM also marked the beginning of Battle of Waterloo V. This year's battle combines your times from the Waterloo 10 KM Classic and the Fall 5 KM Classic, our two premiere events. After leg 1, Robert Brouillette and Robyn Collins lead the pack in the chase for Battle supremacy. (Full BOW V leg 1 results). But for anyone who ran the 10 KM today, it's not too late to sign up – registration closes as 11:59pm on Tuesday, June 20th!
The 5 KM race featured a battle between two local athletes, Fraser Hutton and Andrew Shepherd, with Hutton coming out on top. The third overall finisher was Bettina Boucher, first female, in a time of 17:58.
We also had a timed 3 KM race this morning, which was won by Will Leather and Kelly Mantel. Congratulations, and thank you to everyone who raced, spectated or volunteered today for helping us celebrate another successful event.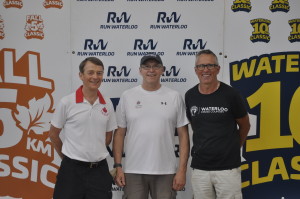 Thousands of free, high quality photos are available from the results page, including photos like this one of three past winners: Rich Hughson (1978), Ray Paulins (1987, 1991) and Bryan Stride (1989, 1994).
This year the race fundraised for UWaterloo's Women's Sport Initiative Fund. Thank you to everyone who donated to the cause and helped to raise over $3,000. Thank you as well to all our sponsors and volunteers, without whom these races wouldn't happen, and especially to the University of Waterloo and the Waterloo Warriors for hosting the 40th Waterloo 10 KM Classic. We are excited to return again next year!
And the festivities didn't end at the finish line. One new highlight this year – Waterloo Brewing sending every runner home with a can of craft beer!
Earned it today ! #WaterlooClassic10K @RunWaterloo @runwat @WaterlooBrewing @SauconyCanada #PourTheBoar pic.twitter.com/HPSi690kcK

— Craig Moore (@13Mooresy) June 18, 2017