Congratulations to all runners today on a fantastic fall event!
Cool running temperatures gave way to a brilliant warm sun on Waterloo Region's largest and fastest 5k. Sausages, Waterloo Brewing, and the Jesse Webber Trio at the finish line? Can't we do this every Sunday?
3-sub 15 times (men) and 3 sub-17 times (women) is just the beginning of describing the #Fall5kClassic. https://t.co/70PVT6MR7F pic.twitter.com/gusnM6xoyT

— Run Waterloo (@RunWaterloo) October 14, 2018
Huge congrats to everyone in the Delanghe beginner running group for all the hard work put in the past six weeks. You earned it!
Results
This was one of the fastest events in Run Waterloo history.
Winners
To get a sense of how fast, 5 of top 10 ever Fall Classic 5k performances (men) and 3 of the top 5 (women) were run today.
In the 10k, Seth's time was the fastest in Waterloo in over a decade. Erin Fox won this event for the second consecutive year.
Record-setting day
Two records fell today:
Julie-Anne Staehli ran the fastest-ever 5k in Run Waterloo history. This breaks a 21 year old record, which Erin McClure set at this event in 1997.
Amanda McLeod set a new masters female record in the 5 km, running 18:02. This breaks Lynn Dempsey's record, set at this event last year, which at the time broke a 13-year old record.
For context on these records, we have hosted ninety 5k events over the past 21 years. Wow!
RWBoost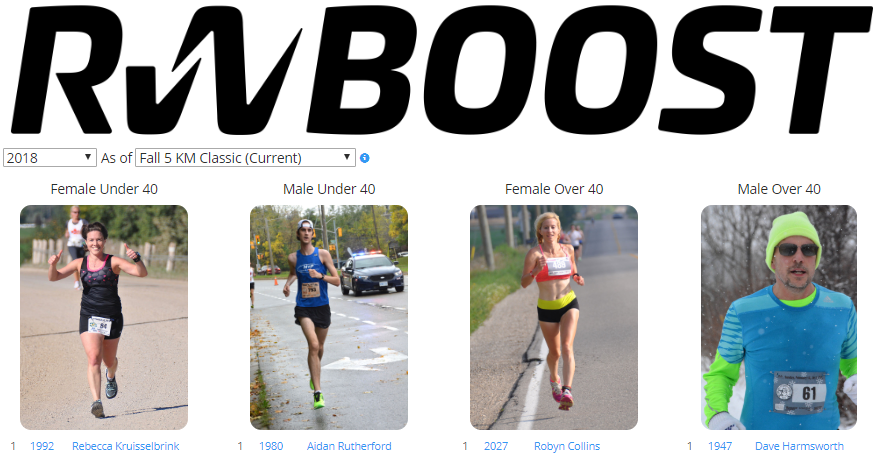 Today was a major point-scoring day for Run Waterloo members. Quick update:
Check out the full leaderboard. Robyn Collins becomes the first person to break the 2,000 point threshold. Only three races to go!
Photos and video
Thousands of free, high quality photos will be available from our Flickr site in the coming days. Until then, here's a sneak peek:
Finish line video for the 5k is up and available directly in the results.
Social
The @RunWaterloo #FallClassic5km has always been my favourite …more for the friends and huge support of our amazing run community than anything else. Thanks for a great morning once again ♡ pic.twitter.com/5WUqBgWnkP

— Deirdre Large (@dela_2012) October 14, 2018