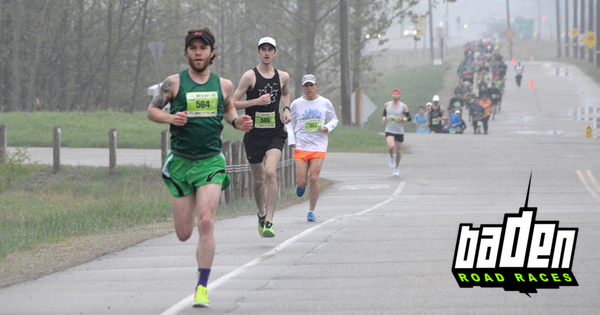 This race is likely going to be cancelled – update to follow. More information. 
Baden Road Races is the annual road race in the Township of Wilmot. The signature event is the Baden Sprint Duathlon, a sprint event out of the beautiful Wilmot Recreation Centre. Running races offered are the Neil Dunford Memorial 5k, as well as a 200m event for children.
This 7th annual event strives to serve Wilmot by offering a fun and challenging race, and a friendly and welcoming running atmosphere for runners and walkers of all kinds. This race supports three local charities: Aldaview Services, Interfaith Community Counselling Centre and Wilmot Family Resource Centre.

For more information about this race, contact Lloyd Schmidt, Race Director.

Key 2020 info
Venue: Wilmot Recreation Complex, 1291 Nafziger Rd, Baden
Date: Saturday May 16, 2020
Time: Sprint Duathlon & 5k: 9:00 | 200m: 10:30
Events: Sprint Duathlon | 5k | 200m kids fun run
Recent event recaps: 2019 | 2018 | 2017 | 2016
Event categories and awards
Individual event categories
One per participant
Sprint Duathlon: up to 19 |  20 – 29 | 30 – 39 | 40 – 49 | 50 – 59 | 60 – 69 | 70+
5 KM – Up to age 12 | 13 – 15 | 16 – 19 | 20 – 29 | 30 – 39 | 40 – 49 | 50 – 59 | 60 – 69 | 70+ | Weight F160+ / M190+lbs
Team event categories
Teams only include participants of the same timed event.
5k: Open (min 5 person team)
Awards
In all timed events, without duplication, recognition goes as follows:
Individual award medals
To the top three overall, then to the top three masters, then to the top three in each event category.
Team award medals
To the first place team in each team category.
All unclaimed medals will be available for pickup at Runners' Choice any time from Tuesday, May 19, to Friday, June 19, 2020.
Course maps
These 2019 maps are subject to 2020 approval. Will notify as more is known.
Toggle the layers to see your event: 7 mi, 5k, or sprint du! Click the logo top left to get started.
Course Rules
It is every participant's responsibility to know the course and the race assumes no responsibility for any missed turns. Each turn will be marshaled and signed. Courses are pending approval and may change with municipal needs.
Time limit for 5k: 10 minutes per kilometer. Starting at the half way mark, if a participant does not reach a km mark by this calculated time, the participant will be asked to move to the sidewalk and finish the race as a pedestrian, unassisted by race support. Participants are asked to familiarize themselves with the course route if this situation might be a possibility to them. We wish to minimize traffic disruption caused by our event, and value the support of Police services regarding participant safety.
Participant swag
Every participant that signs up by May 10th at midnight will receive a t-shirt in their selected size. When choosing a t-shirt, consult this guide. Check back in the spring for the design!
Race weekend info
Post-race
On the floor of the Wilmot Recreation Centre ice pad, enjoy burgers, massage from New Hamburg Wellness Centre, and great draw prizes including Saucony shoes from Runners' Choice and a t-shirt design quilt. Winners must be present to claim the prizes.
Registration and kit pickup
Registration
Online through Race Roster. Paper forms are available only at Runners' Choice, 55 Erb. St. E. Waterloo, and are accepted until May 12, 2019 at 7:00 p.m.
No refunds or deferrals. Entries can be transferred through Race Roster for a $7.50 early transfer fee until the transfer deadline of May 3 at midnight, at which point they can be transferred only in person at kit pickup for a $15.00 late transfer fee.
Kit pickups and race weekend registration
Friday, May 15: kit pickup at Runners' Choice 5:00 p.m. – 7:00 p.m.
Saturday, May 16: kit pickup at Wilmot Recreation Centre 7:30 a.m. – 9:00 a.m.
Accessibility info
Run Waterloo would like to assist in breaking down barriers faced by runners with disabilities. In 2019, we created the position of Accessibility Coordinator, who will answer your questions regarding assistance, accommodations, and venue and course information. Contact Deirdre at [email protected].
We offer discounts for any guide runners. Please contact our accessibility coordinator at this email address for further information.
Elite info
At Run Waterloo, we value elite and sub-elite athletes that contribute to strong fields. There are a limited number of elite entry spots available for this race. Contact [email protected] to learn more about our entry standards.
Note: deadline for elite entry to this race is April 26, 2020.
Photos

Run Waterloo events include hundreds or thousands of photos posted to our Flickr page, all free for download and use. They are also tagged directly to the results.
Race history

For close to 40 years, Wilmot Township has been home to a great running tradition. With various venues, courses, distances, charities, and even names over the years, one thing has remained: the passion and community support for a great sporting event. This race was called the New Hamburg Classic Races as recently as 2013, before Run Waterloo rebooted this great institution with the first ever Baden Road Races in 2014. Within five years, this race has now grown to focus on duathlon, while still offering running events.
Race results and records