RunWaterloo has launched an exciting initiative to provide runners with more resources from local experts in KW Region. Topics range from running gear, nutrition and injury prevention. To celebrate the rich running community in KW region, we have a number of blogs that feature our runners – from your questions being answered to a local running story that could be yours.
My name is Jessica Kuepfer, editor of the Run Waterloo Blog, and I am excited to share running advice and information from some of the most influential members of the local running community. I have been a long-time runner in the KW community and I am excited to be a part of developing it with RunWaterloo.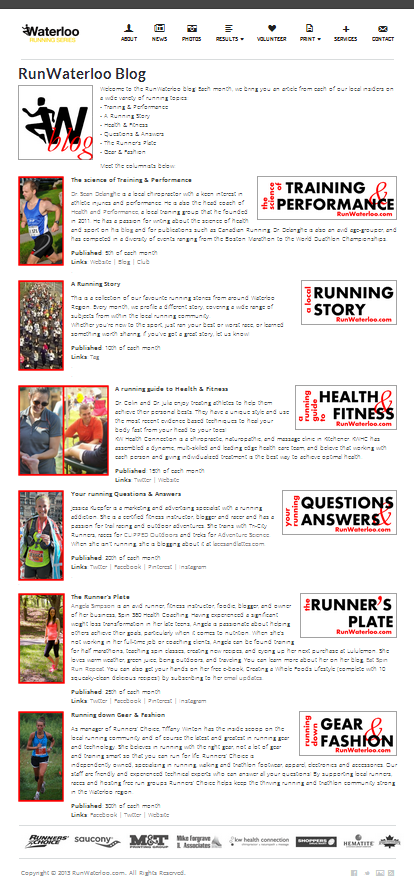 Each month, we will share a column on each of the following topics:
• Training & Performance by Dr. Sean Delanghe
• A Running Story provided by YOU!
• Health & Fitness by Dr. Colin and Dr. Julia
• Questions & Answers answered by me!
• The Runner's Plate by Angela Simpson
• Gear & Fashion by Tiffany Winton
If you have a Running Story or any questions, send them to me by emailing [email protected]
Check out our two latest posts in the series!
Training and Performance – Conquering Exercise Associated Muscle Cramping by Dr. Sean Delanghe
Health & Fitness – 3 Exercises to Help Decrease Foot Pain by Dr. Julia Callaghan.
We welcome feedback so let us know what you think, what you want to see more of and feel free to contact us with any questions.