So much is on pause in 2020, but it doesn't hold down good, motivated people. This week, Rich Peers managed to exceed even his own expectations in the 2020 Job Runner Courier's 24 Hour Run/Walk for Grand River Regional Cancer Centre (GRRCC).
For those of us who can't put a 24 hour walk/run in context, it's a story of chafing, cramping, fatigue, injuries, lack of training, and even hallucinations. We chatted with Rich this week (by telephone!) to take stock of all the progress and reflect on some amazing people, to help tell a story of an important community resource, impacted lives, and a growing community.

We first met Rich in 2016, when he raised $1000 for the GRRCC in conjunction with his 160k ENDURrun stage race. Rich had lost his father Alan to pancreatic cancer the previous year, and it was a good fit at the right time. The network grew again in 2017 when what was still an unbranded fundraiser cleared $1500, tied to Rich's Sulphur Springs 100 miler (24:37; he has completed seven 100 milers, not counting the postponed 2020 Badwater).
No longer in its infancy, this fundraiser was a standalone "event" by 2018 (with its own Facebook page!). With a 5.7k loop on Huron Road in Kitchener, dedicated volunteers, and seven other 24h participants, it took the shape of a walk/runathon and over $7000 was raised that year, which also overlapped with the fall time change.
The big innovation in 2019 was an online auction, which engaged dozens of partners in the local and running communities. At 10 now, the group and the auction pushed the fundraiser to $10k!
For 2020, with planning starting right around the time the pandemic hit, the initial "wait and see" approach was clearly going to lead to a "virtual" experience. The team of 10 runners would do their own thing, now also with 6h and 12h options. Even the idea of Rich moving from place to place throughout the 24 hours was not workable with cases spiking in October. Rich admits that some of the vibe was lost, but in the end, all of the important indicators – engagement, donations, kilometres – grew. The theme of "endure together" took on a different meaning.
Two things stand out the most about this event. First, the impact of the GRRCC. This many people, the rate of growth, at this level of commitment – and suffering – are a testament to its impact. Families never forget the awesome care and the overall experiences. Every person on this team brings a personal inspiration and passion. This is obvious and has shown to snowball over the past few years.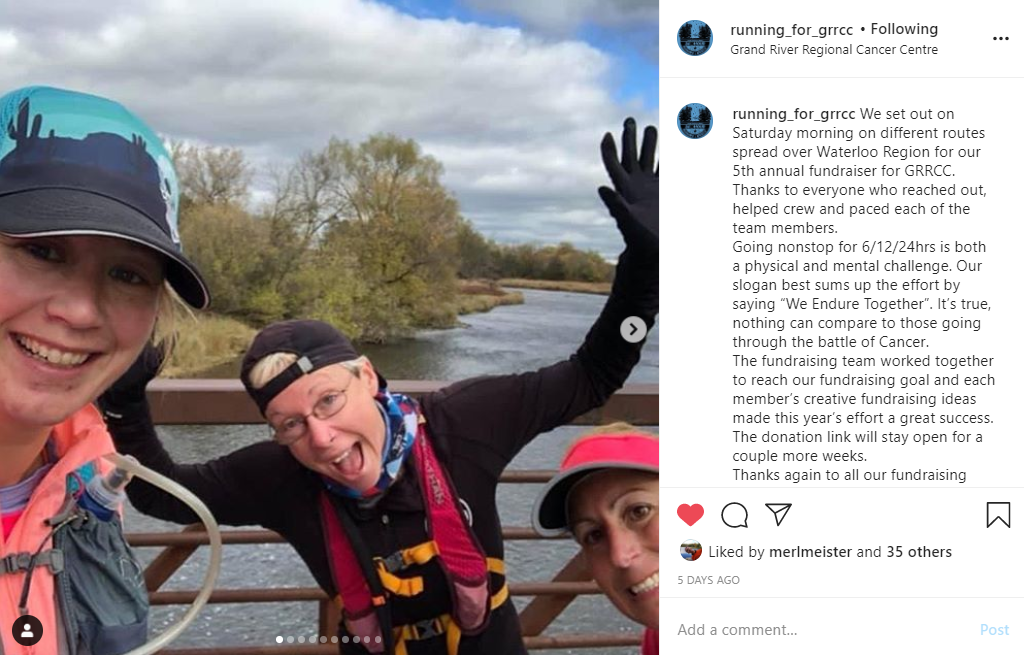 Second, we've made it this far without mentioning the integral component: the team. Rich does a great job highlighting the people that make this possible. For them, we saved the good stuff: some quick stories about what to expect, or tips for any of us who might find ourselves in the middle of an epic endurance feat!
Merlin Frey: How rapidly my food cravings would change! One minute it's all about the sugars (maple syrup, chocolate bars, donuts), next minute I crave salty (chips, pretzels, pickles). Also the radical mood swings – from light-hearted and energetic to vulnerable and despairing. I think that's partially where the allure of the challenge comes from!
Sandi Swan: You will be disappointed and happy/ proud all wrapped in one pile of crazy emotion. I found the delusions and hallucinations unexpected and funny. These led me to not recognize my own daughter when she drove by asking if I needed a coffee.
Antoine Gauthier: Running ultras/timed events is about 70% mental, 30% physical fitness. Training for this event, I ran the same route over and over again, sometimes a loop as short as 1.25km. After that, running an 8.3km loop isn't so bad. The highlight of my run was interacting with people in the neighbourhood asking if I was running for the hospital (some made donations) or offering to set up an aid-station in front of their house. People come together for great causes. Thanks.
Maria Michel: That you can keep entertained by your running partner(s) by playing little games. 1. Start to run whenever someone pulls out a phone to start texting. 2. Try to keep your watches in sync for distance, sometimes having to run ahead and backtrack. 3. Count the number of songs that are randomly sung. 4. Talk to strangers… 'do you have ice cream for us?' Staying awake after 20 hours is difficult if you stop talking.
Jeremy Ferguson:
– unexpectedly spooking a herd of cows by turning a trail corner
– the unexpected delight last call donuts taste, 43kms in
– accidentally inhaling tailwind powder, on the fly, trying to mix into the wrong bottle
– 1st thinking of rail trail history, then 2nd thinking you hear a train coming!
Jen Gadoua: The thing that stands out most for me when doing an endurance event is that you allow others to hold space for you. There is a need for support and at some point, no matter how strong or independent you are, you must accept help from others. There are your training partners, family supporters, race partners, cheering friends, well wishers, and pacers. At some point in a long event, you get to a quiet space where you simply just keep moving forward. You don't need words or cheers, just all the people beside you and within your soul who help you realize that the power to cross any finish line comes from within.
Marjolein Wijbenga-Groot: I had no idea that my brain would turn off almost completely. At 75 km I could not fathom how to pick up gummies. Normally, my brain bounces off the walls. A distance/time like this brings so many funny moments, but by the end you don't seem to remember them until you talk to the people that were there and it's equally funny all over again. Then there is the power of belief. I finished on a hill. My friend stood on the top and pretended to throw me a rope. I completely went with it. I was able to stand up straighter and move faster suddenly. The imaginary rope was such a fantastic representation of what happens when you believe. Believe on yourself and believe in your friends. Believe in the imaginary and see all the things you can do, that you never thought you were capable of.
Derek Hergott: Hallucinations -Passerby staring while you lube up on course-Dark thoughts in the wee hours of overnight-Chatting about anything and everything with your pacing crew-Late night fast food delivery -Go from "I'm going to finish this-I'm going to tap out", repeating these thoughts over and over each loop-I'm INSANELY AUDACIOUS, and I know it!-cell phone dies -The chafing! OUCH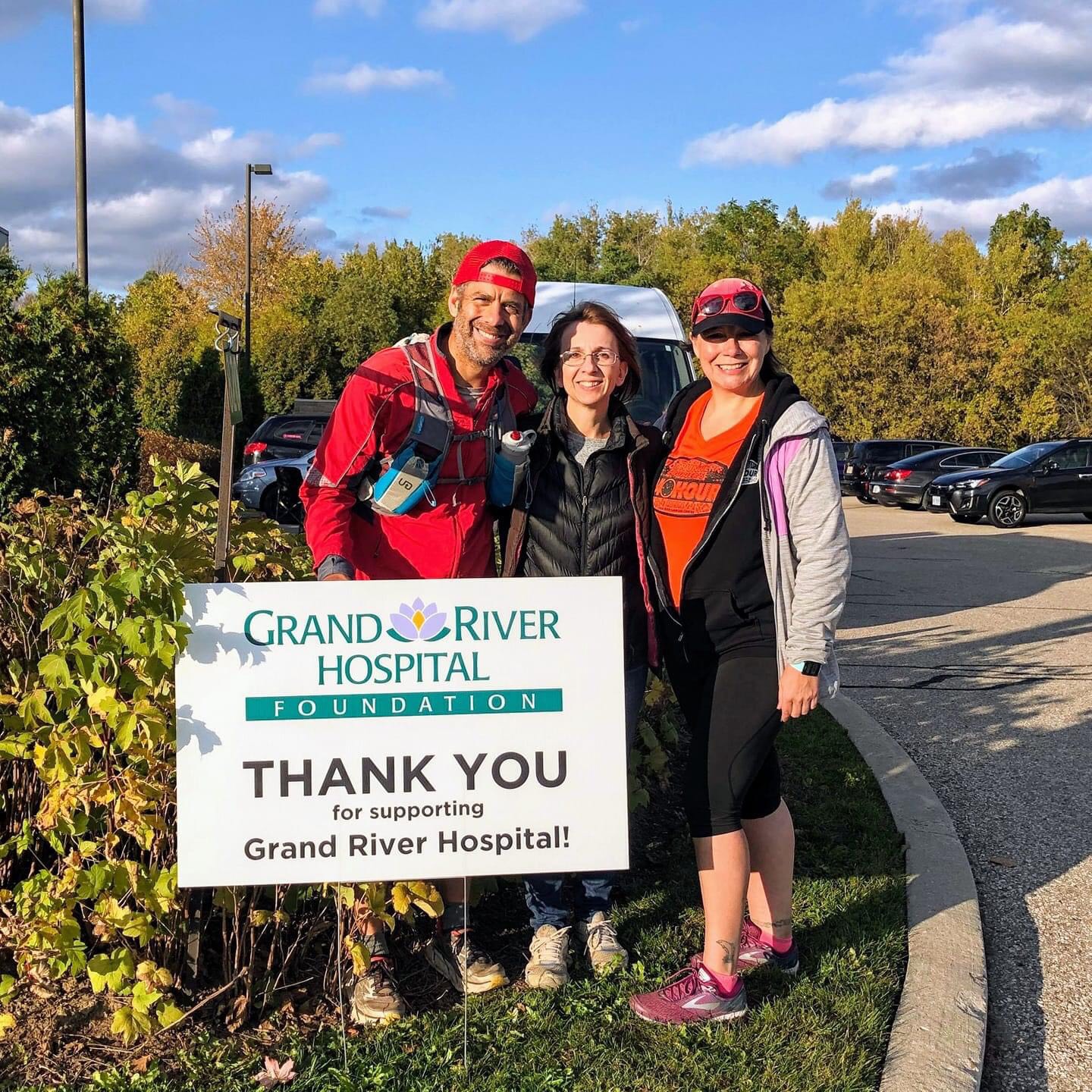 At the end of the day, for a low-key fundraiser with no overarching plan besides organic growth, we're floored by Rich's ability to bring the running community into an issue and make it happen. One week removed from the event day, the 2020 fundraiser is at $13,500 and counting.