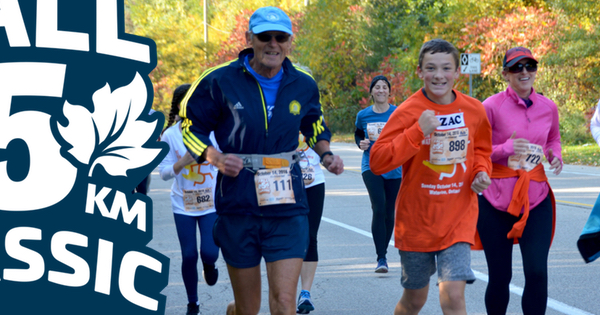 Attention! This page is for a large public gathering that we miss so badly. If you are looking for the 2020 Remote Race, it was launched on October 12, 2020. Participants in this race from the pre-COVID-19 era are entitled to full refunds – check your email. Read more about our 2020 covid response.
Fall 5k Classic is Waterloo Region's largest 5k race. Known for 23 years as a fun, fast, fall event, this race has it all: a point-to-point downhill course, beer and sausage at the finish line, finisher medals, and much more.

This is the fastest 5k course we know of, and the elevation profile and results back it up. For more information about this race, contact Lloyd Schmidt, Race Director.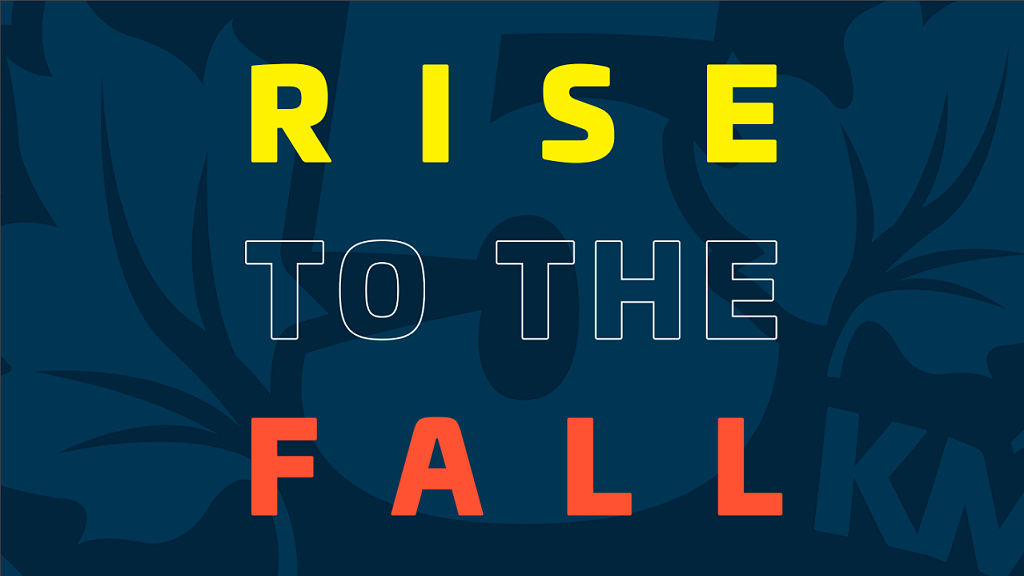 Pour The Boar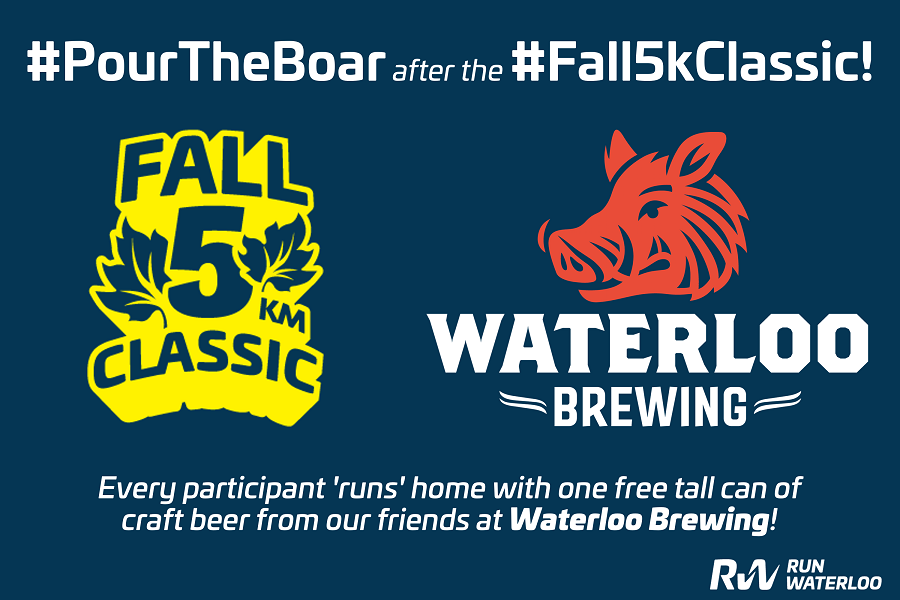 Pour the Boar! The can is for you to take home and enjoy, and not consume at 9:00am in a park.
Event categories and awards
Individual event categories
One per participant
5 KM – up to 9 | 10 – 12 | 13 – 15 | 16 – 19 |  20 – 24 | 25 – 29 | 30 – 34 | 35 – 39 | 40 – 44 | 45 – 49 | 50 – 54 | 55 – 59 | 60 – 64 | 65 – 69 | 70+ | Weight F160+ / M190+lbs | Weight F185+ / M215+lbs
Team event categories
Participants can be on multiple teams.
Spouse (2 person team)
Parent-Child (2 person team)
School (min 3 person team)
Corporate (min 3 person team)
Open (min 5 person team)
Awards
In the 5k, without duplication, recognition goes as follows:
Individual award medals
To the top three overall, then to the top three masters, then to the top three in each event category.
Team award medals
To the first place team in each team category.
All unclaimed medals will be available for pickup at Runners' Choice any time from Tuesday, October 6, to Friday, November 6, 2020.
Prize money
5 KM Overall, Men and Women:

1st – $300 | 2nd – $200 | 3rd – $100 | 4th – $75 | 5th – $50

5 KM Masters, Men and Women:

1st – $200 | 2nd – $100 | 3rd – $75

Open Team:

1st – $100 (minimum 5 eligible teams in the official results)

Time-Based Incentives:

Time-A: Sub 13:57 (men) and 15:29 (women)

$300 for the first athlete under these times. Athletes who win Time-A awards do not count for Time-B.

Time-B: Sub 14:15 (men) and 16:15 (women).

For up to three athletes who beat (not tie) these times, the winner would receive $100, a second place result would receive $75, and a third place result would receive $50.
Note: Prize money distribution will differ from medal distribution in cases where the Overall placing priority reduces prize money earned for a faster runner.
Course maps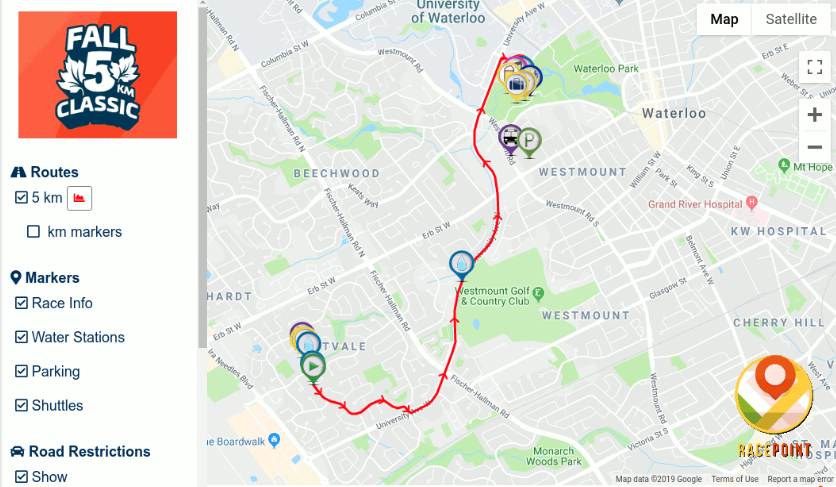 This 2019 course will be confirmed ASAP. (official map or strava). It's fast.
Athletics Canada Course Certification No. ON-2019-034-PTBA
Course Rules
It is every participant's responsibility to know the course and the race assumes no responsibility for any missed turns. Each turn will be marshaled and signed. Courses are pending approval and may change with municipal needs.
Time limit: 10 minutes per kilometer. Starting at the half way mark, if a participant does not reach a km mark by this calculated time, the participant will be asked to move to the sidewalk and finish the race as a pedestrian, unassisted by race support. Participants are asked to familiarize themselves with the course route if this situation might be a possibility to them. We wish to minimize traffic disruption caused by our event, and value the support of Police services regarding participant safety.
Participant swag
All finishers earn a finisher medal, including the 200m kids.
Every participant has the option to purchase a long sleeve cotton t-shirt through the registration process or afterwards in the Race Roster store.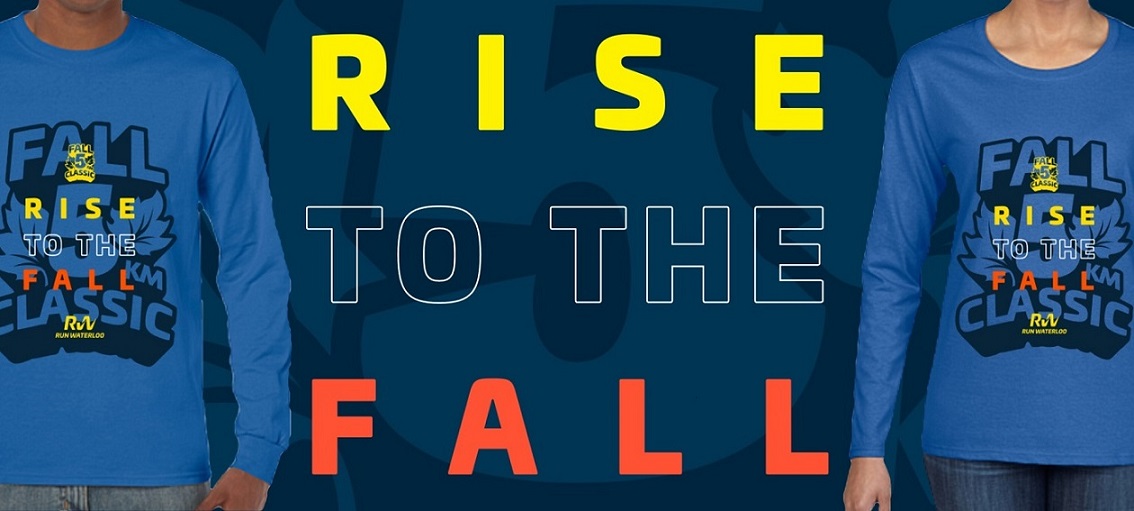 Pace Bunnies
Getting to the start
The start is at Westvale PS. All 5k kits are at Westvale PS (not Waterloo Park). There is no parking or drop-off at Westvale PS.
The most direct way from the finish to the start is 3.5k along Erb St. This is a fair warmup if you are so inclined!
If you are driving, we have shuttle buses leaving the Sun Life parking lot continually from 6:45 to 8:00. There is no shuttle bus back to the start after the race.
Post-race
Post-race
These details are from 2019 and will be updated as appropriate.
What's not to love about this post race?
8:30 – Live band, sausages, Waterloo Brewing, massage from Canadian College of Massage, and a vibrant atmosphere to cheer in your friends.
9:15 – Winner presentation.
9:30 – Age group winner medal presentation.
9:40 – Don't miss the kids' 200m fun run! Starts at the finish line. Bibs are available from the RW tent.
9:50 – Great draw prizes including race t-shirts, Saucony shoes from Runners' Choice and a t-shirt design quilt. Winners must be present to claim the prizes.
Registration and kit pickup
Registration
Online through Race Roster. Paper forms are available only at Runners' Choice, 55 Erb. St. E. Waterloo, and are accepted until October 2, 2019 at 7:00 p.m.
No refunds or deferrals. Entries can be transferred through Race Roster for a $7.50 early transfer fee until the transfer deadline of September 20 at midnight, at which point they can be transferred only in person at kit pickup for a $15.00 late transfer fee.
Kit pickups and race weekend registration
Friday, October 4: kit pickup at Runners' Choice 5:00 p.m. – 7:00 p.m.
Saturday, October 5: kit pickup at Runners' Choice 11:00 a.m. – 1:00 p.m.
Sunday, October 6: kit pickup at Westvale P.S. 7:15 a.m. – 8:15 a.m.
Accessibility info
Run Waterloo would like to assist in breaking down barriers faced by runners with disabilities. For 2019, we have created the position of Accessibility Coordinator, who will answer your questions regarding assistance, accommodations, and venue and course information. Contact Deirdre at [email protected].
We offer discounts for any guide runners. Please contact our accessibility coordinator at this email address for further information.
Elite info
The elite entry deadline for this race is September 20. Check out the 2019 elite list. 
At Run Waterloo, we value elite and sub-elite athletes that contribute to strong fields. There are a limited number of elite entry spots available for this race and they go quickly every year. Contact our Elite Coordinator Alex Ullman (Instagram or email [email protected]) to learn more about our elite program.

Photos

Run Waterloo events include hundreds or thousands of photos posted to our Flickr page, all free for download and use. They are also tagged directly to the results.
Race history
This race began in the 1980s as a 10k during Oktoberfest. Fast forward decades later, and in the 23rd year of the rebooted event, we are dropping the original 10k to focus on what has become the signature 5k distance.
Race results and records