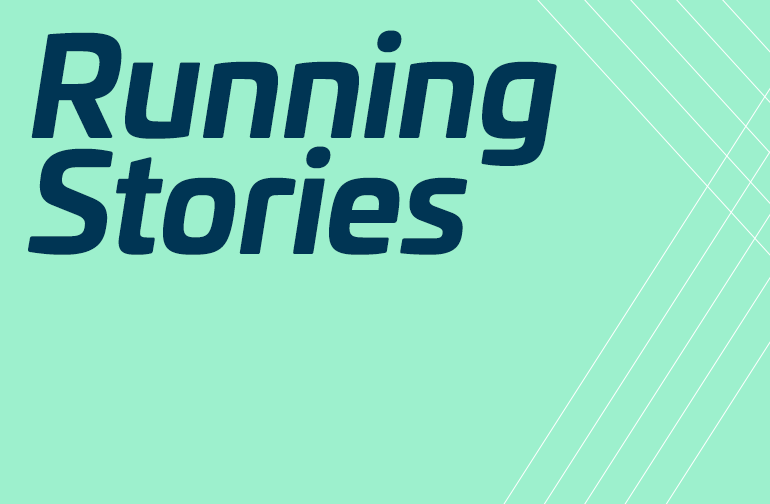 Running Stories are a monthly feature of the RunWaterloo blog. If you've got a story, we want to hear it! This month is from Kristy Chambers, Personal Trainer and Owner of Personally Fit.
"The will to win, the desire to succeed, the urge to reach your full potential… these are the keys that will unlock the door to personal excellence" – Confucius. Having the opportunity to watch the 14 women and men learn to run this summer and fall was nothing short of truly inspirational to me as their personal trainer. I've always supported them, I've always coached and taught them, I always knew they could run the Oktoberfest 5 km and 10 km runs, but I did not know how much I BELIEVED in them until I watched them cross the finish line on October 20th 2013.

Overwhelmed with emotion, and tears blurring my vision, I watched the 14 previously self-proclaimed non-runners cross that finish line – brimming with joy and glossy with sweat- THEY DID IT! Nice and sweaty myself, as I had also just finished my first 5 km post-baby, I couldn't help jumping up and down and hugging the energetic group of supporters who came out to celebrate the success of those running their first organized run. As their trainer, the sense of pride I felt was nothing less than that of the proudest mother around! In the summer, we decided to take on this challenge together. No one in our group had run an organized run before, and what a great experience to delve into as a team, we* decided. (*Side note: the "we" here was myself and my trusty staff of other personal trainers. Some clients didn't quite jump on board as quickly as we did). However, with a little encouragement, some "I'll do it if you do it's", some "Mom, I KNOW you can do this's", and some "FINE! I'll do it's"… we had 4 trainers and 14 clients… we had a new running team!
The first official group of runners from Personally Fit New Hamburg. And, man oh man, were they thrilled! Okay, not really. But, we were! We put together an 8 week training program, ran a run clinic, and helped in any way we could. We offered nutritional support, clothing suggestions, ran leg workouts, and Runners Yoga. We started running 1 minute on, and 1 minute off for 10 intervals. This was a struggle for some of our runners. It brought on some nervous tummies, some discouraging days, and some self-doubt. Yet as each week passed, these feelings turned to stories of progress and success. "I ran 3 km without stopping!" and "I feel so good now! I can't wait to get out again" in addition to "You know what? I think I can do this!" It was so inspiring to see the growth of these amazing athletes.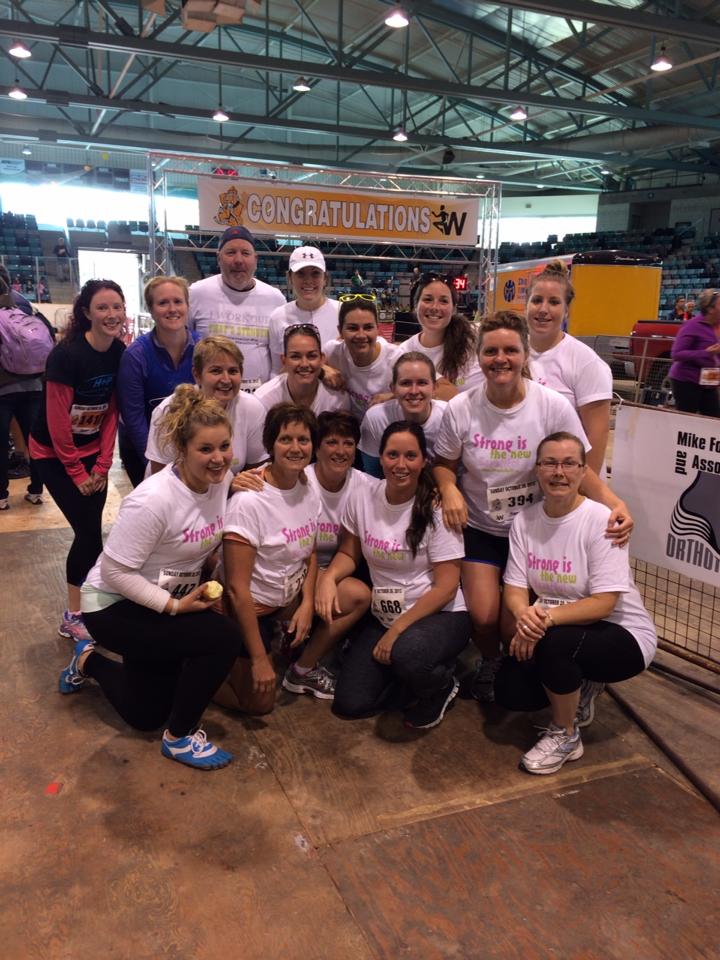 The teamwork and support of each other was beyond words I have to draw from. Knowing that everyone was utilizing the trainer, run partner, and run group they had been assigned on a daily or weekly basis moved me. One group met up in the dark, wee hours of the morning to support a member who needed a little help to bypass an interval she was stuck on. Many of us banded together with ideas on how to heal a pesky blister as fast as we could for another runner. The trainers were taking time out of their own lives to check in, email, call, text, and meet up with runners who had questions and needed some assistance. One man ended up outrunning his teenage daughters! Runners were dropping by the gym after runs just to tell me how they did! It was amazing. All of us trainers loved every update, story, tale of progress, and watching the team support each other in every way possible. Watching these now runners, never to be non-runners again, push themselves and accomplish SUCH an amazing feat—running a 5 km or 10 km run—WOW.
Today was such an amazing day! Congratulations to all of the Personally Fit runners that ran today in the Run… http://t.co/hjMvi6uVU7

— Personally Fit (@PersonallyFitNH) October 20, 2013
Great Run today with a great group of people! #proud #personallyfit #oktoberfestrun @RunWaterloo @PersonallyFitNH pic.twitter.com/ZfdSktHECD

— Paige Fishback (@paigefishback) October 20, 2013
I'm truly inspired and moved by all the hard work, sweat, and effort all my runners put forward as individuals and as a group. These men and ladies have not only been an inspiration to me, but to other members of our gym. We already have 8 more runners who will be joining us in the spring for our next group run! That's all thanks to the client who signed up, committed and DID IT—your stories have motivated so many! A sincere congratulations from all the trainers here at Personally Fit New Hamburg. We didn't join the Oktoberfest Run for competition, but each and every one you won. From the bottom of our hearts- well done!
Personally Fit is a gym located in New Hamburg. We proudly have members who call home to Waterloo, Washington, Kitchener, Baden, Bright, Plattsville, Hickson, Tavistock, and New Hamburg… to name a few! We offer group fitness, sports specific training, yoga, personal training, detox programs, Mom and Baby Fit, Zumba, and more! And of course, running programs! Our goals is ALWAYS for each and every member to feel supported and welcomed no matter what their fitness level is.