Every month, we catch up with RW members to profile in this column. This month we talked with Erin Schmidt, and gave the family of five a quiz which is included at the bottom of this profile.
This Schmidt family consists of John, Erin, Jessica, Jonah and Ian (no relation to the many other Schmidt members of Run Waterloo, but with the correct spelling and thankfully not missing the 't' on the end). We live in the country near Conestogo where we have a vegetable garden, fruit trees and chickens.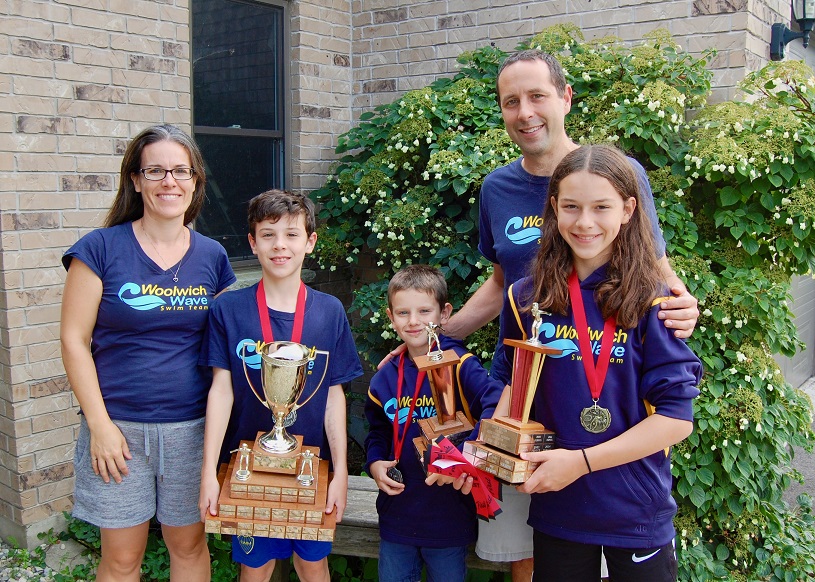 John and Erin have been running for fitness for most of adulthood, but became much more active in racing once the kids took an interest. At age nine Jessica ran her first 5k race and with that success we got the boys running even earlier. Jonah ran his first 5k at age 7 and Ian at age 6. Besides running, the Schmidt family participates in several other sports. Erin and John organize and help coach the Woolwich Swim Team in Elmira and all the kids swim competitively with the team. We are also active in basketball, ultimate frisbee and hockey.
John's favourite races are trails with hills. Erin hates hills (the Roughly Five is the WORST). Jessica enjoys longer (8 to 10k) distances, Jonah likes whatever race is fastest (the Fall Classic being his favourite) and Ian recently learned that eating a lot of cookies before a race is a bad idea. He's happy with any kind of race, but likes to do it on his own without any adults running with him. Everyone really enjoys Run Waterloo's boost point competition.
Here is the survey, that the family answered anonymously through Google sheets! Some categories had clear winners, some ended up tied, and one was just too controversial to determine!
| | |
| --- | --- |
| Who is the most enthusiastic and outgoing? | Ian |
| Who started running earliest? | Ian |
| Who is most competitive? | Jonah |
| Who likes to run in the most extreme temperatures? | John |
| Who is most likely to be late to a race / miss a race? | John |
| Who gives most encouragement? | Erin |
| Who has the most well rounded hobbies? | Jessica |
| Wears the most RW swag? | Jessica |
| Who talks about running the most? | Erin |
| Who has the most medals? | Jessica |
| Who eats the healthiest? | Erin |
| Who trains the most? | Erin |
| Who has the best playlist? | Jonah, John (Tie) |
| Who enjoys the team categories the most? | Jonah |
| Who is the most adventurous? | Ian |
| Who loves trails the most? | Ian, John |
| Who hogs Netflix? | John |
| Who sleeps the most? | John |
| Who is the most clumsy? | Ian |
| Who is the most energetic? | Ian, Jonah |
| Who is the fastest? | Too controversial! |
This family is well known in Run Waterloo and it has been great getting to know you even better through this blog! Here is their family photo from the 2020 Laurier Virtual Loop.