On Thursday afternoon the torch will arrive in Waterloo from Stratford, and there will be celebrations at Waterloo Town Square and then Kitchener City Hall, where it will rest for the night before continuing on to Cambridge and Brantford on Friday morning.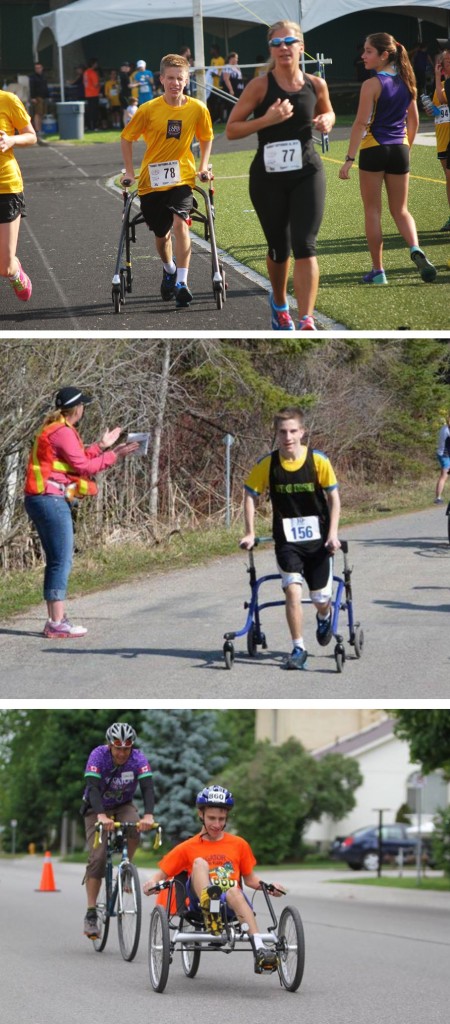 Several locals will have the opportunity to participate in the relay as torchbearers, including 14-year old Graydon Large. "We are so proud of him, representing KidsAbility and the community as a Pan Am Games torchbearer. He's come such a long way from using a wheelchair to running in the Run Waterloo series!" says his proud mother, Dierdre. Graydon was diagnosed with a rare genetic disorder that has affected his balance and walking, but in the past 10 years has amazed everyone with his accomplishments. He now walks without the aid of even a walker, and since he started participating in Run Waterloo events in 2012, he has improved his 3km time by an incredible 14 minutes!
Starting at 6:55pm at 18 Queen St. S., Graydon will carry the torch to Kitchener City Hall where it will be passed to Kitchener's community torchbearer, 2011 Pan Am boxing champion Mandy Bujold.
For more information check out the City of Kitchener's events page.
Photos of Graydon (t-b): Laurier Loop, Mudpuppy Chase, TriGator.