With our cancelled Santa Pur-suit race, we don't want to let the spirit die, and of course we want to support the YMCAs of Cambridge and KW. So here's what we are going to do: FLASH UN-MOB.
We are selling up to 100 Santa suits this month, and of course, this is for you to do whatever brings you the most joy. But what we are going to do is coordinate a few "secret" dates among our Santas to hit the streets solo, so like a flash mob, but without the mobbing. The goal will be to have maybe 5 mornings afternoons between now and December 25 where we send some Santas out to the main roads in Waterloo Region to spread as much joy as possible.
Imagine if we hit the main thoroughfares of Kitchener during a morning commute later this month, such that someone sees a Santa on their way to work…and again…and again… That is what we're hoping to create with the FLASH UN-MOB.
It could be snowy, like December 1, or it could be 15 degrees. We never really know what to expect, but after having run several "flash mobs" of various sizes throughout the pre-pandemic years, we know that even one single Santa brings a lot of joy, like this photo from November 22, 2012.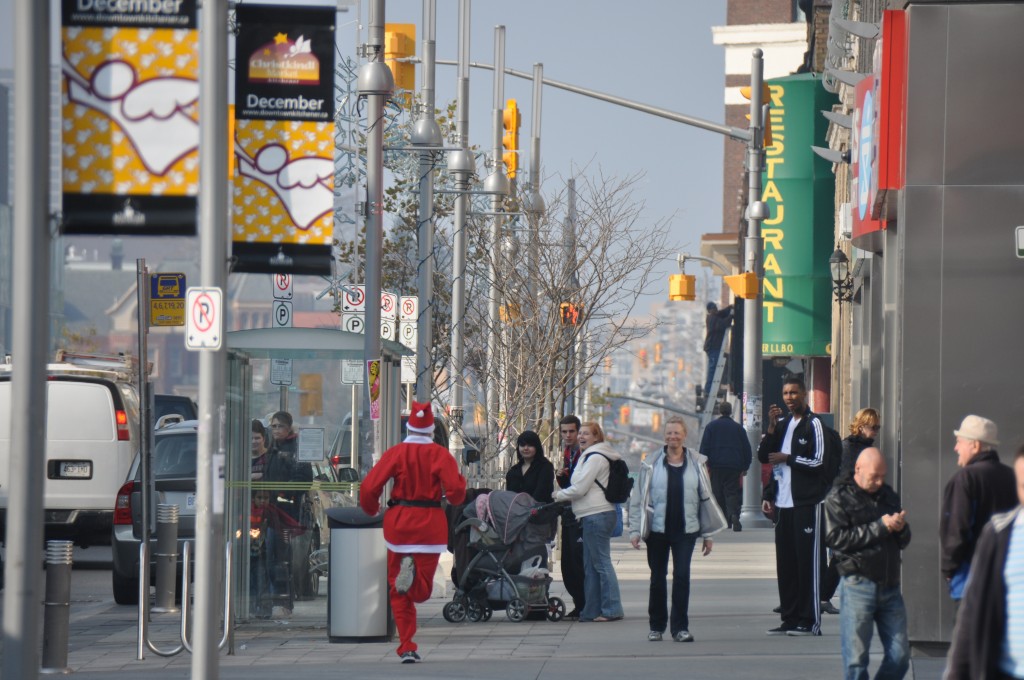 $50 entry fee, but there are promo codes available if you are in financial need. This is a fundraiser for both Run Waterloo and the local YMCAs. Suits are picked up at your convenience from Runners' Choice. If you need it shipped to you, contact us for a custom quote.