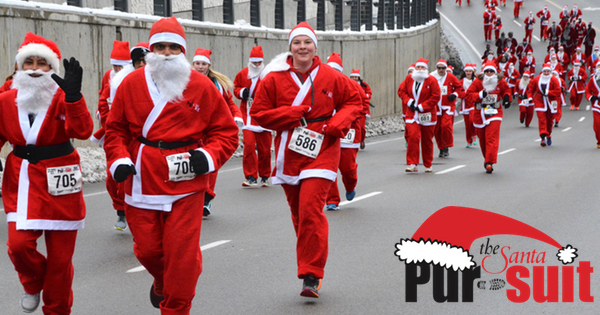 Santa Pur-suit is a festive annual run in Kitchener-Waterloo. Running before the KW Santa Claus Parade you will find hundreds of jolly runners and walkers making their way down Weber Street.
This event is a fundraiser for programming at the YMCAs of Cambridge and Kitchener-Waterloo. Besides being a fun seasonal event, this is also a race, with award medals. But every finisher earns a custom finisher ornament too!

For more information about this event, contact Lloyd Schmidt, Race Director.

Event categories and awards
Individual event categories
One per participant
5k & 3k: up to 9 | 10 – 12 | 13 – 15 | 16 – 19 |  20 – 29 | 30 – 39 | 40 – 49 | 50 – 59 | 60 – 69 | 70+ | Weight F160+ / M190+lbs
Team event categories
Teams only include participants of the same timed event. Participants must be in the same timed event to be counted on the same team.
Parent-child (2 person team)
Spouse (2 person team)
Open (min 5 person team)
Awards
In all timed events, without duplication, recognition goes as follows:
Individual award medals
To the top three overall, then to the top three masters, then to the top three in each event category.
Team award medals
To the first place team in each team category.
All unclaimed medals will be available for pickup at Runners' Choice any time after Tuesday November 19, 2019.
Course maps
TBA
Course Rules
It is every participant's responsibility to know the course and the race assumes no responsibility for any missed turns. Each turn will be marshaled and signed. Courses are pending approval and may change with municipal needs.
Time limit for running races: 10 minutes per kilometer for the 5k. Starting at the half way mark, if a participant does not reach a km mark by this calculated time, the participant will be asked to move to the sidewalk and finish the race as a pedestrian, unassisted by race support. Participants are asked to familiarize themselves with the course route if this situation might be a possibility to them. We wish to minimize traffic disruption caused by our event, and value the support of Police services regarding participant safety.
Participant swag
In addition to your Santa Suit, every finisher receives a "finisher ornament" (finisher medal).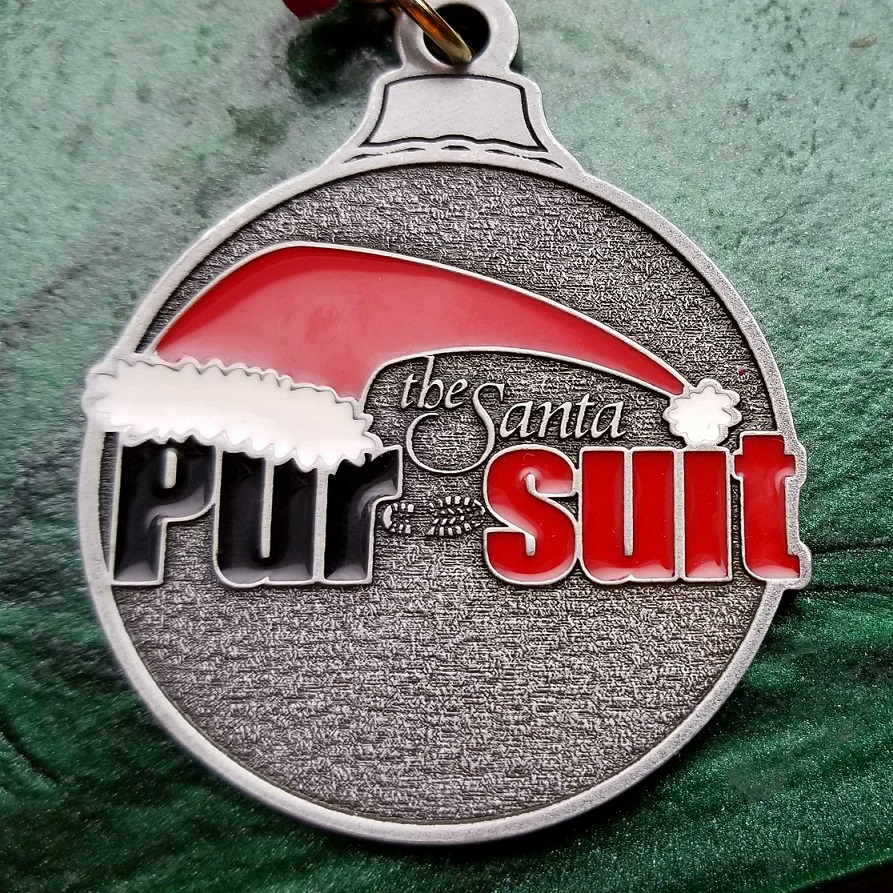 Race weekend info
Post-race
Enjoy hot chocolate and snacks, and relax by taking in the KW Santa Claus Parade! Great draw prizes include Saucony shoes from Runners' Choice and a t-shirt design quilt. Winners must be present to claim the prizes.
Registration and kit pickup
Registration
Online through Race Roster. Paper forms are available only at Runners' Choice, 55 Erb. St. E. Waterloo, and are accepted until November 13, 2019 at 7:00 p.m.
No refunds or deferrals. Entries can be transferred through Race Roster for a $7.50 fee until the transfer deadline of November 3 at midnight.
Kit pickups and race weekend registration
Friday, November 15: kit pickup at Runners' Choice, 5:00 p.m. – 7:00 p.m.
Saturday, November 16: kit pickup at Hakim Optical parking lot, 8:00 a.m. – 9:30 a.m.
Accessibility info
Run Waterloo would like to assist in breaking down barriers faced by runners with disabilities. For 2019, we have created the position of Accessibility Coordinator, who will answer your questions regarding assistance, accommodations, and venue and course information. Contact Deirdre at [email protected].
We offer discounts for any guide runners. Please contact our accessibility coordinator at this email address for further information.
Photos

Run Waterloo events include hundreds or thousands of photos posted to our Flickr page, all free for download and use. They are also tagged directly to the results.
Race results and records