For the final three races of 2013, Health + Performance coach Sean Delanghe will be hosting pre-runs of the race courses.
Running a race this fall?
Tune up and familiarize yourself with the course with the H+P coaches. Each fall race has a pre-run scheduled for 9:00am the previous Saturday. You can use it to calm your nerves, to meet new people, or just to have fun!
Sean says, "Our team always has a great experience at WRS events. We also understand that a race can feel intimidating. We are really excited to lead these pre-runs to help runners of all abilities feel more prepared and comfortable with the courses. Hopefully this will help new runners make that first jump to race, and experienced runners go faster then ever!"
Pre-run Dates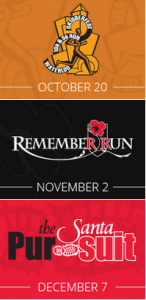 Note: These dates are one week before the actual event.
Oktoberfest Run: October 12, 9:00am, Conestoga Mall parking lot (behind Old Navy) (5 & 10 KM)
REMEMBERrun: October 26, 9:00am, Preston Legion, Cambridge (5 & 8 KM)
Santa Pur-suit: November 30, 9:00am, Stork Family YMCA (5 KM)
For the Santa Pur-suit pre-run, everyone there will have the option to get their Santa suit one week early. An RSVP is required for that event.
We hope to see you out pre-running this fall!