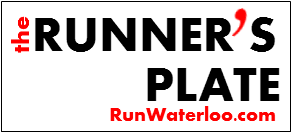 I don't know about you, but I've never met a runner who doesn't like cereal. While there are some good wholesome choices out on the grocery shelves, there's also a lot of sugar-laden refined junk that isn't going to do any favours for your health or your running performance. Store-bought cereal and granola can also be pricey, so why not make your own healthier version instead?
This gluten-free granola is vegan-friendly and has a subtle sweetness thanks to the stevia and mashed bananas. The oats and puffed brown rice are a great source of carbohydrates to help fuel your runs, and the almonds and coconut oil provide heart-healthy fats. Oh, and it'll make your house smell like Cinnamon Toast Crunch, only so much more nutritious!
Almond Butter and Banana Granola
Makes: 5 cups
Prep Time: 10 mins
Cook Time: 50 mins
Ingredients:
3 cups puffed brown rice cereal (I used Nature's Path puffed brown rice)
2 cups rolled oats, gluten free if necessary
½ cup slivered almonds
6 packets stevia
3 tsp ground cinnamon
1/4 cup coconut oil
1/4 cup almond butter
3/4 cup mashed bananas
1 tbsp vanilla extract
¼ tsp almond extract
2/3 cup dried banana slices/chips
What to do:
Preheat the oven to 350°F.
Measure out the banana chips and set them aside.
Oil a large baking sheet or line it with parchment paper for easy clean up.
In a big bowl, mix together all of the dry ingredients.
In a small pot, melt the coconut oil on the stove. Add in the mashed banana, nut butter, vanilla and almond extract and stir occasionally until the mixture becomes smooth. This should take about 4 minutes over low heat once the burner is hot.
Pour the wet mixture into the dry ingredient bowl. Stir well, coating the rice puffs and oats.
Pour the entire contents of the bowl onto the baking sheet. (Use 2 if you run out of room). Use a spatula to make an even layer.
Bake for 25 minutes. Remove the pan from the oven and use a flipper or your hands to break up any large chunks. Continue baking for another 20 minutes.
After 45 minutes, the granola may still be a bit soft. (Different ovens have their quirks!) If this is the case, bake for another 5 minutes.
Remove the baking sheet from the oven and let it cool.
Pour the granola into a large bowl and mix in the banana chips. When completely cool, it will be crunchy. Store in air-tight glass jars or containers for up to 4 weeks
Angela Simpson is a certified Health Coach, blogger at Eat Spin Run Repeat, and regular nutrition contributor to the Run Waterloo blog.