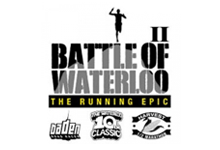 With so much happening this summer, we almost (but not quite) forgot about the Battle! Here's a quick recap of what's been happening:
After the first stage of Battle of Waterloo II, the Baden 7 Mile, the top three male contenders were separated by a slim margin of 48 seconds:
Paul Braun 48:29
Ryan Bartja 48:43
Eric Lotimer 49:17
Ryan did not complete Stage 2, the Waterloo 10KM Classic, and Paul was able to increase his lead over Eric to 1:27. The top three men in the battle and their cumulative times are now:
Paul Braun 1:29:12
Eric Lotimer 1:30:39
Peter Van Driel 1:32:50
On the women's side, Battle I champ Annika Nicholson started off in fine form once again, with a 41 second lead over second place:
Annika Nicholson 51:02
Andrea Sweny 51:43
Manuela Jones 58:47
These three ladies maintained their standings after the 10KM, but Andrea has made a serious move to close the gap on Annika. She is now just 6 seconds behind!
The next and final stage to be contested is the Harvest Half Marathon on September 19. With races this close and 21.1km to go, anything could happen! Good luck to all our #BattleofRunWaterloo II contestants as they prepare for the final leg!
Full Battle results:
Ladies
| | | | | | | | |
| --- | --- | --- | --- | --- | --- | --- | --- |
| | Participant | Gender | Category | Leg 1 (BRR 7mi) | Leg 2 (WC 10K) | Leg 3 (HH) | Combined Time |
| 1 | Annika Nicholson | F | F30-39 | 0:51:02 | 0:42:56 | | 1:33:58 |
| 2 | Andrea Sweny | F | F30-39 | 0:51:43 | 0:42:23 | | 1:34:06 |
| 3 | Manuela Jones | F | F40-49 | 0:58:47 | 0:49:46 | | 1:48:33 |
| 4 | Rachel Graham | F | F20-29 | 1:03:25 | 0:54:39 | | 1:58:04 |
| 5 | Linda Umbrico | F | F50-59 | 1:04:41 | 0:56:19 | | 2:01:00 |
| 6 | Sidney Gagne | F | F-19 | 1:06:44 | 0:57:20 | | 2:04:04 |
| 7 | Maryanne Turner | F | F40-49 | 1:08:35 | 0:56:37 | | 2:05:12 |
| 8 | Catherine Holloway | F | F20-29 | 1:13:38 | 0:53:00 | | 2:06:38 |
| 9 | Kathleen Craig | F | F30-39 | 1:12:06 | 0:56:22 | | 2:08:28 |
| 10 | Janelle Zwart | F | F20-29 | 1:12:15 | 0:58:41 | | 2:10:56 |
| 11 | Rachael Drost | F | F20-29 | 1:17:28 | 1:05:53 | | 2:23:21 |
| 12 | Carolyn Edwards | F | F50-59 | 1:23:52 | 1:09:07 | | 2:32:59 |
Men
| | | | | | | | |
| --- | --- | --- | --- | --- | --- | --- | --- |
| | Participant | Gender | Category | Leg 1 (BRR 7mi) | Leg 2 (WC 10K) | Leg 3 (HH) | Combined Time |
| 1 | Paul Braun | M | M50-59 | 0:48:29 | 0:40:43 | | 1:29:12 |
| 2 | Eric Lotimer | M | M30-39 | 0:49:17 | 0:41:22 | | 1:30:39 |
| 3 | Peter Van Driel | M | M30-39 | 0:51:40 | 0:41:10 | | 1:32:50 |
| 4 | Daniel Newton | M | M30-39 | 0:53:13 | 0:40:30 | | 1:33:43 |
| 5 | Paul Gonsalves | M | M40-49 | 0:56:23 | 0:45:51 | | 1:42:14 |
| 6 | John Doucette | M | M20-29 | 0:57:05 | 0:48:21 | | 1:45:26 |
| 7 | Harold O'Krafka | M | M40-49 | 0:57:40 | 0:48:53 | | 1:46:33 |
| 8 | Bryan Cuthbertson | M | M30-39 | 0:58:31 | 0:49:13 | | 1:47:44 |
| 9 | Jeff Nelson | M | M40-49 | 1:01:36 | 0:48:54 | | 1:50:30 |
| 10 | Murray Bartja | M | M60+ | 1:03:49 | 0:55:22 | | 1:59:11 |
| 11 | Nicholas Maude | M | M30-39 | 1:07:43 | 0:58:20 | | 2:06:03 |
| 12 | Danny Kajin | M | M30-39 | 1:14:31 | 1:04:33 | | 2:19:04 |
| 13 | Ken B Anderson | M | M60+ | 1:05:02 | 1:22:47 | | 2:27:49 |
| 14 | Martin Ritchie | M | M40-49 | 1:22:34 | 1:16:41 | | 2:39:15 |