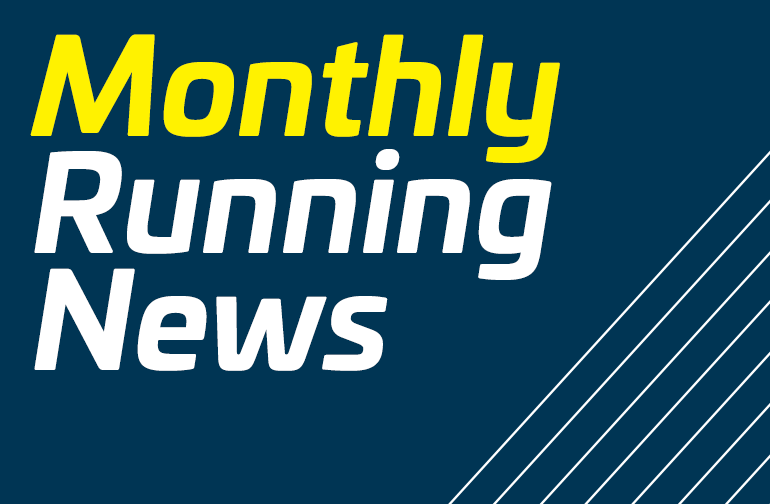 This issue of Running News covers events and items from October and the first half of November.
For those of us who have been running since our schooldays, fall means cross-country season. For those who didn't join the sport until later in life, it means marathon season. Whichever group you fall into, the past month and a half has been packed with exciting results both on the roads and off.
Fall Road Racing Highlights
Chicago Marathon
The Chicago Marathon, held annually over Canadian Thanksgiving weekend, is known as the fastest and most competitive marathon in North America. In 2015, the race organizers decided to eliminate pace setters for elite competitors, hoping to make the race more exciting. Interestingly, this resulted in winning times in 2015 and 2016 that were about 5 minutes slower than in 2014 for the men, but no difference in the women's race. In fact, Abel Kirui's 2:11 victory from this year was a further 2 minutes slower than Dickson Chumba's 2015 winning time, but Florence Kiplagat ran 2 minutes faster than last year to record her second consecutive win in Chicago. There were no Canadian elites in the field this year, but top local performances came from RW Magazine contributor Sean Delanghe (2:46:55) and Gillian Willard (3:07:46).
STWM & Canadian Marathon Championships
The following weekend brought marathoners to Toronto for the Scotiabank Toronto Waterfront Marathon (STWM), which doubled as the 2016 Canadian Marathon Championships. Eric Gillis (10th place at the Rio Olympics) was racing history, attempting once again to break Jerome Drayton's 2:10:09 record, set in 1975. The women's field was stacked, with Krista DuChene fighting off challenges from a host of up-and-coming women including Rachel Hannah, Leslie Sexton and Tarah Korir. All athletes were set to chase the qualifying standards for the 2017 world championships (2:19 for men and 2:45 for women, as set by the IAAF), when Athletics Canada threw a wrench into those plans by announcing its own, much tougher qualifying times just four days before STWM. These times (2:12:50 for men and 2:29:50 for women) are the same ones that were used to determine the 2016 Olympic team. Many athletes expressed frustration at the timing of this announcement, as well as the difficulty of the standards. Unfortunately, race day weather conditions were not suitable to fast racing. Gillis and DuChene both put in strong performances to finish 5th overall – top Canadians – in 2:13 and 2:34 respectively, adding another Canadian title to their credentials. Hannah finished just 35 seconds back of DuChene. Sexton and Korir both DNF'd.
The fall is also when Athletics Canada releases its list of carded athletes for the following year; that is, which athletes will receive financial support. The list is capped at 68 athletes, and unsurprisingly it therefore excludes many strong athletes. For example, Gillis and Hannah are the only distance runners (10,000m or marathon) who will receive funding in 2017. Athletics Canada provided the objective criteria they used to determine their list; however, the decision to leave off DuChene, Lanni Marchant, Natasha Wodak and Reid Coolsaet, among others, has led to the athletes shifting their priorities. Historically, most of these athletes have focused their training around qualifying for national teams. However, these four athletes have all either stated or implied that as a result of the lack of funding, in conjunction with the intense standards set by Athletics Canada, they are no longer focused on making the Canadian team for the 2017 world championships. Instead, they will look to race in high-profile events that can provide them better competition, publicity and financial compensation. Marchant's decision to run in New York instead of Toronto this fall is a prime example.
NYC Marathon
The first weekend of November featured the New York City Marathon. Winners were Mary Keitany, for the third consecutive year, and Ghirmay Ghebreslassie, the 20 year-old Eritrean who won the 2015 world championship and finished 4th in Rio this summer. Molly Huddle, American 10,000m record holder, finished third in her debut marathon in 2:28, while Canadian star Marchant finished 7th, the second North American woman across the line.  
Other Top Results on the Roads 
Sasha Gollish running a 1:11:07 half marathon in Indianapolis

. According to Athletics Canada's rankings, this is the fastest time by a Canadian woman this year, and the second fastest ever behind Marchant's national record of 1:10:47 (excluding times run on downhill courses).   

Race walker

Evan Dunfee has been testing out his running legs this fall, in his downtime post-Rio. This past weekend he won the Fall Classic Half Marathon in Vancouver in 1:10:44

.

Ed Whitlock set yet another world record, this time by running a sub-4:00 marathon at age 85 at STWM

.

Local athlete

Adam Hortian

 won his debut marathon at the Hamilton Marathon Road2Hope in 2:29:55.

Another local athlete,

Erin McClure Robb

, won both the Road2Hope and STWM half marathons.
Cross-Country Season Draws to a Close
Collegiate Results
The collegiate cross-country season is short but intense. After six weeks of invitational meets and team training, the provincial championships (OUAs) were held in Toronto at the end of October. In the men's race, the University of Guelph failed to win the team title for the first time since 2004; Western University captured their first team victory since 1988. In the women's race, Guelph won their 13th consecutive team title.
Two weeks later, the U of G women took their 12th consecutive national title at the CIS Championships in Quebec City by just five points over Queens. Meanwhile, Guelph's men's team suffered, finishing 9th and leaving plenty of room for new teams to rise to the top. Universite Laval won their first ever national championship, led by Yves Sikubwabo, the individual champion. Following top-10 finishes at OUAs, the University of Waterloo and Wilfrid Laurier University both sent their teams men's and women's teams to the CIS. UW teams finished 16th and 20th respectively, while Laurier's teams were 19th and 21st.
This weekend also saw the end of the college cross-country season, with the CCAA championships held in Sault Ste Marie. Conestoga College men finished 4th overall, while the women were 12th.
In Division I, Canadian Justyn Knight, who runs for Syracuse, has had a tremendously successful season. At some of the early invitationals he outkicked some of the top athletes in the NCAA, making him a serious contender in the eyes of many. He won the conference championship at the end of October, leading his team to victory as well. This past weekend at the NCAA northeast regional championships he was again individual and team champion. The NCAA championships take place next weekend, November 19. Syracuse won the men's 2015 championship, and they will certainly be aiming to repeat this year.
Athletics Ontario Championships
The provincial cross-country championships were held in Niagara Falls on November 13. The senior women's race was won by Gollish, seven seconds ahead of Hannah. The senior men's race was taken by Sami Jibril, who has consistently finished near the top of national distance fields in the past three years.
Gender Equality
In the running world, cross-country remains one of the only events in which men and women do not race the same distance. The IAAF has finally moved to close the gap, with senior men and women both to race 10km for the first time in 2017. In order to prepare for this event (scheduled for March 26 in Uganda), the Canadian national cross-country championships (November 26th in Kingston) will also be contested over 10km for both the men and women. However, the 2016 Ontario championships were contested over the same distances as the CIS Championships: 6km for women and 10km for men. Leslie Sexton, a 2:33 marathoner and an important advocate for gender equality in distance running, made a statement by racing in the men's event, finishing 24th in a time of 35:32.  
Other News
Notable Retirements
It is not unusual to see athletes try to fit in one last Olympics before bringing their athletic career to a close. This fall, at least two high-profile athletes have announced their retirement from track and field post-Rio. Jessica Ennis-Hill is British heptathlete with one Olympic and two world championship titles to her name. At age 30, after winning a silver medal in Rio, she decided to call it a career.
Canadian steeplechaser Chris Winter has also ended his track career. After qualifying for and competing in the Rio Olympics, Winter feels he has achieved his goals as an athlete, and is looking to move on to new things, while still staying involved in the sport.
"Don't cry because it's over, smile because it happened". Thank you to all who helped me chase my dreams – it's on to new adventures! ✌ pic.twitter.com/r13VfTVJWK

— chris winter (@cwinter3) October 5, 2016
A Canadian Track & Field Scandal
Shawn Barber, 2015 world champion pole vaulter, struggled through the second half of his season, including a weak showing (10th) in Rio. He was not a factor in the Diamond League in August or September, either. Last month an explanation for this change was made public. Barber tested positive for cocaine at the Canadian Track and Field Championships in July. His defense included a bizarre story about a sexual encounter the night before his competition. Cocaine is a banned substance, but given the evidence provided by and on behalf of Barber, the Canadian Centre for Ethics in Sport ruled that he would not be required to serve a suspension and would be permitted to compete in Rio, but would forfeit his Canadian Championship title.
The final Running News of 2016 will conclude on the Canadian and US cross-country seasons and provide a review of the year's top stories.