Quick update on our next fall race: we are putting together a small virtual run.
All 61 previously registered (as of March 2020) runners have been given the option to join the virtual run (or refund or deferral). As of 6pm on Tuesday, November 3, the remaining spots will be open to anyone who wants to join. We expect about 50 entries to be available. Want to join? Check here at at 6pm on Tuesday, but also look at the My Next KW Home contest below.
The cost is $50, which includes at least $10 directly to the Preston Legion Poppy Fund (depending on final shipping and delivery costs). Participants will be able to fundraise through the Race Roster platform as well, and any participant who donates $10 will receive a tax receipt for a $20 donation.
All participants will receive a custom 2020 medal and a new t-shirt. We are excited about both. The shirt is a super-soft triblend fabric that we don't use often, dark green heather. We expect both items to be ready in time for pickup at Runners' Choice on November 10. We also have some good 5k and 11k course ideas that we will share with participants.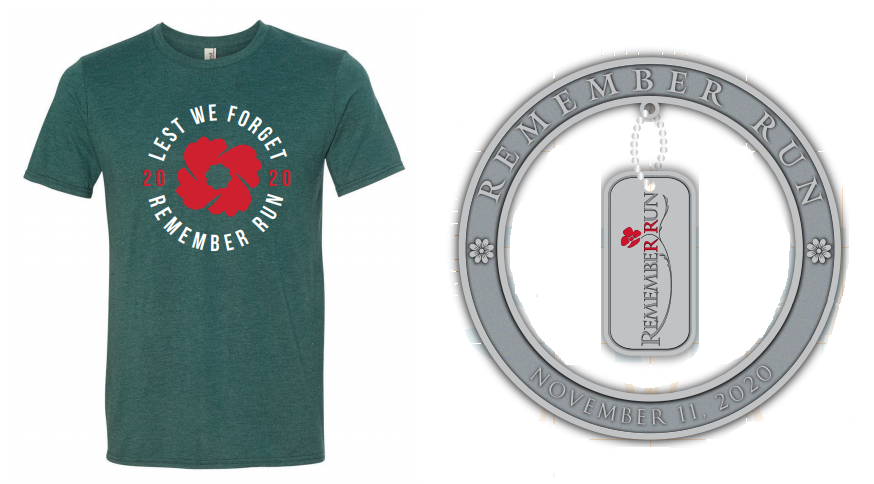 To our readers: thank you for your continued support of RememberRun. While this won't raise nearly as much for the Poppy Fund as any of the past 12 years, we hear you loud and clear: this race tradition – whatever it means to you – is important and worth preserving. It will also be a small fundraiser for Run Waterloo.
Virtual run details
The deadline for results has yet to be determined – we want to give runners the option to do their race once they receive their swag. Results will open on November 7 and continue for at least a week.
Participants also have the option to participate in the 5k and the 11k if they so choose.
My Next KW Race
And like always, our friend Michael Hewitson and My Next KW Home has two of the spots up for grabs. Just let us know in comments on this post and/or the accompanying facebook post, one of two things: what does RememberRun mean to you, or what are your running goals for November? We're not sure when this will sell out, so plan to participate ASAP. Runners who enter the race and win the contest will be refunded.