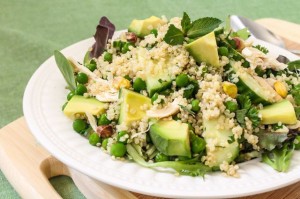 As you're already aware, nutrition can be one of your best secret weapons when it comes to helping your body to recover post-run. This month's featured recipe is not only easy to make and incredibly delicious, but it contains ingredients that will make your next run just as strong as today's. Quinoa contains quality carbohydrates, which will replenish the glycogen stores in your body (and that's key, because glycogen is the energy source our bodies look to burn first). Lean cooked chicken breast contains high quality protein to help your muscles re-build, and heart-healthy fats in the avocado can assist in reducing inflammation. Enjoy!
Spring Chicken Salad
Serves 2
Prep: 15 mins
Cook: 20 mins
Ingredients
1/3 cup uncooked quinoa
3/4 cup water
1 cup shredded cooked chicken breast
1/2 cup fresh green peas
3/4 cup thinly sliced cucumber, halved
1 tbsp finely shredded fresh mint
2 tbsp finely minced chopped parsley
1/4 cup chopped shelled pistachios
4 cups mixed baby greens
1/2 ripe avocado, diced
3 tbsp white balsamic vinegar
sea salt and black pepper, to taste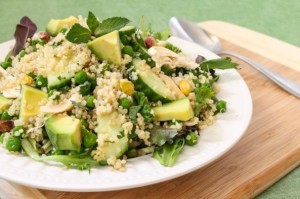 Instructions
Cook the quinoa in water the stove over medium-low heat for 15-20 minutes, or until all liquid is absorbed and grains are puffy. Transfer to a bowl and allow it to cool.
Meanwhile, chop the cucumber, herbs, and avocado. If using freshly-cooked chicken breasts, shred the chicken once cool enough to handle.
In a large bowl, combine the cooked quinoa, herbs, sliced cucumber, chicken, pistachios, vinegar, sea salt and black pepper.
Gently stir in the greens and avocado pieces.
Let the salad sit for at least 15 minutes to let the flavours blend, then serve.
Note: This recipe can be kept in the fridge, sealed for 1 night. To avoid sogginess, wait until you're ready to eat to add the greens, vinegar and avocado.
***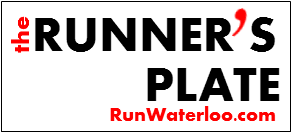 Angela Simpson is a certified Health Coach, blogger at Eat Spin Run Repeat, and regular nutrition contributor to the Run Waterloo blog.