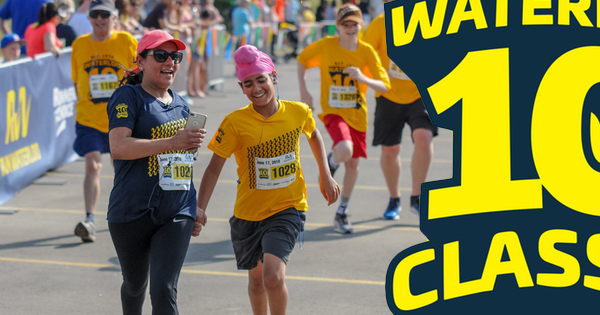 The Waterloo Classic is Waterloo Region's oldest and largest 10k race. The Father's Day tradition began in 1978 and is still going strong, bringing families and the running community in general together for a fun summer morning.
This race has it all: a strong and supportive community, live band, competitive field, great food, beer, and prizes, finisher medals, and much more. Since 2016, this race has been hosted by University of Waterloo Athletics, fundraising for the Women's Sport Initiative Fund.

For more information about this 43rd annual event, contact Lloyd Schmidt, Race Director.

Event categories and awards
Individual event categories
One per participant
10 KM- up to 19 | 20 – 24 | 25 – 29 | 30 – 34 | 35 – 39 | 40 – 44 | 45 – 49 | 50 – 54 | 55 – 59 | 60 – 64 | 65 – 69 | 70+ | Weight F160+ / M190+lbs | Weight F185+ / M215+lbs
5 KM & 3 KM – up to 9 | 10 – 12 | 13 – 15 | 16 – 19 | 20 – 24 | 25 – 29 | 30 – 34 | 35 – 39 | 40 – 44 | 45 – 49 | 50 – 54 | 55 – 59 | 60 – 64 | 65 – 69 | 70+ | Weight F160+ / M190+lbs | Weight F185+ / M215+lbs
Team event categories
Participant can be on multiple teams. Participants must be in the same timed event to be counted on the same team.
Spouse (2 person team)
Parent-Child (2 person team)
School (min 3 person team)
Corporate (min 3 person team)
Open (min 5 person team)
Awards
In all timed events, without duplication, recognition goes as follows:
Individual award medals
To the top three overall, then to the top three masters, then to the top three in each event category.
Team award medals
To the first place team in each team category.
All unclaimed medals will be available for pickup at Runners' Choice any time from Tuesday, June 23, to Thursday, July 23, 2020.
Prize money
10 KM Overall, Men and Women: 1st – $250 | 2nd – $150 | 3rd – $75 | 4th – $50 | 5th – $40
10 KM Masters, Men and Women: 1st – $150 | 2nd – $75 | 3rd – $50
Open Team, any event: 1st – $100 (minimum 5 eligible teams in the official results)
Note: Prize money distribution will differ from medal distribution in cases where the Overall placing priority reduces prize money earned for a faster runner.
Course maps
This great course is pending approval for 2020.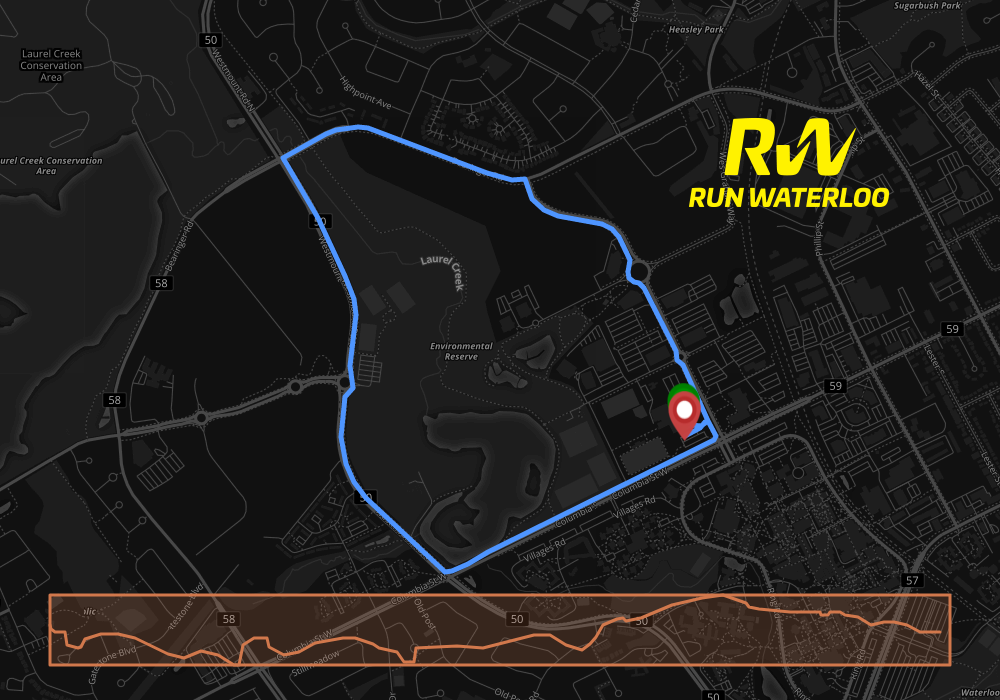 10 KM | 8:30 | Interactive map
5 KM | 8:30 | Interactive map (Strava)
3 KM | 8:30 | Interactive map
200m | 10:15| The kids 200m is a small loop from the Finish line.
Notes:
The 10k is two 5k loops, with the first loop ending shortly before the finish line and curving back for the second loop (zoom in for illustration).
All 5k loops have a short turnaround on Frank Tompa. (The 10k does this turnaround twice.)
The 3k diverts from the 5k and 10k on Columbia in the first kilometre. It uses a scenic section of the Laurel Trail before joining up with the other races on Hagey Blvd.
Course Rules
It is every participant's responsibility to know the course and the race assumes no responsibility for any missed turns. Each turn will be marshaled and signed. Courses are pending approval and may change with municipal needs.
Time limit: 10 minutes per kilometer. Starting at the half way mark of the 10k, if a participant does not reach a km mark by this calculated time, the participant will be asked to move to the sidewalk and finish the race as a pedestrian, unassisted by race support. Participants are asked to familiarize themselves with the course route if this situation might be a possibility to them. We wish to minimize traffic disruption caused by our event, and value the support of Police services regarding participant safety.
Participant swag: T-SHIRT and MEDAL
We've got exciting stuff planned for 2020; stay tuned! For reference, here is the 2019 info:
We are ecstatic about the 2019 shirt: a bold, sublimated design from our friends at Surge Activewear.
The first 1,000 registered participants receive this fabulous sublimated t-shirt, in the 10k/5k/3k only (not including 200m).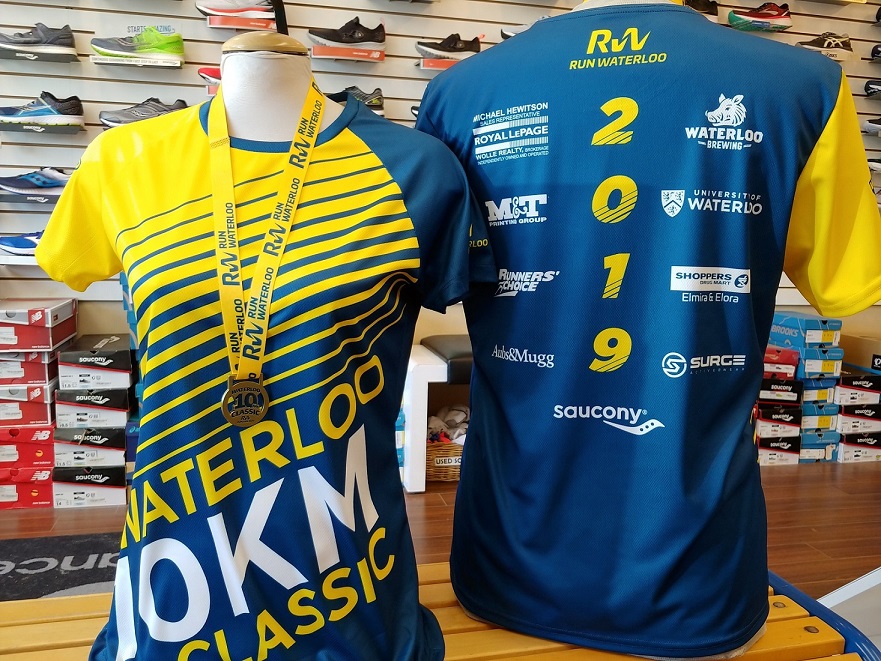 And all finishers earn a finisher medal (including the 200m).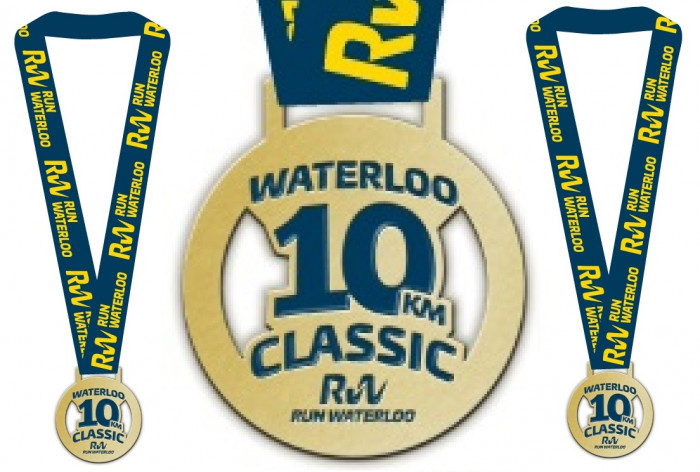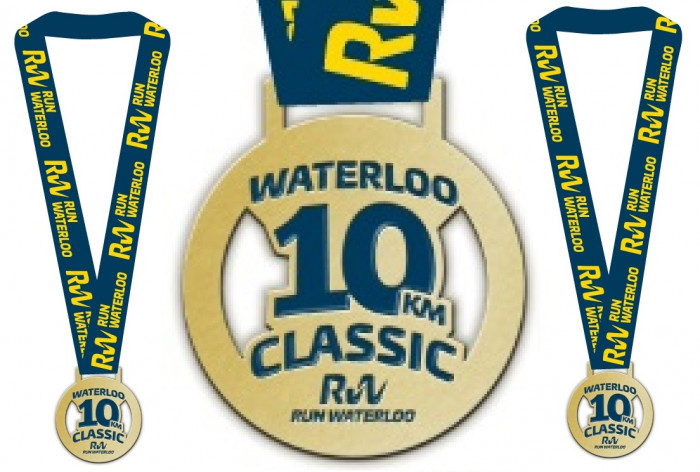 Waterloo Brewing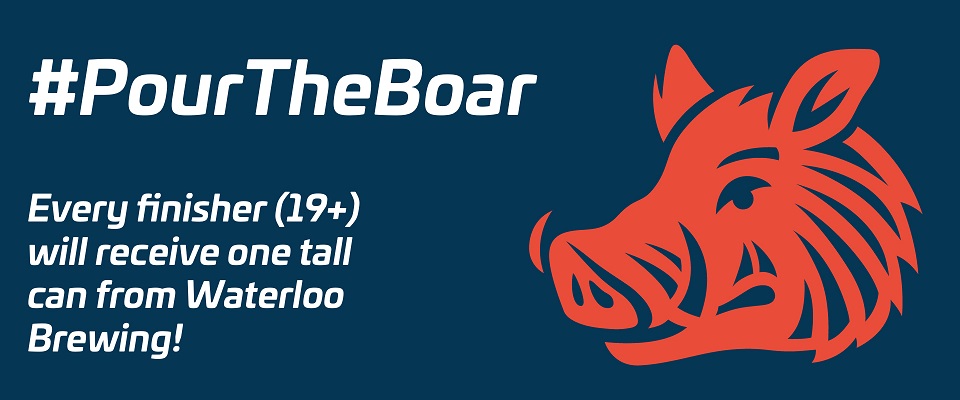 University of Waterloo
In its 42 year history, this race has supported dozens of charities. For the past three years, we have been lucky to collaborate with the University of Waterloo as both host and charitable partner.
This race is a fundraiser for the Women's Sport Initiative Fund, as well as sponsors the Waterloo 10km Classic Cross Country Excellence Awards.
Race weekend info
Post-race
What's not to love about this post race? Live band, great food, Waterloo Brewing, massage from KW Health Connection, and a vibrant atmosphere to cheer in your friends. Great draw prizes including Saucony shoes from Runners' Choice and a t-shirt design quilt. Winners must be present to claim the prizes. Details subject to change for 2020.
Registration and kit pickup
Registration
Online through Race Roster. Paper forms are available only at Runners' Choice, 55 Erb. St. E. Waterloo, and are accepted until June 16, 2019 at 7:00 p.m.
No refunds or deferrals. Entries can be transferred through Race Roster for a $7.50 early transfer fee until the transfer deadline of June 7 at midnight, at which point they can be transferred only in person at kit pickup for a $15.00 late transfer fee.
Kit pickups and race weekend registration
Friday, June 19: kit pickup at Runners' Choice 5:00 p.m. – 7:00 p.m.
Saturday, June 20: kit pickup at Runners' Choice 11:00 a.m. – 1:00 p.m.
Sunday, June 21: kit pickup at CIF 7:00 a.m. – 8:15 a.m.
Accessibility info
Run Waterloo would like to assist in breaking down barriers faced by runners with disabilities. In 2019, we created the position of Accessibility Coordinator, who will answer your questions regarding assistance, accommodations, and venue and course information. Contact Deirdre at [email protected].
We offer discounts for any guide runners. Please contact our accessibility coordinator at this email address for further information.
Elite info
At Run Waterloo, we value elite and sub-elite athletes that contribute to strong fields. There are a limited number of elite entry spots available for this race. Contact [email protected] to learn more about our entry standards.
Note: deadline for elite entry to this race is June 2, 2019.
Photos

Run Waterloo events include hundreds or thousands of photos posted to our Flickr page, all free for download and use. They are also tagged directly to the results.
Race history

The Waterloo Classic 10 KM Road Race is the oldest continuing race of it's kind in Waterloo Region.
Its long and storied history is one of sporting and community tradition since the inaugural event in 1978. It was held at University Stadium (formerly Seagram Stadium) every year from 1978 – 2014 except for 2007, when it was displaced by turf installation. Since 2015, it has been displaced by LRT construction. We are currently sifting through the boxes of newspaper clippings and black & white photos to share these stories; for example, did you know that once in the early 1990s, it snowed?
Rich Hughson won the inaugural running in a time of 31:39. Through various course changes, the event record today is 29:46 by Paul Lockhart in 1985 (which beat his brother Greg Lockhart's 1981 record by ONE second!) Jackie Mota holds the female record at 33:47 in 1997. Overall, we have seen 5 sub-30 times throughout the years, and with 5, Clive Hamilton holds the record for most victories.
One of our favourite stories comes from 1988, when two runners who would represent Canada in Seoul later that fall ran the Classic. Doug Consiglio (Canadian 1500m champion) and Peter Maher (Canadian marathoner) competed in the 10 KM. Of the two Olympians, who would come out with the win? Explore the full records here.
The 3 KM (1996) and 5 KM (1997) events were added in the 1990s to meets the modern needs of families and all types of runners. But the 10 KM distance remains the signature challenge of The Waterloo 10 KM Classic.
For the past 43 years, The Classic has raised money for such worthy organizations as Child Find, Red Cross, Food Bank, Canadian Diabetes Association, Lung Association, Crohn's and Colitis, K-W Habilitation Services, The Waterloo Recreation Complex, K-W Firefighters Defibrillation Program, The Betty Thompson Youth Centre, Citizens Concerened with Crime against Children, the Hospice of Waterloo Region, C.O.D. Riding Program, K-W Counselling Services, K-W Special Olympics, Books for Birthdays, Freeport Hospital, Heartwood Place, Extend-A-Family, University of Waterloo Women's Sport Initiative, and local amateur athletics.
Race results and records