It is our objective to offer fun, safe and healthy events for runners, joggers, walkers and families of all ages and abilities, while promoting community responsibility to local charitable and non-profit organizations and their causes. Since 1978, tens thousands of participants have collectively walked and run millions of kilometres, with over $1,500,000 being donated back to our community.  We offer an opportunity for fitness, friendship, and family fun, and hope you can join us.
A family effort since conception, the organization is dedicated to building a strong, healthy, and connected community in Waterloo Region through the sport of running and the attitude of giving back.

An avid runner for over 40 years, Lloyd began directing races in 1987. Lloyd has a reputation for organizing quality events, a long history of race innovation, and a dedication to the community. Lloyd and his wife Julie have 6 children, who you may see helping at the races. Lloyd became a proud grandfather in 2013.

Jordan manages event logistics, bookkeeping and marketing and communications. Jordan's passion for community building leads him to always look for new ways for the Run Waterloo to benefit those who live in the Region of Waterloo. Jordan is Lloyd and Julie's eldest son and prefers the 5k road race.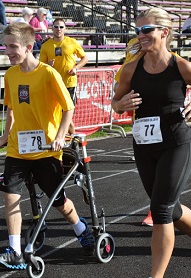 Since Deirdre ran her first 5k in 2010, she has expanded to 50k trail races and has completed ENDURrun Ultimate four times.
Her youngest son Graydon, a successful para-athlete in his own right, has run with her in a number of the series races. As our special needs community is constantly growing, she felt it was time to help make the running series more accessible and inclusive. Deirdre is looking forward to working with all our other-abled community runners!
Josalyn is a mother to two active daughters who fell in love with running races after completing the first Santa Pur-suit!
She works in Public Health and is also a graduate student at the University of Waterloo. We know more than ever that our environment impacts our health, and Josalyn looks forward to helping make races more sustainable to support the health of runners, our community, and the globe!

Once Shannon learned how to manage exercise-induced asthma, no one could stop her. She likes 5k and 10k distances best, and has run as far as 50km.
Shannon believes everyone in our community should have the same opportunity to fall in love with running. She is committed to challenging barriers to inclusion for people of any background and identity. After acknowledging our differences, we can embrace our community's strength in diversity.
Charity Challenge Coordinator
[email protected]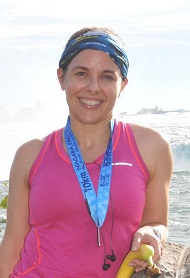 Carmen is excited to be part of the Run Waterloo team, working on the Charity Challenge! Carmen runs recreationally and has done so for… well, for a long time! Her two favourite aspects of running are (1) the mental calm that running provides (2) the positive energy that races provide the community. Carmen works in tech in DTK, travels wherever there are mountains, and wants to use her love of running for a good cause.
Run Waterloo is launching a new Charity Challenge in 2020.
Julie Schmidt
Lead Race Photographer

As a recreational runner and mental health nurse, Julie strongly advocates for the health and well-being of our community. Among her varied roles within the Waterloo Running Series, her most treasured contribution is photography, as she aims to capture the essence of both the individual and community experience.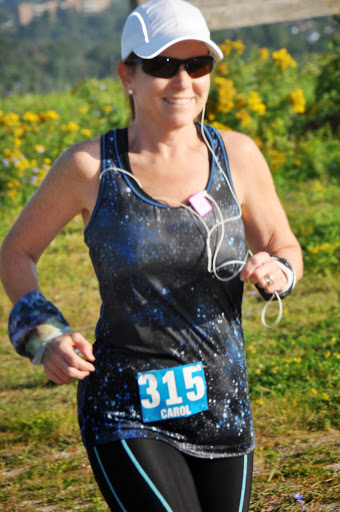 Running for close to 15 years, Carol credits Run Waterloo as the place she found her love of racing. She has been collecting race shirts since the Oktoberfest 5k in 2007. After adding her first Race Crew shirt from the 2012 Dirty Dash, she now collects Race Crew shirts as well. If you don't see her on the course, you will see her at kit pick up.
Jamie Black
Chief Course Marshal

In over 30 years of running, Jamie has competed in more than 1,000 races, won a few of them, and got lost while leading two different cross-country races (in the same day). He has run in +50c as well as -40C and has been chased by a bear while running on trails. He has learned much about race logistics the hard way, and coordinates the marshalling at many RunWaterloo events when he's not chasing his two young children.
Engineering & Infrastructure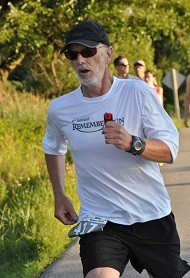 A lifelong engineer, but a new runner, Andrew brings his passion for solving tricky problems to the RunWaterloo team. Whether it's making water cannons, bells that'll stand the assault of enthusiastic runners, kitting out the RunWaterloo event trailer, or anything else needed to make a great event better Andrew's happy to help. If he gets any spare time, Andrew plays the banjo.

Merlin is a life-long auto mechanic, but a very recent runner. Since his first race (2013 ENDURrace), he has quickly fallen in love with the running community. Finding fulfillment in lending a hand whenever possible, he is excited to exercise his handyman skills in order to "give back" to the community which has inspired him so much.
Water Station Coordinator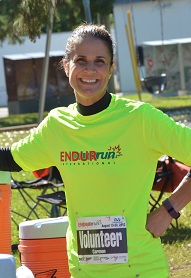 Carmen is a mom of an 11 year boy who keeps her busy with hockey and church events. Her passion is keeping things organized and helping others but she also enjoys getting out for runs with her neighboring friends. Her first race was a 5k back in 2011. Since then she's participated in a variety of races, her favourite being The Dirty Dash.  She aspires to run The ENDURrun in 2018.
Will is a web developer, dad, and recreational runner. He picked up running as an adult and hasn't been able to stop running since. He's completed the ENDURrun Ultimate twice and loves finding new running adventures. Will contributes to the RW YouTube channel and manages the ENDURrun Microsite.
Run Waterloo is made possible by thousands of volunteers each year. Join our team.