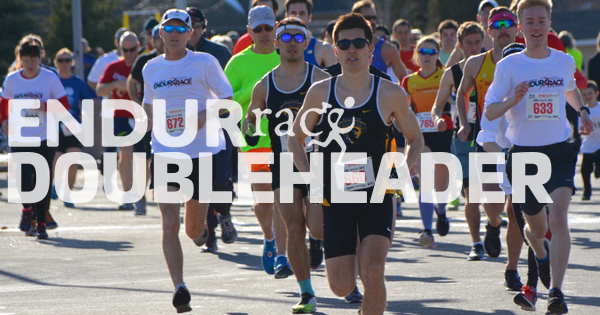 This race is cancelled. More information. 
The Elmira #ENDURrace is the largest running event in the Township of Woolwich. The featured competition is the 5k + 8k doubleheader, run 90 minutes apart on a spring Saturday evening. The 5k is also a standalone race.
All races include a new finisher medal – the doubleheader is in two parts – check it out below!
This 18th annual event strives to contribute to the local community by offering a fun atmosphere that adds to the health, wellness, and spirit of the participants, volunteers, and spectators.
For more information about this race, contact Lloyd Schmidt, Race Director.

Key 2020 info
Venue: Lion's Hall, 40 South St. W. Elmira
Date: April 25, 2020
Time: 5k and 2.5k start at 4:30 p.m. 8k starts at 6:00 p.m.
Events: The featured event is the 5k + 8k doubleheader. There is also a timed 5k and an untimed 2.5k.
Event caps: Doubleheader: 200 | 5k: 125 | 2.5k: untimed 25
Recent event recaps: 2019 | 2018 | 2017 | 2016
Event categories and awards
Individual event categories
One per participant
5 KM – Up to age 12 | 13 – 15 | 16 – 19 | 20 – 24 | 25 – 29 | 30 – 34 | 35 – 39 | 40 – 44 | 45 – 49 | 50 – 54 | 55 – 59 | 60 – 64 | 65 – 69 | 70+ | Weight F160+ / M190+lbs
Doubleheader – Up to age 19 | 20 – 24 | 25 – 29 | 30 – 34 | 35 – 39 | 40 – 44 | 45 – 49 | 50 – 54 | 55 – 59 | 60 – 64 | 65 – 69 | 70+ | Weight F160+ / M190+lbs
Team event categories
5k only. Not limited to one per participant.
Parent/Child (2 person team)
Spouse (2 person team)
Open (min 5 person team)
Awards
In the 5k and the Doubleheader, without duplication, recognition goes as follows:
Individual award medals
To the top three overall, then to the top three masters, then to the top three in each event category.
Team award medals
To the first place team in each team category.
All unclaimed medals will be available for pickup at Runners' Choice any time from Tuesday, April 28, to Thursday, May 28, 2020.
Prize money
Doubleheader, Men and Women: 1st – $100 | 2nd – $75 | 3rd – $50 | 1st Master – $75
5 KM, Open Team: 1st – $100 (minimum 5 eligible teams in the official results)
Note: Prize money distribution will differ from medal distribution in cases where the Overall placing priority reduces prize money earned for a faster runner (eg. if a Master is 3rd Overall, they would receive 1st Master money, and 4th Overall would receive 3rd Overall money).
Course maps
Stay tuned for the official course. Elmira is quite flat.
Course Rules
It is every participant's responsibility to know the course and the race assumes no responsibility for any missed turns. Each turn will be marshaled and signed.
Time limit: 10 minutes per kilometer for the 8 KM. Starting at the half way mark, if a participant does not reach a km mark by this calculated time, the participant will be asked to move to the sidewalk and finish the race as a pedestrian, unassisted by race support. Participants are asked to familiarize themselves with the course route if this situation might be a possibility to them. We wish to minimize traffic disruption caused by our event, and value the support of Police services regarding participant safety.
Participant swag: t-shirt and FINISHER MEDAL
All finishers receive the red medal, and all finishers of the combined 5k + 8k event receive the magnetic addition!
Every participant that signs up by April 19th at midnight will receive a t-shirt in their selected size. When choosing a t-shirt, consult this guide.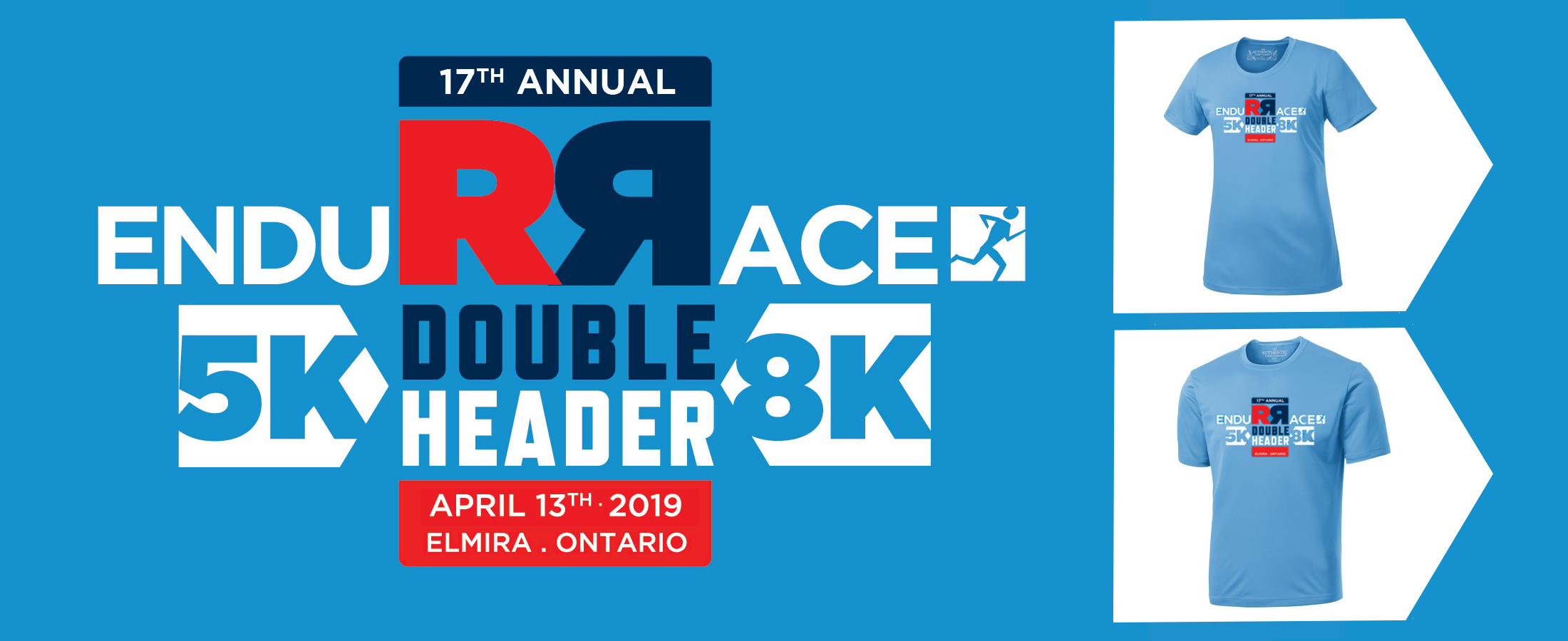 This is the 2019 shirt. Stay tuned in March 2020 for the new shirt.
Race weekend info
Post-race
In Lion's Hall, enjoy fellowship, burgers, music, and great draw prizes including Saucony shoes from Runners' Choice and a t-shirt design quilt. Winners must be present to claim the prizes.
Registration and kit pickup
Registration
Online through Race Roster. Paper forms are available only at Runners' Choice, 55 Erb. St. E. Waterloo, and are accepted until April 21, 2019 at 7:00 p.m.
No refunds or deferrals. Entries can be transferred through Race Roster for a $7.50 early transfer fee until the transfer deadline of April 12 at midnight, at which point they can be transferred only in person at kit pickup for a $15.00 late transfer fee.
Kit pickups and race weekend registration
Friday, April 24: kit pickup at Runners' Choice 5:00 p.m. – 7:00 p.m.
Saturday, April 25: kit pickup at Lion's Hall 2:30 p.m. – 4:00 p.m.
Accessibility info
Run Waterloo would like to assist in breaking down barriers faced by runners with disabilities. In 2019, we created the position of Accessibility Coordinator, who will answer your questions regarding assistance, accommodations, and venue and course information. Contact Deirdre at [email protected].
We offer discounts for any guide runners. Please contact our accessibility coordinator at this email address for further information.
Elite info
At Run Waterloo, we value elite and sub-elite athletes that contribute to strong fields. There are a limited number of elite entry spots available for this race. Contact [email protected] to learn more about our entry standards.
Note: deadline for elite entry to this race is April 19, 2020.
Photos

Run Waterloo events include hundreds or thousands of photos posted to our Flickr page, all free for download and use. They are also tagged directly to the results.
Race history

So much has changed since ENDURrace began in August 2003. Since it was launched as a companion to ENDURrun, this race has:
gained its own identity by becoming a spring race on an April evening
bounced from RIM Park to Columbia Lake to Preston Legion before finding its home in Elmira in 2012
added the first Let's start running! program in 2017
from a freak snowstorm cancellation of the 5k in 2018 came the latest innovation: taking this event from a back-to-back weekend series to a doubleheader! The doubleheader returned by design in 2019 to great success.
Despite this change, it still maintains a connection to the ENDURrun through its name and the multi-event concept (although on much different scales: ENDURrun is a seven-stage, 160 KM series!).The flat suburban roads and simple routes contribute to their reputation as faster courses.
Race results and records