The Laurier Loop is a 2.5k road course at Wilfrid Laurier University, but it's a lot more than that.
Besides the great individual events (10k, 5k, and 2.5), the featured 4×2.5k relay offers fun opportunities for teamwork, camaraderie and unique experiences. Moreover, the 2.5k distance makes this accessible to all, is manageable within an hour, and also provides a chance to test your speed entering the spring season.
Relay team entries include a mix of clubs, corporate groups, and families. We talked to some of them to see what they're looking forward to at the Laurier Loop relay this year!
Waterloo YMCA Triathlon Club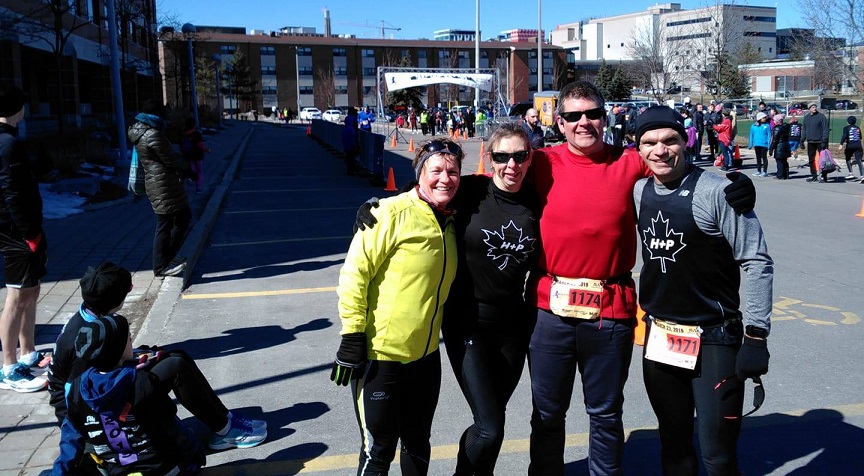 The WYTC embodies all the Y stands for: everyone is welcome and they are very supportive and have a lot of fun all year round. Pictured above are WYTC run coaches Jody and Jodi Rice with their teammates in 2019.
The WYTC has entered a team for the past two years, but having had so much fun, this year we put the idea out to the whole team and we got a fantastic response.
Many of us have been teammates for a while but we have some new members joining us in the relay this year who working towards completing their first triathlon this summer. Triathlon is an individual sport, but by doing this relay as a team, we are hoping to build on that teamwork that WYTC is known for, and that makes the hard work of training for triathlon fun.
We have some athletes in the relay this year like Rob, Karolyn and Mark who are training for their first half Ironman. Malcolm Good is one of our Swim Coaches and he has competed at the World Championships. We have others coming back who took time off to raise children and others still who prefer to race shorter distances.
Legs of Steel
The Legs of Steel is a corporate team from fischer Canada that you see at most Run Waterloo events!
Legs Of Steel always looks forward to new challenges. We love the variety in format (and distance) to keep things fresh and fun. The relay is unique because it's a balance of teamwork and competition….and we're always looking to settle our internal Battle Of The Sexes! And….we're all hoping for a dry sunny day 🙂
The Legs of Steel enters teams in most Run Waterloo events through office postings and email / chat. The relay is always a good one for us because the distance is less intimidating. We'll likely have 2-3 teams this year.
Family Teams
We also have a number of family teams, including Coulombes (pictured), Lalondes, Schmidts (x2), and Sukkaus who entered teams last year and are already registered for 2020. It's a great opportunity for kids and parents to both cheer each other on , and – because the course is so spectator friendly and accessible – even run together!
Health + Performance
H+P is a local running and multisport club that enters teams in all Run Waterloo events, who will have a number of teams at every ability and age range.
For head coach Sean Delanghe, like it is for many, the time of year is a big part of what makes this race appealing. The early rust-busting races are done and the big spring races are at least a few weeks away. Essentially, it's the perfect time for a random 4×2.5k relay race. It's something everyone in the club can train though while still getting out and enjoying the race vibe and quality time with the running community.
"I really think it's an awesome way to break up the monotony of a tough winter/early spring build, especially when it's comes to big races like A-goal marathons," says Delanghe. "It can be daunting and draining to grind toward a distant goal week after week. At the same time, to be at your best, you can't really fill time with goals that kill 2-3 weeks of volume. It's great having something like this to look forward to in a low pressure way just keep things fresh…despite how painful 2.5k can be in the moment!
"For us, it's not necessarily about holding the records since we really realize how beatable they are. [H+P holds all of the relay records.] It's more about the chase. It's just fun seeing some of our best athletes line up and work together for a common goal and show off their winter of hard work and dedication. It's also nice being able to shine the light on different groups/ demographics."
Running Rarebits
The Running Rarebits are a running and fundraising for charity group based out of Waterloo. You don't have to be fast, but you have to be fun!
We are the Loopy Bits and this is our first time as a relay team. We are looking forward to having a good time at the Laurier Loop. We came together in true Rarebit style, no promises for speed but definitely lots of positive energy and fun.
Join us on March 14!
We look forward to welcoming 40 teams, including these groups, on race day. Teams are 55% sold out as of the time of writing.