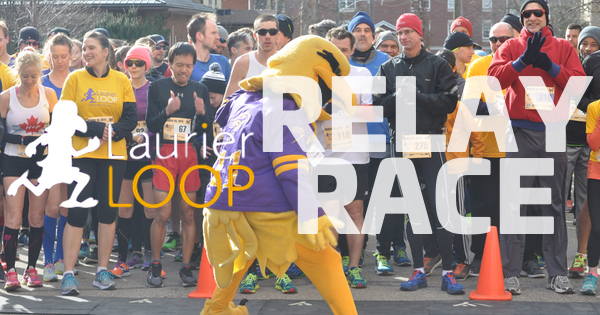 #LaurierLoop is a road race in Waterloo, Ontario. Organized in partnership with the KPE 344 class at Wilfrid Laurier University, this fun race features a 4 person by 2.5k relay challenge. The community-focused environment welcomes members of the public and Laurier students alike, and is a fundraiser for the Sun Life Centre for Physically Active Communities.
For more information about the 13th annual Laurier Loop, contact Lloyd Schmidt, Race Director.

Key 2020 info
Venue: Wilfrid Laurier University, 75 University Ave. W. Waterloo, Ontario
Date: March 14, 2020
Time: All events start at 11:00 a.m.
Events: All 2.5 KM, 5 KM, and 10 KM events are individual and timed. 2.5 KM runners have the option of joining the featured event, the 4×2.5 KM relay.
Recent event recaps: 2019 | 2018 | 2017 | 2016 | 2015 | 2014 | 2013
Event categories and awards
Individual event categories
One per participant
2.5 KM – Up to age 9 | 10 – 12 | 13 – 15 | 16 – 19 | 20 – 29 | 30 – 39 | 40 – 49 | 50 – 59 | 60 – 69 | 70+
5 KM – Up to age 12 | 13 – 15 | 16 – 19 | 20 – 29 | 30 – 39 | 40 – 49 | 50 – 59 | 60 – 69 | 70+ | Weight F160+ / M190+lbs
10 KM – Up to age 19 | 20 – 29 | 30 – 39 | 40 – 49 | 50 – 59 | 60 – 69 | 70+ | Weight F160+ / M190+lbs
Team event categories
Optional. For 2.5 KM only.

Awards
In every timed event, without duplication, recognition goes as follows:
Individual award medals
To the top three overall, then to the top three masters, then to the top three in each event category.
Note: All 2.5 KM runners (individual and 4 person relay) are competing in the same categories based on CHIP TIME. 5 KM and 10 KM events compete based on the usual GUN TIME.
Relay award medals
To each member of the top overall relay team. By February 24, if we have multiple Female teams and/or multiple Masters teams, we will add these awards:
5 teams in either – 1st place medals for each member
12 teams in either – 1st, 2nd, 3rd place medals to each member
All unclaimed medals will be available for pickup at Runners' Choice any time from Tuesday, March 17, to Friday, March 17, 2020.
Records
Aside from medals, we also track records in six categories:
Male – four men, any age
Female – four women, any age
Mixed – at least one man and one woman, any age
Masters Male – four men, all 40+
Masters Female – four women, all 40+
Masters Mixed – at least one man and one woman, all 40+
Course maps
Gmap: 2.5 KM loop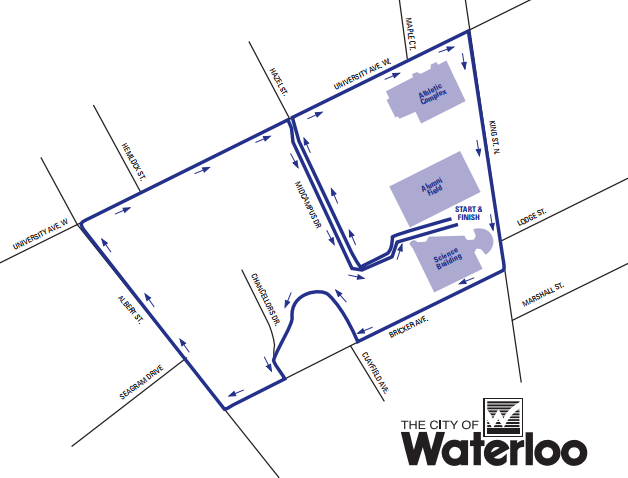 Course Rules
The 2.5 KM Loop is a certified distance.
A clock will be visible at the start/finish line to note your time for each loop.
The results will indicate your split times for each loop.
There is water station at the beginning of the loop.
The 10 KM event is 4 loops. The 5 KM event is 2 loops. The 2.5 KM event is 1 loop.
The Relay touch-off point will be at the start/finish line.
It is every participant's responsibility to know the course and the race assumes no responsibility for any missed turns. Each turn will be marshaled and signed. Courses are pending approval and may change with municipal needs.
Time limit: 10 minutes per kilometer. Starting at the half way mark, if a participant does not reach a km mark by this calculated time, the participant will be asked to move to the sidewalk and finish the race as a pedestrian, unassisted by race support. Participants are asked to familiarize themselves with the course route if this situation might be a possibility to them. We wish to minimize traffic disruption caused by our event, and value the support of Police services regarding participant safety.
Participant swag
Every participant that signs up by March 8th at midnight will receive a t-shirt in their selected size. When choosing a t-shirt, consult this guide.
Check back in January 2020 for the t-shirt design launch.
Race weekend info
Venue Map
Post-race
In the Science Atrium, enjoy post race snacks, massage from KW Health Connection, and great draw prizes including Saucony shoes from Runners' Choice and a t-shirt design quilt. Winners must be present to claim the prizes.


Registration and kit pickup
Registration
Online through Race Roster. Paper forms are available only at Runners' Choice, 55 Erb. St. E. Waterloo, and are accepted until March 10, 2020 at 7:00 p.m.
No refunds or deferrals. Entries can be transferred through Race Roster for a $7.50 early transfer fee until the transfer deadline of March 1 at midnight, at which point they can be transferred only in person at kit pickup for a $15.00 late transfer fee.
Please note strollers are only allowed in the 2.5k individual event. Read more in our FAQ.
Kit pickups and race weekend registration
Friday, March 13: kit pickup at Runners' Choice 5:00 p.m. – 7:00 p.m.
Saturday, March 14: kit pickup at WLU Science Atrium 9:00 a.m. – 10:30 a.m.
Charity info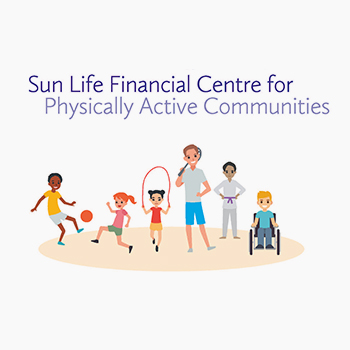 The Sun Life Financial Centre for Physically Active Communities (CPAC) is a community outreach program that aims to improve activity levels and the overall health of youth within our community. We provide free or low-cost physical activity programming to high-priority youth to prevent chronic illnesses associated with sedentary lifestyles.
CPAC is an initiative of the Laurier Department of Kinesiology and Physical Education (KPE), designed to connect undergraduate and graduate students to community organizations on and off campus. Building on the skills and enthusiasm of Laurier students, and catalysed by generous donations, CPAC is able to offer diverse programming for children in our community who may not have access to such programming otherwise.
Accessibility info
Run Waterloo would like to assist in breaking down barriers faced by runners with disabilities. In 2019, we created the position of Accessibility Coordinator, who will answer your questions regarding assistance, accommodations, and venue and course information. Contact Deirdre at [email protected].
We offer discounts for any guide runners. Please contact our accessibility coordinator at this email address for further information.
Photos

Run Waterloo events include hundreds or thousands of photos posted to our Flickr page, all free for download and use. They are also tagged directly to the results.
Race results and records