Thanks everyone for a great spring morning!
If brisk, it was a clear and sunny day on the Wilfrid Laurier University main campus for a loopy run. All results are now official – thanks for your patience with the delays in 2.5k results!
Huge thank you to the third year kinesiology class and Dr. Harman for helping organize this event, from everything to t-shirt design and prizes, to cutting bananas and marshaling in the cold. We love working with you every year on this fun event!
Together, we more than doubled our goal in fundraising for the Sun Life Centre for Physically Active Communities, at $1,000 and counting!
Results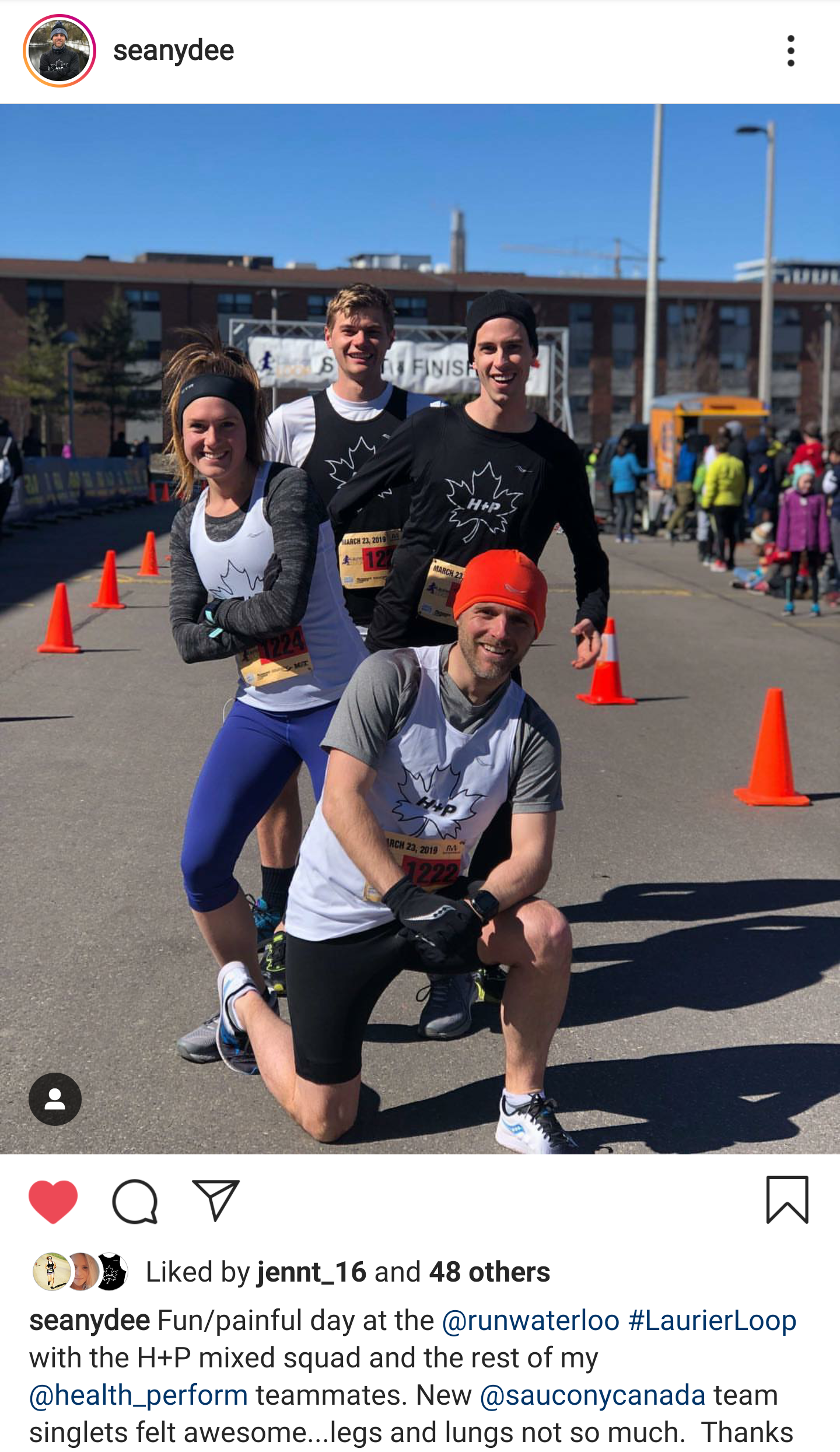 Health + Performance took the top spot in the featured 4×2.5k Relay.
Congratulations to all finishers in the 2.5k, 5k, and 10k distances. Record fell in all distances:
H+P teams set new Mixed, Masters Women, and Mixed Masters team records
Coach Sean Delanghe set the all-time 2.5k record and Robyn Collins set the masters record.
Robert Brouillette and Laura Bernard both set records in the 10k, and Lumi Duca set the masters record.
Lindsay Webster set the record in the 5k.
From this results page, you can see your finish line video and tagged photos as they become available. Video isn't tagged for 2.5k because of the different starting times, but you can still find yourself with some careful deduction!
More to come.
Photos
Our sneak peek album is up and tags are rolling in. Stay tuned for thousands more free photos to our Flickr site!

RW Boost
In Run Waterloo, we're always trying to find fun ways to make racing even better. We started a new program in 2018 called RW Boost that has been motivating and rewarding runners ever since.
#RWBoost update after the second race: https://t.co/DmeyYGGsfp Some good racing down, but so much more to go! pic.twitter.com/7Fa056lbmk

— Run Waterloo Results (@RW_Results) March 23, 2019
While we have you, please take a look at the Run Waterloo membership. It's a great way to pack so much more value and fun into your racing experience. 
Your feedback
A week with the flu kicking my butt ending on a much-needed high note this morning running and volunteering @RunWaterloo #LaurierLoop5kmrace!

…and somehow managed to get 1st place in the old chicks category 😋#keepshowingup #strongerfasterhappier #thisis52 pic.twitter.com/s9IdZiZIzv

— Deirdre Large (@dela_2012) March 23, 2019
I'm on a roll this week!
10k PB in 1:06:09 at my home of WLU running the Laurier Loop. @Laurier @LaurierAlumni @RunningRarebits @RunWaterloo pic.twitter.com/ubWL042l07

— Mya Wijbenga (@MyaWijbenga) March 23, 2019