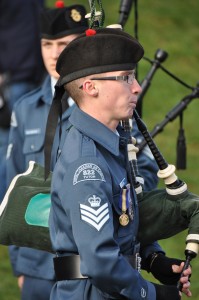 Thanks again to everyone who came out yesterday to the 4th Annual REMEMBERrun!
Recap: It was a chilly day, but after such a rainy week, everyone was just thankful that it didn't rain. The REMEMBERrun started with a sombre ceremony at the Preston Legion, including the national anthem, a moment of silence, a prayer, and bagpipes.  A Run to Remember. The course was dry and fast, through the trails and paths at Riverside Park in Cambridge, Ontario.  Post-race features included an awards ceremony and hot food!
Enjoying some chili post race at #REMEMBERrun @runwaterloo — Vicki Zandbergen (@VicZanRan) November 3, 2012
In total, 640 runners raised $7000 for the Poppy Fund.  Thanks for your support!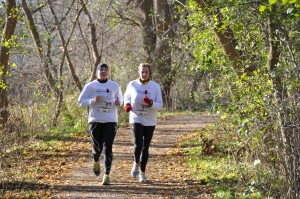 Results: Winners on this Saturday are:
5km: Marcus Noble &  Robert Brouillette (17:00) and Monica Lou (19:40)
8km: Ken McAlpine (28:59) and Christine Weech (35:01)
Full results from RaceRoster are available here.
Photos: Race photos from our two photographers (Julie and Ryan) are available at our Picasa site, free for download and viewing without watermarks.
Next Race: The final race of the 2012 Waterloo Running Series is a new one: the inaugural Santa Pur-Suit!  Saturday, December 1 at the Stork Family YMCA in Waterloo.  If you're keen to run in a crowd of full Santa suit, please join us!